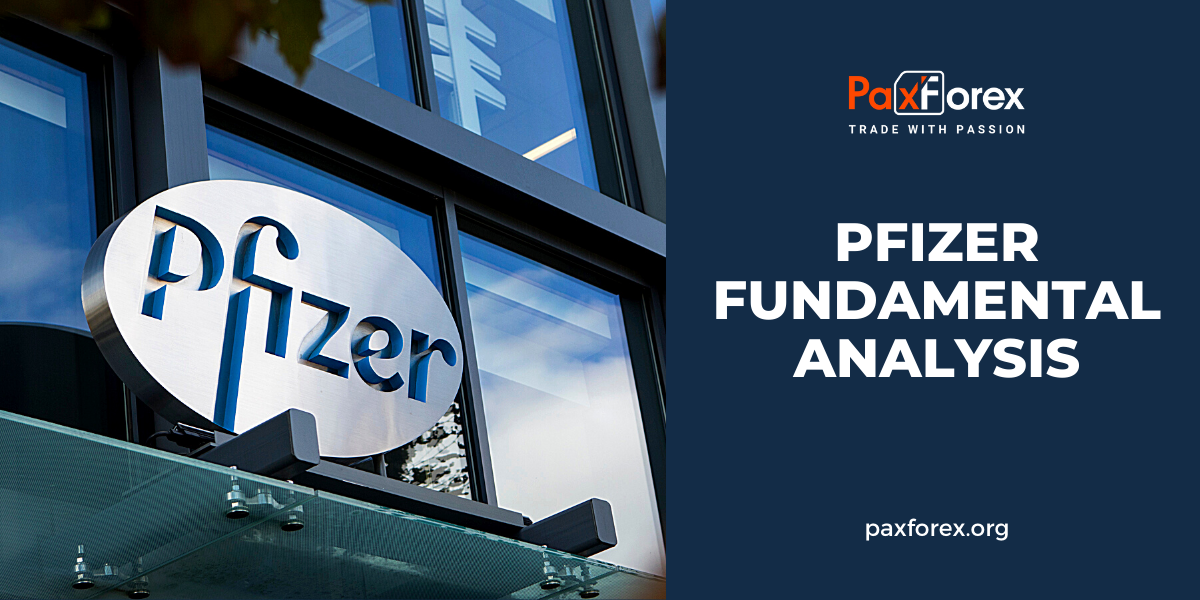 Source: PaxForex Premium Analytics Portal, Fundamental Insight
If this month's amazing news about the Pfizer vaccine has made many people think about buying shares because they are meant for unrealistic income, think again. PFE stocks are not a growth game.
It is all about cash flow.
But you should not just take the word for it. Let the market be your guide. The crowd immediately rejected the attempt of Pfizer to grow in price to incredible heights immediately after the news release.
The message was clear. Hold on to your line, small stocks. You are a highly profitable, stable security with a history of enriching its shareholders with these delightful quarterly cheques. Perhaps one day your price chart will evolve into a rip upward trend, but not today.
It in itself does not mean that the PFE is not a big buy. It is a great candidate for income seekers. But as was mentioned before, if you come looking for a rapid price increase, I'm afraid you will be disappointed.
The S&P 500 has a dividend yield of 1.48% and should be seen as our starting point. Companies that offer a 1.48% dividend yield are officially interesting as candidates for income.
Those who offer less are not worth your time. So, how does Pfizer relate to S&P? Almost three times as high - 4.2%. When you can boast a stable revenue stream of this magnitude, well, you can be forgiven for not jumping higher with every market rally.
Of course, it would be nice if the income generators grew over time. And, to be honest, PFE has had modest growth over the last decade. But in recent years, the lion's share of profit was accounted for by quarterly dividends.
Now, if you want to enjoy the profit, there are two options. First, you can increase leverage by buying shares on margin. Suppose, for example, instead of taking 100% of the stock value, you only put 50%. A dividend yield of 4.2% would double to 8.4%.
In other words, a traditional investor would pay $3,620 for 100 shares to receive an annual dividend of $1.52. Buying shares with a margin, on the other hand, would require only $1,810 for 100 shares, thus gaining access to an annual dividend of $1.52.Purchase with a margin, however, would not be without its risks. It is a double-edged sword that can accelerate profits and losses. For example, a loss of 50% of a PFE share will result in a 100% loss of your capital if you purchase shares with a margin of two to one.
The second option to increase your return is on the options market with closed positions.
Perhaps the most obvious difference between a margin path and the use of covered calls is leverage. While buying on margin increases risk, selling a covered call reduces it. You are trying to increase your profitability by making a monthly promise to sell your stock at a certain price, rather than buying with borrowed money.
It should be more attractive to a conservative, risk-averse investor.
A covered call is called in many ways, including buying, buying shares with coverage, and buying with coverage. Whatever the name you prefer, it is a strategy that consists of buying 100 shares and selling one buy option. You are paid a reward in exchange for a commitment to sell the shares.
Usually, traders sell monthly, non-cash options. It allows you to make a profit on your stock before you have to give up your stock. Also, shorter terms lead to faster declines and greater flexibility in the strike price from month to month.
With a PFE for $36.20, you can buy 100 shares and sell a December $38 call for 55 cents. As long as the stock remains below $38, you will receive an additional $55 return within the next 24 days. And if Pfizer does go above $38, you will have to sell your shares, thus earning another $180 profit ($38 - $36.20, x 100 shares).
So, the bottom line. Pfizer is an attractive cash flow of shares, but covered calls can make it even better.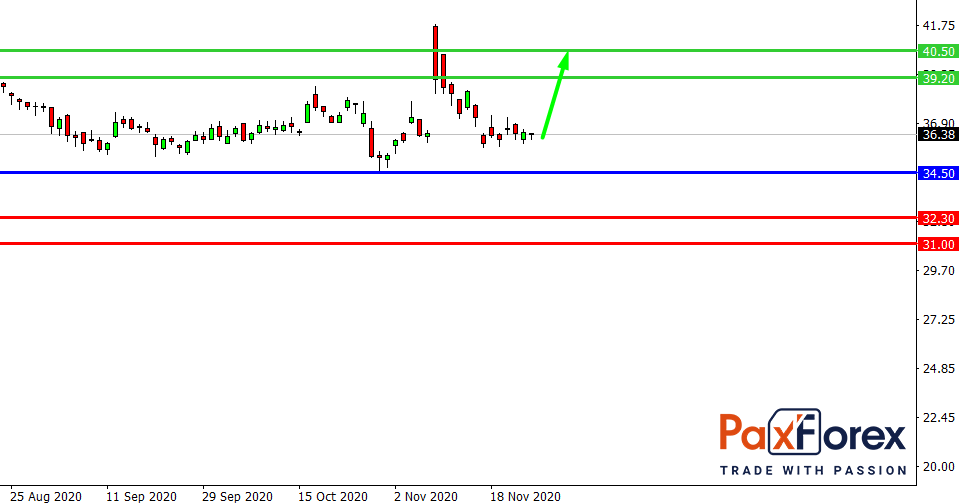 While the price is above 34.50, follow the recommendations below:
Time frame: D1
Recommendation: long position
Entry point: 36.53
Take Profit 1: 39.20
Take Profit 2: 40.50
Alternative scenario:
If the level 34.50 is broken-down, follow the recommendations below:
Time frame: D1
Recommendation: short position
Entry point: 34.50
Take Profit 1: 32.30
Take Profit 2: 31.00