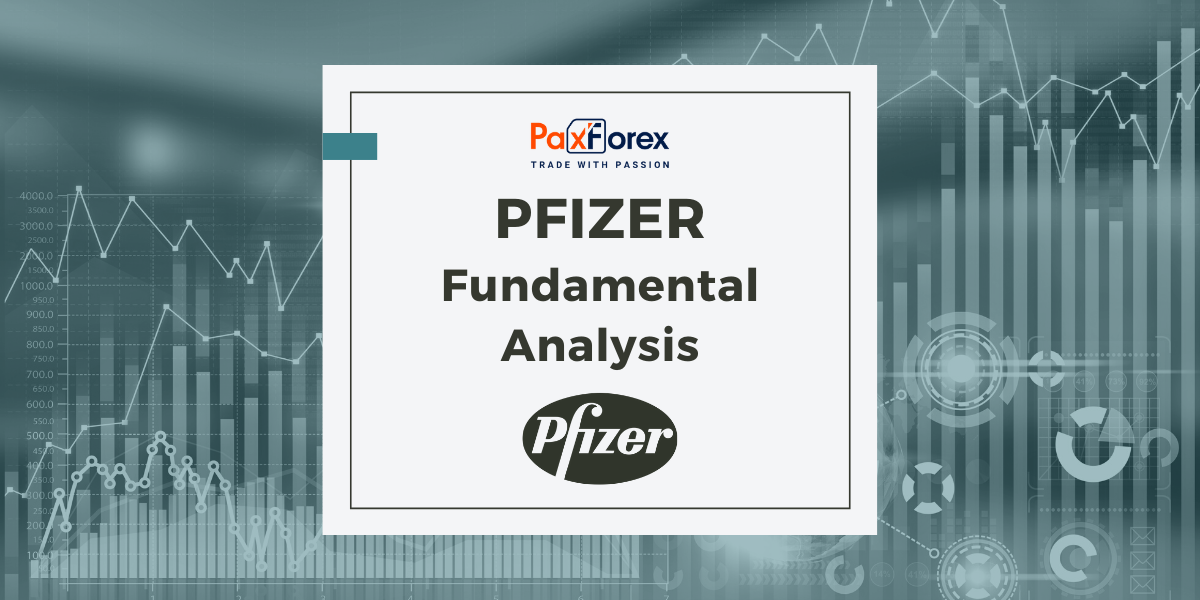 Source: PaxForex Premium Analytics Portal, Fundamental Insight
In early February, Pfizer stock suffered a setback as a result of a disappointing fourth-quarter report, even though the company had called for $15 billion in sales for a coronavirus vaccine throughout the year.
This followed disappointing news regarding Pfizer's arthritis drug Xeljanz. In a pivotal study, Xeljanz failed to stand up to a competing drug. But Pfizer shares won when the company said its Covid vaccine, developed in collaboration with BioNTech, could repel mutated forms of the virus.
Pfizer and BioNTech also struck new deals to supply the vaccine. The U.S. government has agreed to buy up to 300 million doses. This is enough to vaccinate 150 million people. The companies will also send 40 million doses of COVAX, a global initiative to ensure equal access to Covid-19 vaccines for all countries, regardless of income levels. They also plan to send 500 million doses to Europe.
So, with all of the above in mind, is Pfizer stock worth buying now?
For the fourth quarter, Pfizer reported $11.68 billion in growth, up 12% year over year. But that's still below analysts' estimates of $12.01 billion. Mizuho Securities analyst Vamil Divan noted that many analysts still include Upjohn in their calculations. In November, Pfizer arranged the merger of its drug division with Mylan to create Viatris.
Adjusted earnings of 42 cents per share rose 14% but missed forecasts of 51 cents.
For the current quarter, analysts polled by FactSet expect Pfizer to post earnings of 79 cents per share on sales of $13.4 billion. Revenues will grow 32% and sales will grow 11%.
Pfizer's sales were up 2 percent last year to $41.91 billion. That excludes the Upjohn division.
But that still doesn't apply to Pfizer's last year of strong growth in 2010, when total sales jumped 34%.
For the fiscal year 2021, analysts forecast EPS of $3.20 per share, net of certain items, up 44%. Sales are expected to grow 44% to $60.4 billion. Pfizer was targeting adjusted earnings of $3.10-$3.20 a share and $59.4 billion to $61.4 billion in sales.
On Oct. 1, Pfizer announced that its investigational gene therapy candidate for the treatment of Duchenne muscular dystrophy in boys had received Fast Track designation from the U.S. Food and Drug Administration. The company is competing with Sarepta Therapeutics to treat this muscle disease.
On Oct. 9, the company said a Phase 3 clinical trial of its drug Ibrance in the treatment of some early breast cancer failed to meet its primary goal.
Pfizer and BioNTech expect to deliver 2 billion doses of the coronavirus vaccine in 2021. Some countries, including the U.S., U.K., and Canada, have authorized the vaccine for emergency use. This was based on phase 3 testing showing the vaccine to be 95% effective.
U.K. health officials are investigating two allergic reactions in recipients. Pfizer and BioNTech have agreed to supply the UK with up to 40 million doses in 2020 and 2021. The companies now say they could receive up to 2 billion doses in 2021, compared with earlier estimates of 1.3 billion.
The U.S. government has a deal for 300 million doses. Pfizer and BioNTech also have deals in Canada and Japan, as well as an agreement to sell 500 million doses to the European Commission.
Side effects were limited in the trial groups. After the injection, 3.8% and 2% of volunteers, respectively, reported severe fatigue or headaches. In FDA information documents, the companies noted four cases of Bell's palsy and 64 cases of enlarged lymph nodes in vaccinated participants.
The coronavirus vaccine relies on the body's own mechanisms to produce a specific substance designed to stimulate an immune response. Moderna and Translate Bio also test vaccines using the same RNAi technology.
Based on the progress of vaccine production, it is important to pay attention to how Pfizer's stock performs as well. The results so far look promising, but it will be important to see how the company ramps up production now that it has permission in the U.S.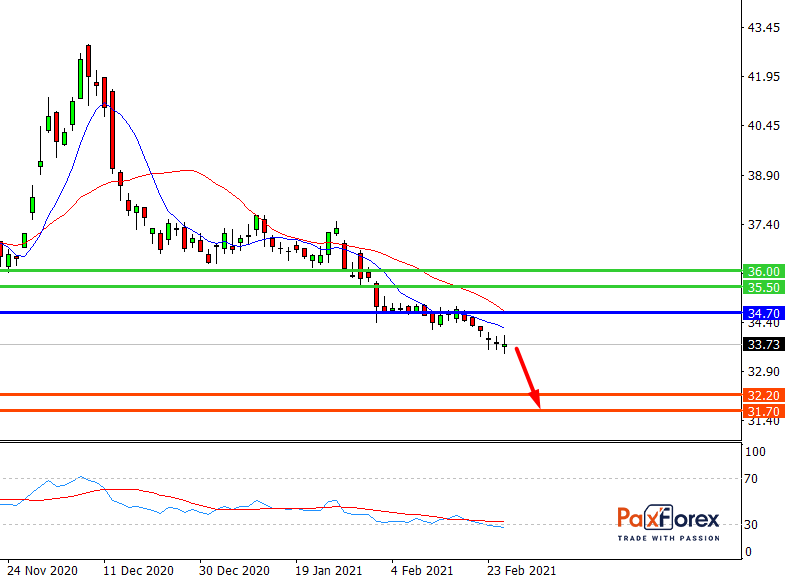 While the price is below 34.70, follow the recommendations below:
Time frame: D1
Recommendation: short position
Entry point: 33.82
Take Profit 1: 32.20
Take Profit 2: 31.70
Alternative scenario:
If the level 34.70 is broken-out, follow the recommendations below:
Time frame: D1
Recommendation: long position
Entry point: 34.70
Take Profit 1: 35.50
Take Profit 2: 36.00