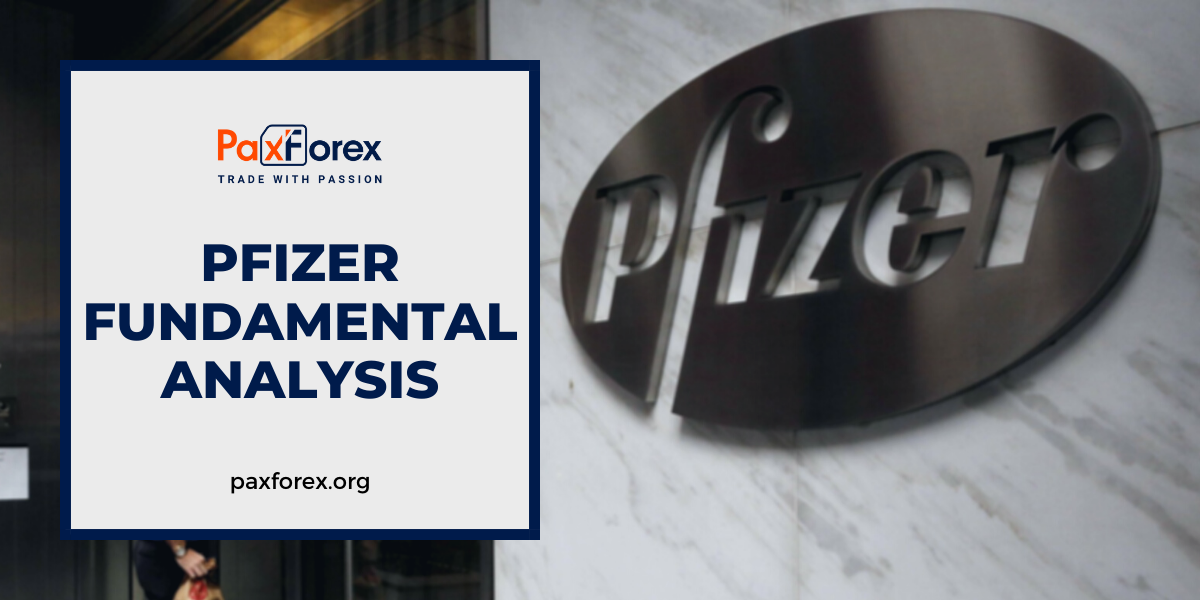 Source: PaxForex Premium Analytics Portal, Fundamental Insight
On Friday, the Food and Drug Administration cleared Pfizer's coronavirus vaccine for emergency use. But the news didn't immediately help Pfizer stock.
Vaccination began Monday in the U.S. - a week later than in the U.K. Two Pfizer and BioNTech vaccine recipients experienced allergic reactions to the vaccine. Pfizer emphasized that no such side effects were observed among the 44,00 participants in the clinical trial.
Also, the vaccine was recently approved for use in Canada.
On the other hand, in early October, Pfizer reported that its first patients had been interviewed in a Phase 3 trial of the hemophilia A drug, conducted in partnership with Sangamo Therapeutics. It could shake up a key competitor, BioMarin Pharmaceutical.
So, all things considered, is Pfizer stock a buy?
Pfizer is one of the largest pharmaceutical companies. But Pfizer's sales have declined year-over-year in each of the past six quarters. Analysts polled by FactSet expect that to change in the fourth quarter. Then they expect sales to rise 2 percent to $12.9 billion.
Adjusted earnings are also expected to rise 2 percent in the fourth quarter to 56 cents per share. It follows five quarters of declines.
Pfizer's sales fell 4% last year to $51.75 billion. In fact, over the past nine years, Pfizer has seen annual sales growth in just two years. In both years, 2016 and 2018, sales growth remained in the single-digit percentage range.
The pharmaceutical company launched eight drugs, each of which brought in at least $1 billion in 2019. Among the best-selling drugs were a pneumonia vaccine, a cancer drug, and a blood thinner that the company makes in partnership with Bristol-Myers Squibb.
These three drugs accounted for 29% of total revenue. All three brought year-over-year increases. Sales of the Prevnar 13 pneumonia vaccine were up 1% to $5.85 billion. Revenue from the anticoagulant Eliquis rose 23% to $4.22 billion. Revenue from cancer drugs increased by 20% to $4.96 billion.
It's no secret that Pfizer and BioNTech are leading the way in producing the coronavirus vaccine. The U.S., U.K., and Canada have approved the drug for emergency use. It was based on phase 3 testing showing that the vaccine was 95% effective at blocking the virus.
The researchers analyzed 170 cases of the Covid-19 vaccine from the study participants. Of those, 162 of the cases occurred in the placebo group. Only eight volunteers who received the vaccine contracted the virus.
U.K. health officials are studying two allergic reactions in recipients. Pfizer and BioNTech have agreed to deliver up to 40 million doses to the U.K. in 2020 and 2021. The companies say they could make 50 million doses in 2020 and 1.3 billion in 2021.
The U.S. government has a deal for 100 million doses and an option to buy another 500 million. Pfizer and BioNTech also have deals in Canada and Japan, as well as an agreement to sell 300 million doses to the European Commission.
Side effects were limited in the test groups. After the shot, 3.8% and 2% of volunteers, respectively, reported severe fatigue or headache. In FDA information documents, the companies noted four cases of Bell's palsy and 64 cases of enlarged lymph nodes in vaccinated participants.
The coronavirus vaccine relies on the body's own mechanism to produce a specific substance designed to trigger an immune response. Moderna and Translate Bio are also testing the vaccine using the same RNAi technology.
Vaccine creators include AstraZeneca and its partner, Oxford University. In Phase 3 trials, their coronavirus vaccine proved, on average, 70.4% effective. The regimen, which included a half dose and then a full dose a month later, was 90% effective. But AstraZeneca says it needs to test this regimen more.
The phase 3 study began in July but was suspended in September after a participant became seriously ill. In October, AstraZeneca said it resumed the study after receiving approval in five countries.
The Phase 3 study began in late July, the same day that Pfizer and BioNTech began their study.
In late September, both Johnson & Johnson and Novavax announced the start of Phase 3 testing of Covid-19 vaccine candidates. J&J suspended the trial on Oct. 12 after one participant fell ill, but said it was preparing to resume enrollment on Oct. 23.
Also in July, Pfizer and BioNTech struck deals with the U.S. and U.K. to supply the coronavirus vaccine. They will supply the U.K. with 40 million doses. The U.S. government will pay $1.95 billion for 100 million doses and will have the option to buy another 500 million doses.
Deals with Japan and Canada followed. In November, the companies confirmed a supply deal with the European Commission for 200 million doses.
Pfizer stock is mostly up after Thanksgiving.
Besides, the pharmaceutical company is expected to report fourth-quarter sales and earnings growth.
It's important to keep an eye on how Pfizer stock is performing. The results look promising so far, but it will be important to see how the company ramps up production now that it has permission in the U.S.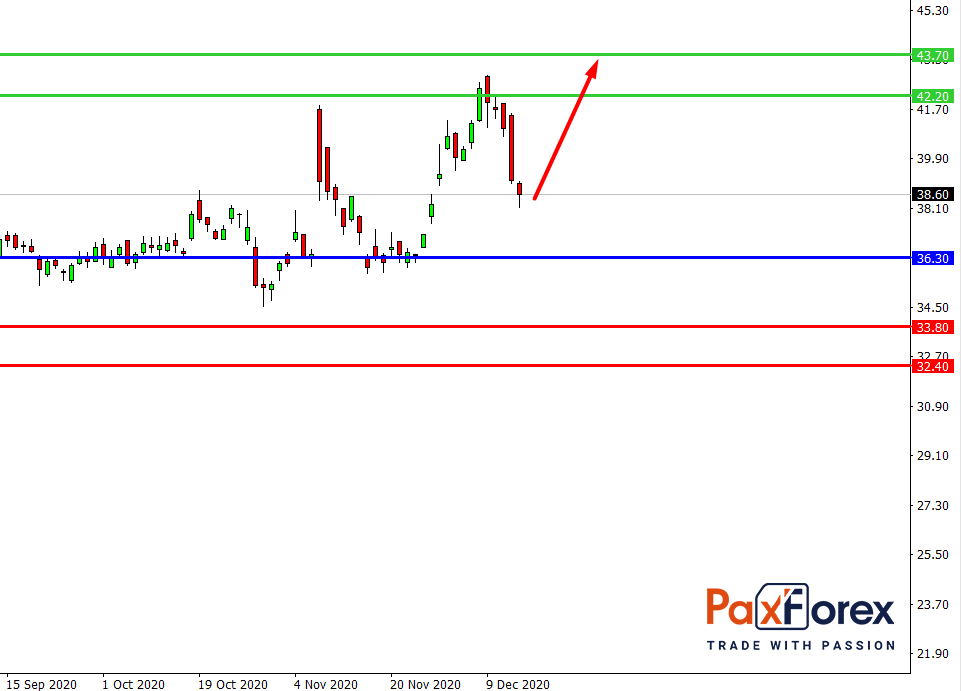 Provided that the price is above 36.30, follow these recommendations:
Time frame: D1
Recommendation: long position
Entry point: 36.50
Take Profit 1: 42.20
Take Profit 2: 43.70
Alternative scenario:
In case of breakdown of the level 36.30, follow the recommendations below:
Time frame: D1
Recommendation: short position
Entry point: 36.30
Take Profit 1: 33.80
Take Profit 2: 32.40