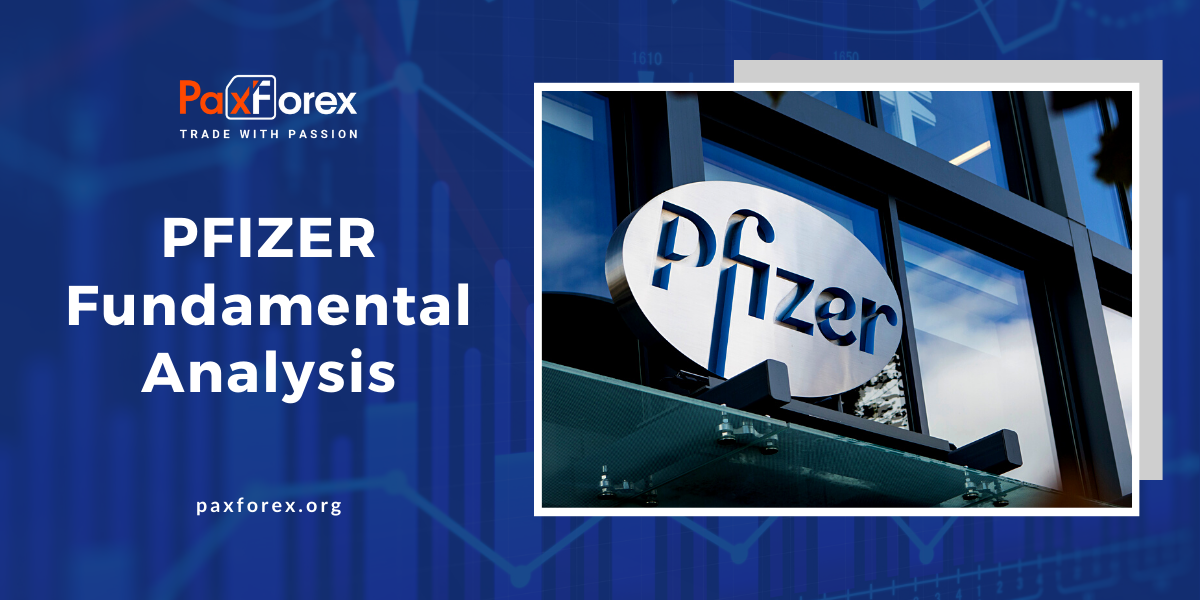 Source: PaxForex Premium Analytics Portal, Fundamental Insight
Pfizer shares skyrocketed in early November after the coronavirus vaccine proved 90% effective in the final phase of the study. But this did not help PFE much when the company was excluded from the desirable Dow Jones Industrial Average.
Also, Pfizer and its partner BioNTech are soon planning to apply to the Food and Drug Administration for emergency approval for their COVID-19 vaccine. Companies say they can make up to 50 million doses in 2020 and up to 1.3 billion in 2021.
In early October, Pfizer said it had begun phasing its vaccine to the European Medicines Agency.
Pfizer plans to complete the merger soon with Mylan's generic and generic drugs division, known as Upjohn.
So, given the above, is Pfizer's stock now a buy?
Pfizer is one of the largest pharmaceutical companies. But Pfizer sales have been declining from year to year in each of the last six quarters. But analysts interviewed by FactSet expect the situation to change in the fourth quarter. Then they expect that sales will increase by 1% to $12.83 billion.
Adjusted earnings are also expected to grow by 5% in the fourth quarter to 58 cents per share. It follows the five quarters of decline.
Large institutional investors, which account for up to 70% of all market trading, are usually looking for shares with accelerating profits and sales growth.
As noted, Pfizer was excluded from the Dow Jones Industrial Average after the split of Apple shares with Exxon Mobil and Raytheon Technologies. They were replaced by Amgen, Salesforce.com, and Honeywell International. PFE shares fell after this news, although by 1.1%.
In mid-June, Pfizer and Sangamo announced the results of a study on gene therapy for hemophilia A. In this genetic disorder, the patient's body does not produce enough blood-clotting protein called Factor VIII. But all five patients who underwent gene therapy showed a stable level of Factor VIII after nine weeks. None of them needed additional treatment of Factor VIII or had episodes of bleeding.
But in early June, Pfizer shares fell by more than 7% in one day after the Ibrance cancer cure failed to make a difference in patients with some form of breast cancer. Patients received Ibrance plus standard endocrine therapy. Later in the same month, the competing treatment from Eli Lilly was able to perform a test at an early stage of breast cancer treatment.
On October 1, Pfizer announced that its research candidate for gene therapy to treat Duchenne muscular dystrophy in boys has received Fast Track approval from the U.S. Food and Drug Administration. Most analysts say that Sarepta's therapy still has Pfizer's advantage in treating this muscle disease.
On October 9, the company announced that its Phase 3 clinical trial of Ibrance in the treatment of certain types of early breast cancer has not achieved its main goal.
Pfizer and BioNTech recently took the lead with their coronavirus vaccine. In early November, the duo announced that their experimental vaccine proved more than 90% effective in the Phase 3 trial. Pfizer shares soared on November 9 after a news release.
The companies tested the vaccine on 43,538 participants. In the first analysis, the researchers found COVID-19 cases in 94 participants divided between those who received the vaccine and the placebo group. A second analysis is expected in the third week of November.
After that, companies plan to apply to the FDA for permission to use the vaccine in emergency cases.
This vaccine is based on the body's own mechanism, which produces a specific substance designed to trigger an immune reaction. Moderna and Translate Bio also test the vaccines using the same RNA technology.
Vaccine creators include AstraZeneca and its partner, Oxford University. Their Phase 3 research began in July but was suspended in September after one of the participants became seriously ill. In October, AstraZeneca reported that it resumed the study after receiving approval from five countries.
The Phase 3 study started in late July, the same day Pfizer and BioNTech started their research.
Also in July, Pfizer and BioNTech signed contracts with the United States and the UK to supply the vaccine. They will supply the UK with 30 million doses. The U.S. government will pay $1.95 billion for 100 million doses, and will also be able to buy another 500 million doses.
This was followed by deals with Japan and Canada. So far, the company has not made public a single word about the final supply agreement with the EU.
Considering all the aforementioned, we can conclude that Pfizer is a great option to buy right now - with some proviso.
The stock is now above the buy point, and the pharmaceutical company should return to growth in the fourth quarter. However, sales and profit growth are expected to be in unequivocal numbers. It is essential to keep an eye on how Pfizer shares work as it develops the vaccine with BioNTech. So far, the results look promising, but it will be needed to see how the company is ramping up production before it gets approval.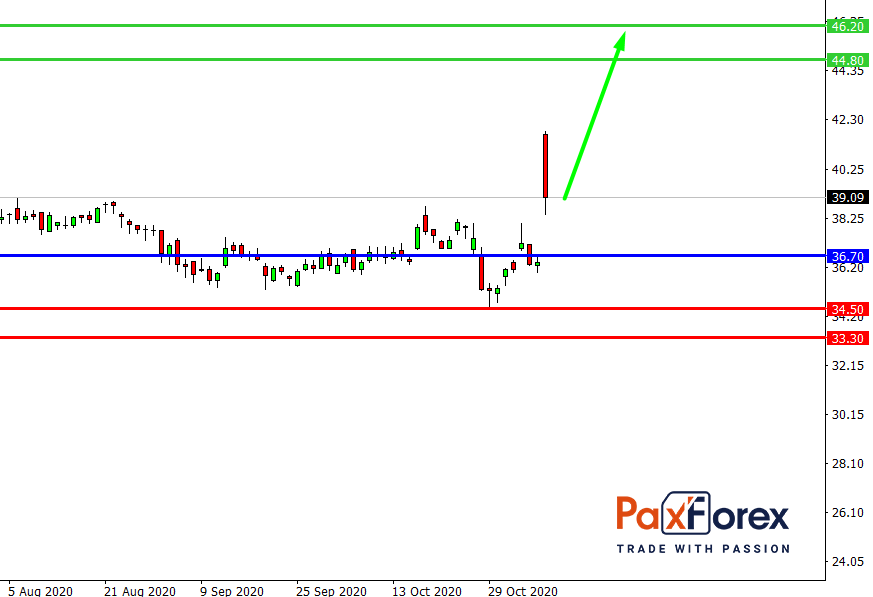 While the price is above 36.70, follow the recommendations below:
Time frame: D1
Recommendation: long position
Entry point: 39.20
Take Profit 1: 44.80
Take Profit 2: 46.20
Alternative scenario:
If the level 36.70 is broken-down, follow the recommendations below:
Time frame: D1
Recommendation: short position
Entry point: 36.70
Take Profit 1: 34.50
Take Profit 2: 33.30