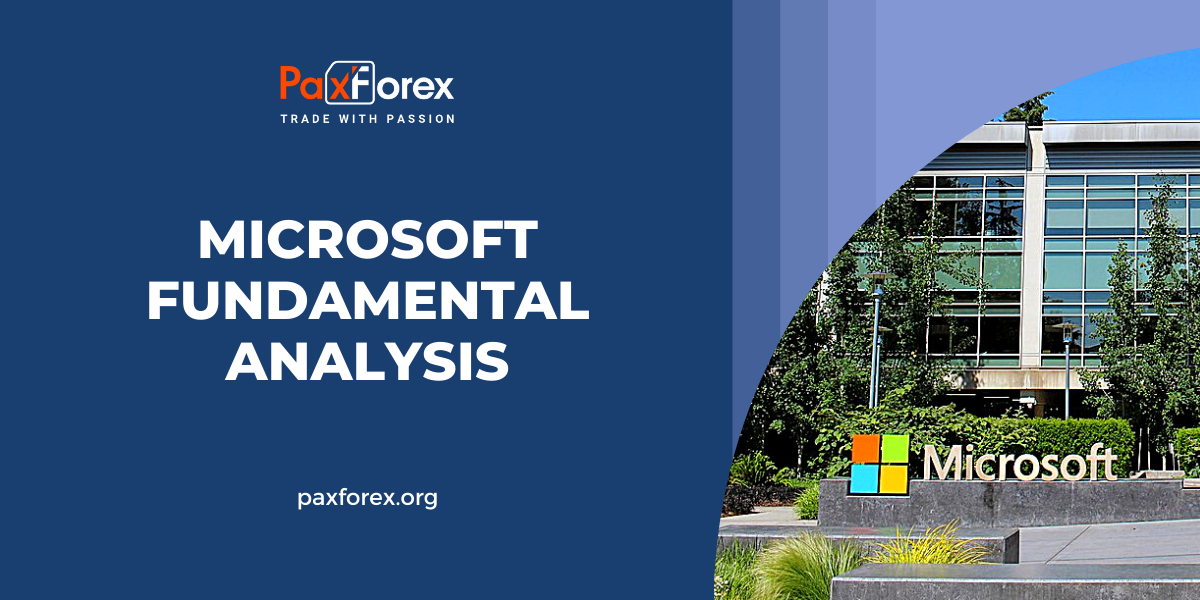 Source: PaxForex Premium Analytics Portal, Fundamental Insight
Microsoft recently became the subject of heated controversy following Satya Nadella selling more than half of his shares for about $285 million at the beginning of last week. As per an F-4 filing, the CEO sold 838,584 shares at prices ranging from $334.37 to $349.22, reducing his total stake to 830,791 shares.
Should investors be worried about such an extensive deal? Let's go back to Nadella's achievements, his salary, and previous stock sales to come to some conclusion.
When Nadella took over as Microsoft's third CEO seven years ago, the tech behemoth was in serious difficulty. New cloud services were undermining its desktop software, Windows users were adamantly sticking with legacy versions of the OS, and the company was losing out to Apple and Alphabet's Google in the mobile market.
But Nadella extremely altered things by actively developing the company's cloud services, redefining Windows as a cloud service, and dropping Windows Phone to launch new mobile apps for iOS and Android.
Microsoft's cloud business has been a major driver of the company's growth, with revenues rising from $86.8 billion in fiscal 2014 to $168.1 billion in fiscal 2021, which ended in June of this year, and EPS more than tripling.
With this growth, Microsoft's market value has risen from $300 billion on Nadella's first day in office to nearly $2.5 trillion today. So Nadella unquestionably earns to sell some of his stock after this historic rally.
In the fiscal year 2021, Satya Nadella's total compensation rose 13% to $49.9 million. This amount includes a base salary of $2.5 million, equity compensation of $33 million, and non-equity incentives of $14.2 million.
Thus, Nadella's latest deal pictures several years of cumulative stock awards. The deals also represent Nadella's only non-equity direct sales in the past two years.
Microsoft CFO Amy Hood also sold 60,000 shares (11% of the stock she owned at the time) at an average price of $303.08 in a direct transaction on Sept. 1. This was Hood's first direct sale since last September.
These insider sales are not certainly an indication that Microsoft is facing difficulties. Executives sell their stock all the time for personal reasons that have nothing to do with the company's immediate and long-term prospects. For example, Microsoft co-founder and first CEO Bill Gates sold most of his stock before leaving the board in early 2020 - but the company's stock has continued to rise.
Over the past three years, Microsoft stock has nearly tripled, and in the past 12 months alone, it has risen more than 50 percent. Analysts expect the company's revenues and profits to grow 17% and 14%, respectively, this year, but the stock certainly isn't cheap -- it's worth 36 times its projected earnings.
This higher ratio -- along with macroeconomic factors such as inflation, supply chain pressures, and the new COVID-19 option -- may have convinced Nadella, Hood, and other Microsoft insiders to sell some of their shares. Nevertheless, Nadella's shareholding will increase again this year as he gets more stock bonuses.
In general, it's more useful for investors to track insider deals at struggling companies -- where insiders can make rosy promises of a turnaround while dumping their own stock -- than at successful companies.
Microsoft is one incredibly successful company, and Nadella's big sale doesn't suggest that its long-term prospects have changed. As an outside investor, you also won't be entitled to more stock like Nadella, who can afford to sell his stock repeatedly because it makes up most of his paycheck.
So it makes no sense to short Microsoft just because the CEO sold half of his current stake. Instead, investors should be looking at Microsoft's cloud growth and expansion of its ecosystem, rather than worrying about Satya Nadella's well-deserved salary.
As long as the price is above the 320.00 level, follow the recommendations below:
Time frame: D1
Recommendation: long position
Entry point: 336.00
Take Profit 1: 350.00
Take Profit 2: 356.00
Alternative scenario:
If the 320.00 level is broken-down, follow the recommendations below:
Time frame: D1
Recommendation: short position
Entry point: 320.00
Take Profit 1: 310.00
Take Profit 2: 304.00