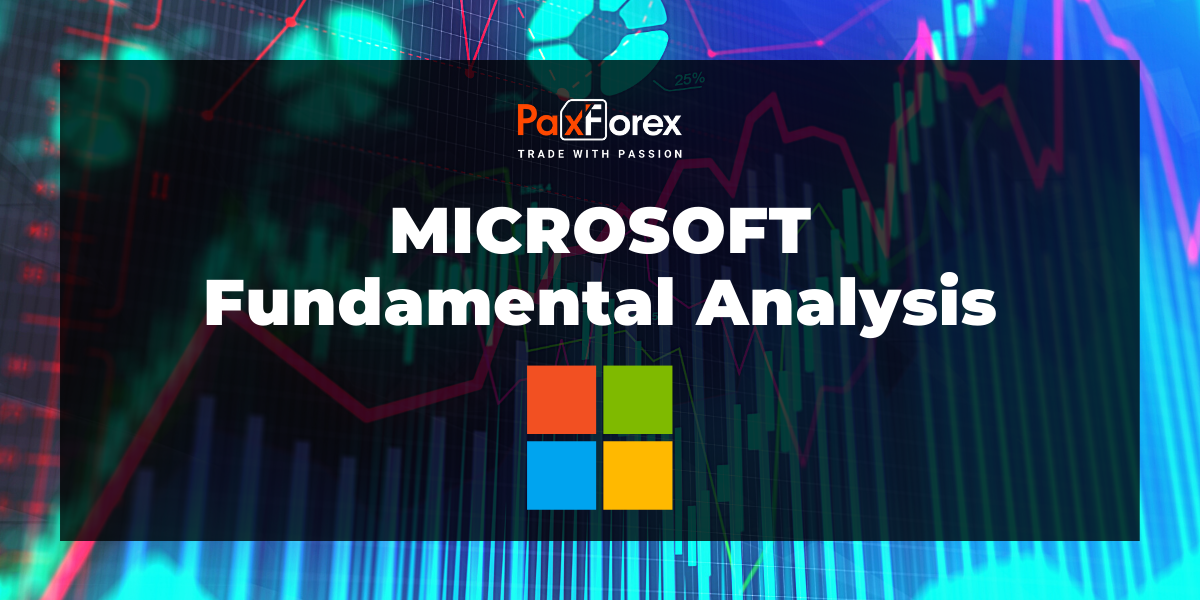 Source: PaxForex Premium Analytics Portal, Fundamental Insight
Over the past five years, Microsoft shares have grown by almost 300 percent as the technology giant has expanded its cloud business, transformed Windows and Office into services, released new Xbox and Surface devices, and expanded its mobile ecosystem with iOS and Android apps.
Satya Nadella, the CEO, took over the company in 2014, and a few years later moved the company's focus to artificial intelligence (AI). As a result, mature technology shares have again turned into an attractive investment.
But past performance never guarantees future growth, so investors should take a fresh look at Microsoft to see if the company can continue to outperform the market over the next five years.
In 2015, Microsoft offered Windows 10 as a free upgrade for most Windows 7, 8, and RT users. This move was unprecedented as Microsoft generated significant revenue from its Windows licenses.
Microsoft gave up Windows 10 for two reasons. First, the Windows market was fragmented, and it needed to unite the PC market under one operating system to introduce new services (such as Microsoft Store and Windows Defender) and provide unified security updates.
Secondly, such operating systems as Android and Chrome OS were already free. These operating systems blocked users, and then generated long-term revenue from application stores and other additional services. Microsoft had to replicate this strategy or risk to fall behind the technology curve.
Providing Windows to consumers for free did not destroy the business. Microsoft continued to sell Windows licenses to PC manufacturers and corporate customers, and it generated additional revenue from the Microsoft Store. As a result, Microsoft's annual revenue from Windows increased from $14.8 billion in fiscal 2015 to $22.3 billion in 2020.
Microsoft will probably not release a new version of Windows within the next five years. Instead, it will continue to update Windows 10 with new features and applications for the Microsoft Store, and tie the operating system to other ecosystems - including Xbox consoles and mobile applications.
Microsoft's revenue from the commercial cloud grew 36 percent to more than $50 billion, more than a third of the top rankings, in fiscal 2020 (which ended June 30). In the first quarter of 2021, the segment's revenue grew another 31% year-on-year to $15.2 billion.
This business receives most of its revenue from Microsoft 365, the Azure cloud infrastructure platform, and Dynamics CRM (Customer Relationship Management) platform.
Microsoft only discloses the annual revenue growth rate of these companies, not the exact data on income or operating profit, which makes a comparison with other cloud giants such as Amazon and Google difficult.
Azure, which ranks second in the cloud platform market after Amazon Web Services (AWS), is Microsoft's fastest-growing cloud business. But Azure's growth is slowing down: Its revenues grew only 47 percent year-on-year in constant currency in the first quarter, compared to 63 percent growth a year ago. Microsoft is also not revealing whether Azure is profitable.
Meanwhile, Amazon regularly reveals AWS revenues and operating profit, and the platform is stable profitable. Alphabet has also recently disclosed the revenues of Google Cloud, but he remains distrustful of its profits. Based on these steps, Microsoft may be under pressure to disclose much more financial information about Azure and its other cloud businesses over the next five years.
Microsoft will release its new Xbox Series consoles in early November, but this has already laid the foundation for the future transformation of the brand into a cloud service.
The cheaper Xbox Series S console, which lacks an optical drive and runs on weaker hardware than the more expensive Xbox Series X, is designed with digital downloads and cloud gaming in mind.
The Xbox Game Pass, which gives gamers unlimited downloads from a library of more than 100 games for a monthly fee, has exceeded 15 million subscribers earlier this year. Now includes Game Pass, Xbox Live Gold, and the new xCloud cloud gaming service in Xbox Game Pass Ultimate for $15 per month.
Xbox head Phil Spencer recently hinted at the possibility of future sales of low-cost streaming sticks that could turn the Xbox from a console into a cloud service. The expansion of the cloud gaming market over the next five years may support this idea - and fundamentally change the gaming business, which has generated $11.6 billion in revenue, or 8 percent of Microsoft's top line, in fiscal 2020.
As this transition occurs, Microsoft may acquire more video game publishers (as it recently did with ZeniMax) to expand its library of exclusive games and narrow its gap with cloud gaming competitors such as Amazon Luna and Google Stadia.
Over the next five years, Microsoft's promotions should continue to outpace the S&P 500 as the resilience of the cloud ecosystem, Windows expansion, and the growth of the gaming and surface segments all bring fresh revenue and profit.
It can be a pretty bumpy rally, as macro winds and cyclical PC sales can still affect its core business, but Microsoft has the right priorities and mentality to handle these short-term challenges.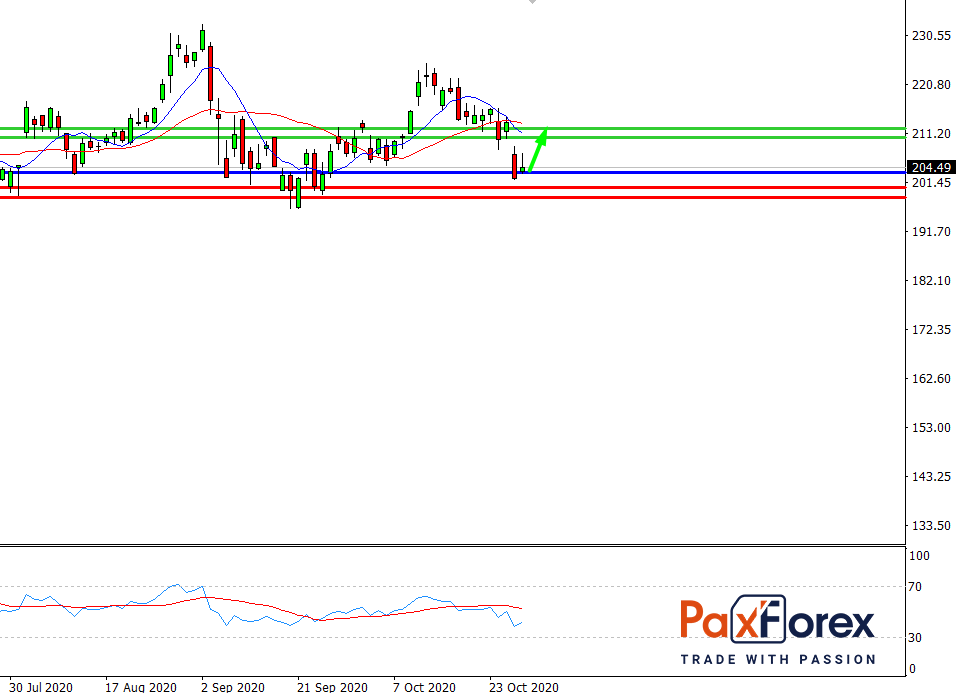 While the price is above 203.50, follow the recommendations below:
Time frame: D1
Recommendation: long position
Entry point: 206.07
Take Profit 1: 210.30
Take Profit 2: 212.30
Alternative scenario:
If the level 203.50 is broken-down, follow the recommendations below.
Time frame: D1
Recommendation: short position
Entry point: 203.50
Take Profit 1: 200.40
Take Profit 2: 198.50