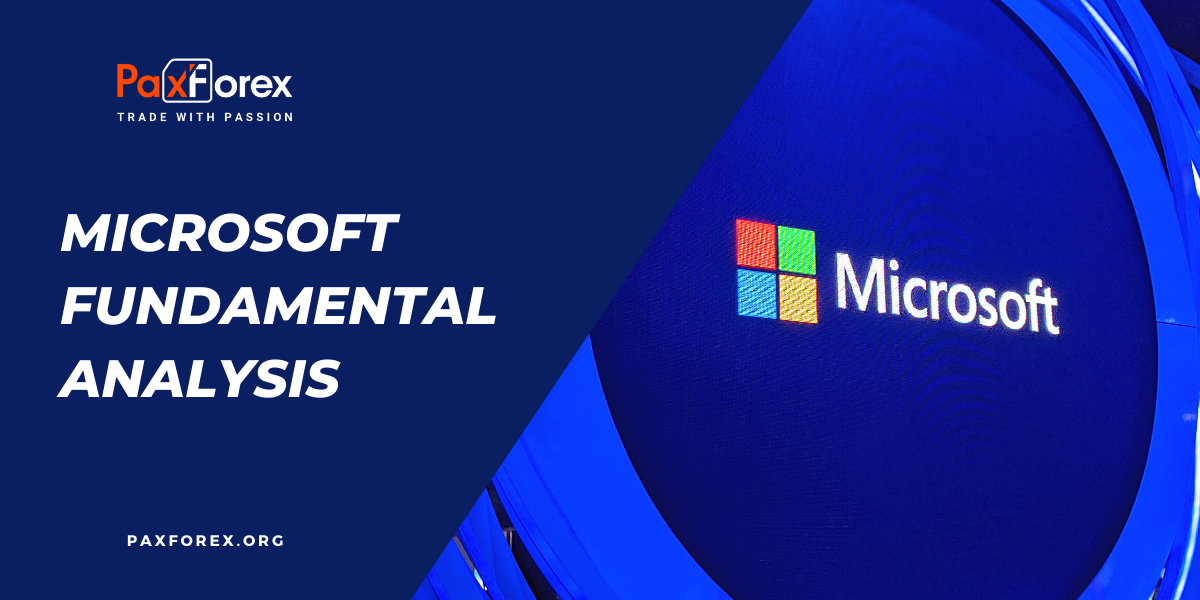 Source: PaxForex Premium Analytics Portal, Fundamental Insight
Famous software vendor Microsoft has earned praise for its successful transition from desktop to cloud computing. As a result, MSFT shares have grown. Many investors may wonder: is it worth buying Microsoft shares now?
Bill Gates and Paul Allen founded Microsoft in 1975 at the dawn of the personal computer era to make software for the PC operating system. The company's Windows operating system began to dominate the personal computer industry. Over the years, Microsoft has expanded its activities to software to improve performance, server software, Internet services, video games, as well as hardware and accessories for the PC.
The current CEO Satya Nadella headed the company in 2014 and led Microsoft to the full implementation of cloud computing.
Today the company offers infrastructure services Azure, high-performance software Office 365, and enterprise software Dynamics. Microsoft also owns LinkedIn, Skype, and GitHub.
In October 2019, Microsoft defeated Amazon and received a major contract from the U.S. Department of Defense to provide cloud computing services. The contract, known as JEDI, or Joint Enterprise Defense Infrastructure, is worth $10 billion over 10 years. Amazon attempted to challenge the contract, saying that President Donald Trump's bias against the e-commerce giant led the Pentagon to decide in favor of Microsoft.
On September 4, the Pentagon confirmed its decision to award the JEDI contract to Microsoft. By doing so, it disobeyed the court's decision, which blocked the contract proceedings. Amazon has pledged to continue its legal struggle for the contract.
Amazon Web Services is the world's largest provider of cloud infrastructure services. According to Synergy Research Group, AWS had a 33% market share in the third quarter. Microsoft is the second largest provider with an 18% market share. Other major players include the Alphabet Google Cloud Platform division, as well as Chinese companies Alibaba and Tencent. Total expenditure on cloud infrastructure services in the third quarter was about 33 billion dollars, according to Synergy.
On October 27, Microsoft exceeded the Wall Street targets for the first fiscal quarter ended September 30, due to high demand for the company's products in the field of cloud computing. However, its sales forecast for the December quarter was somewhat lightweight. MSFT shares fell 5 percent on news the following day.
Microsoft earned $1.82 per share, up 32 percent year on year, on sales of $37.15 billion, up 12 percent in the September quarter. Analysts expected Microsoft to earn $1.54 per share on sales of $35.72 billion.
According to analysts' forecasts, Microsoft will report in December on the sales volume of 39.95 billion dollars. Wall Street predicted 40.4 billion dollars. Sales in the same quarter last year amounted to 36.91 billion dollars.
Microsoft benefited from the need to work and study at home during the pandemic. These trends spurred growth in PC purchases. Also, the company's cloud-based software and services help employees and students working from home.
While Microsoft is best known for its software and cloud services, the company is also building resources and making a big push to design its own semiconductor devices. While the company's chip design efforts are ongoing, many other major technology companies are also dedicating more resources to designing their own chips to achieve better performance for cloud computing and AI applications. Companies including Apple, Facebook, Alphabet, and Amazon have been building up their custom chip designs in recent years, and some of these are emerging in consumer-grade devices that previously relied solely on third-party semiconductor devices.
With leading technology companies developing specialized processors and chips for enterprises and consumers, it's not surprising that Microsoft runs on chips that can provide additional protection at the hardware level.
The company has announced the release of a new chip designed to address and minimize potential security issues at the processor level. Pluton chips are designed to protect devices against hacking at the hardware level and are developed in partnership with Intel, Qualcomm, and AMD processor manufacturers.
The upcoming devices with the Pluton chip from Microsoft should be more difficult for the attackers to hack and extract confidential information - even if the criminals have physical access to the device. Variants of the Pluton chip were previously used in the Xbox One console to prevent theft of passwords and launch pirated software. They have also been used to protect Internet of Things devices connected through Azure Sphere's cloud service.
Microsoft is not likely to generate much revenue from these chips, but ensuring closer integration between hardware devices and Windows software can lead to security improvements and firmware upgrades that will make the company's operating system more attractive.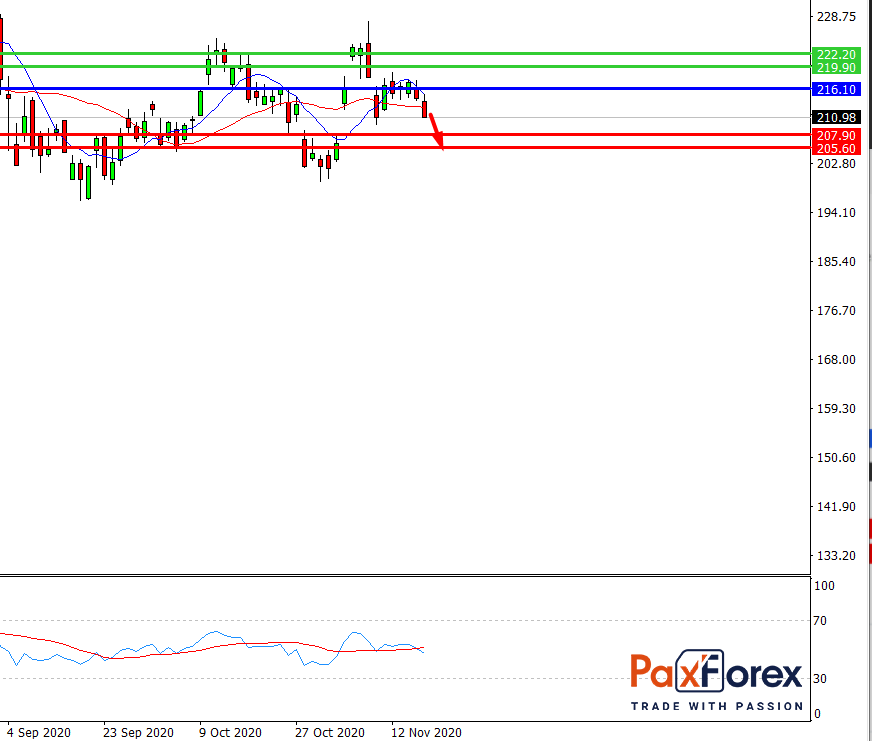 As long as the price is below 216.10, follow these recommendations:
Time frame: D1
Recommendation: short position
Entry point: 215.60
Take Profit 1: 207.90
Take Profit 2: 205.60
Alternative scenario:
In case of breakout of the level 216.10, follow the recommendations below:
Time frame: D1
Recommendation: long position
Entry point: 216.10
Take Profit 1: 219.90
Take Profit 2: 222.20