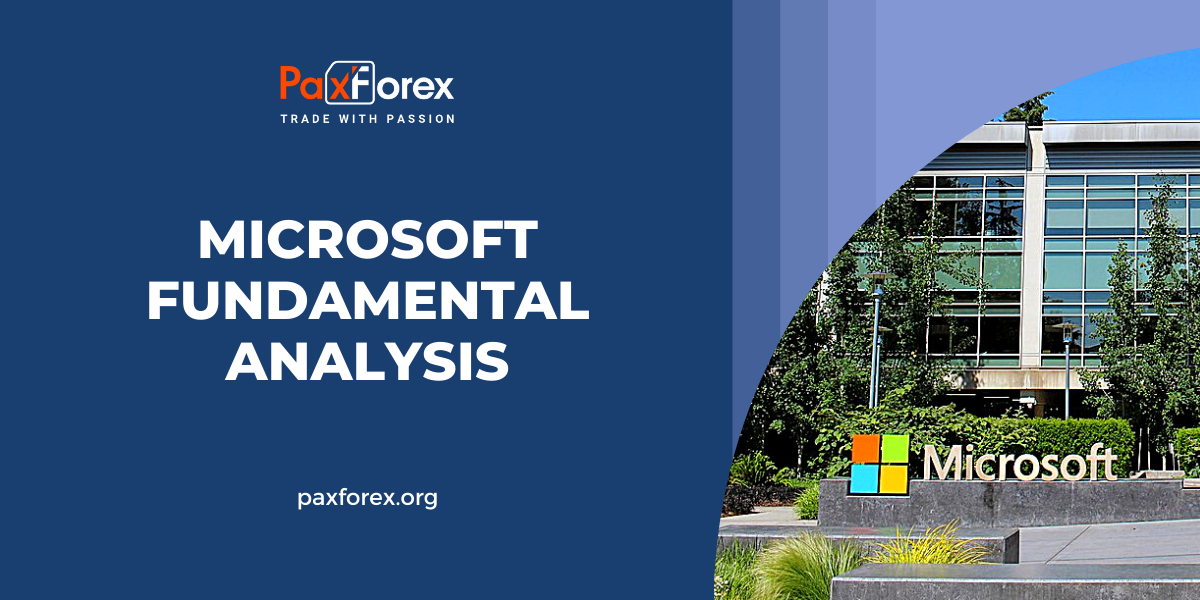 Source: PaxForex Premium Analytics Portal, Fundamental Insight
One could not help but notice that Microsoft's business is starting to slow down. The company's stock has been declining since the beginning of 2022, as sales growth has reached its limit. Large parts of the company's business, including the PC and video game segments, are shrinking. The outlook for corporate technology spending in 2023 is not rosy either.
However, Microsoft is not limited to these major problems. Let's look at some aspects of this company that are not as well known and obvious and that point to solid returns for investors in the long run.
Microsoft has a wealth of opportunities
By investing in Palo Alto Networks, you can gain exposure to attractive industries such as cybersecurity. A company like Electronic Arts will give you a stake in the video game industry. And Amazon stock has a great market position in the booming cloud services niche.
Or you could just buy Microsoft stock and kill all the birds with one stone.
The company has an unusually rich portfolio that covers these attractive sectors as well as some others. Of course, some of these niches will go through periods of decline, as is happening now in the PC software world. This division is now down 30 percent, to pre-pandemic levels. But Microsoft provides more diversified participation in technology growth trends than many other peers.
The volatility of the past few years has made it difficult to quantify the value of many growth stocks. Many tech companies are losing some of the huge sales gains they showed in the earlier stages of the pandemic. And huge currency fluctuations have put pressure on earnings, but likely only temporarily.
Two key metrics keep Microsoft from worrying about announcing a sudden drop in profits. The company is extremely profitable even after the slowdown that began to affect earnings in (calendar) 2022.
In Q2 of fiscal 2023 (ended Dec. 31, 2022), Microsoft generated $20.4 billion in operating income, just 8 percent less than the previous year. Meanwhile, cash flow is still strong, with operating cash of $11.2 billion compared to $14.5 billion a year earlier.
It seems likely that 2023 (calendar year) will be a year of weak growth for most tech giants, and that weakness could worsen or spill over into 2024. No doubt Microsoft's business is not immune to a possible recession or the downward impact of higher interest rates.
Stock returns will be constrained by several factors that many of its peers in the technology sector do not. For example, Microsoft pays a dividend that was recently raised by 10 percent. In addition, the company has plenty of cash and does not need to rely on costly debt to finance its business. Microsoft's global sales presence should also smooth out the volatility from the downturn in demand in some markets and niches.
These strengths don't make the company's stock recession-proof. But they do provide Microsoft with the flexibility to continue investing in high-yield projects such as artificial intelligence and virtual reality so that long-term growth prospects are not jeopardized by a few weak quarters.
As long as the price is above 245.00, follow the recommendations below
Time frame: D1
Recommendation: long position
Entry point: 264.83
Take Profit 1: 275.00
Take Profit 2: 285.00
Alternative scenario:
If the level of 245.00 is broken-down, follow the recommendations below:
Time frame: D1
Recommendation: short position
Entry point: 245.00
Take Profit 1: 235.00
Take Profit 2: 225.00