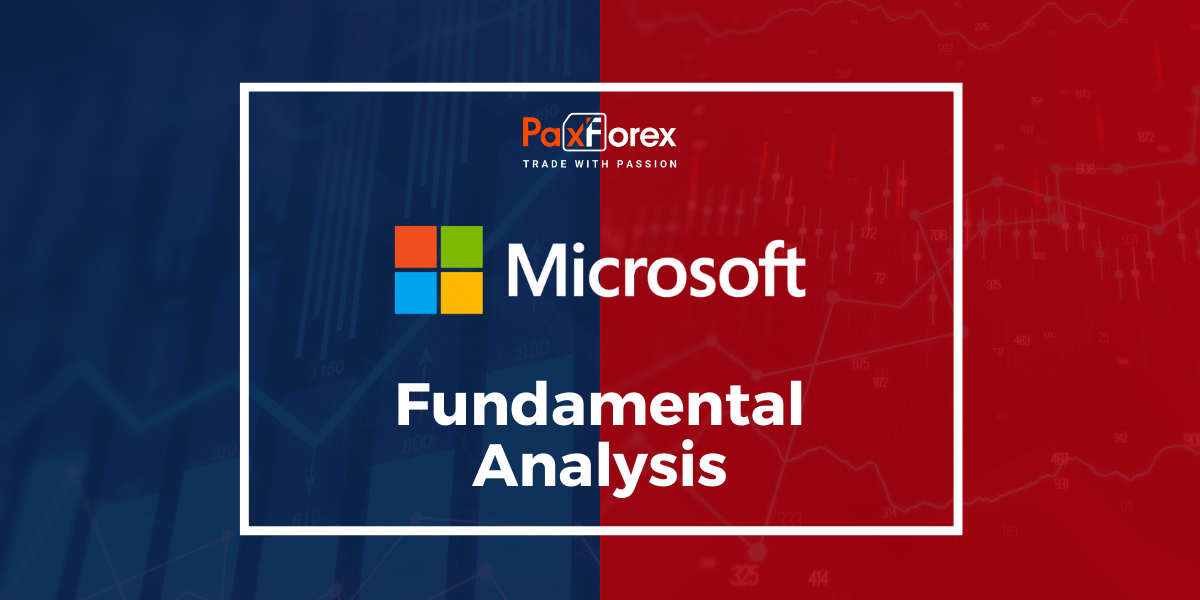 Source: PaxForex Premium Analytics Portal, Fundamental Insight
Microsoft is one of the largest businesses in the world, with a market capitalization of $1.8 trillion. The company's operations range from office productivity and collaboration tools to cloud computing and gaming services.
Within the last several years, MSFT stock has beaten the broad market, skyrocketing more than 160%, matched with a 52% increase for the S&P 500. But. as we know, past performance is no guarantee of future success. Is Microsoft still a relevant investment? Let`s try to find out.
Microsoft is the obvious leader in terms of everything related to productivity software. All will agree that applications like Word, PowerPoint, and Excel are the synonyms for office work, and collaboration tools like Teams and SharePoint allow you to work together from anywhere in the world.
Not surprisingly, the pandemic has generated substantial demand for most of those products. For example, the number of monthly active users of Microsoft Whiteboard in Teams, a feature that enables remote collaboration, has increased 12-fold within 2020. Even keeping in mind that Teams is the free-of-charge application, it supplements significant value to Microsoft 365, the company's software-as-a-service offering.
In the first half of the fiscal year 2021 (the six months ended Dec. 31, 2020), sales in Microsoft's productivity segment surged 12 percent, thanks to 21 percent growth in commercial Office 365 revenue. Also of note, sales of Dynamics 365, a hybrid of enterprise resource planning (ERP) and customer relationship management (CRM) software, climbed 38% in the same period.
Also, Microsoft Azure is the second public cloud in the world, and it is increasing its share on par with Amazon Web Services (AWS). Azure reached 20 percent market share at the end of 2020, up from 15 percent at the end of 2018. Meantime, AWS's share fell from 33% to 32% over that period.
To dodge vendor lock-in, more and more clients are more likely to choose hybrid or multi-cloud solutions -- suggesting that cloud resources are shared between on-premises data centers and one or more public clouds. Microsoft has embraced this trend and is establishing itself as a lead.
Azure Arc allows customers to use Azure management in any environment. In other words, customers can control all cloud resources from one location, even if those resources are not stored in the Microsoft cloud. It considerably decreases complexity, and it is one of the determining factors why customers should choose Azure as part of their cloud strategy.
In the gaming industry, Microsoft launched the Xbox X and S series last November-the X series was created for productivity, while the S series is sold at a more democratic price. In his last earnings report, CEO Satya Nadella described it as the "most successful" launch in the company's history "with the most devices ever sold in a launch month." It helped boost gaming revenue to $2.3 billion in the first six months of fiscal 2021, up 38 percent from the previous year.
Microsoft has achieved extraordinary results in recent years, largely thanks to its productivity and cloud computing.
Both revenue and free cash flow have recorded double-digit average annual growth rates, and investors should pay attention that the company's gross margin is also trending upward, rising from 65% in 2017 to 68% over 12 months. Improved profitability has really boosted free cash flow to rise faster than revenue.
It should also be noted that Microsoft now has $132 billion in cash, cash equivalents, and short-term investments on its balance sheet. That's more than double its $60 billion in debt, which puts the company in a very favorable financial position.
In terms of valuation, Microsoft trades at 12 times sales and 36 times earnings. Both of these numbers are at the top of their historical range. In other words, the stock looks more expensive today than it has for most of the last ten years.
Traders need to remember that while Microsoft's extensive operations offer tremendous market opportunities, the company faces opposition from virtually every angle. Particularly in the cloud computing giant's technology platforms with AWS and Google Cloud. And in the market for collaboration and CRM software, Microsoft is competing with salesforce.com, a rivalry that could become more intense if Salesforce's acquisition of Slack is approved.
Still, Microsoft is an incredibly lucrative business with deep pockets and a powerful rival position in several industries. From that point of view, this company's stock looks like a great supplement to any portfolio, even at today's inflated valuation.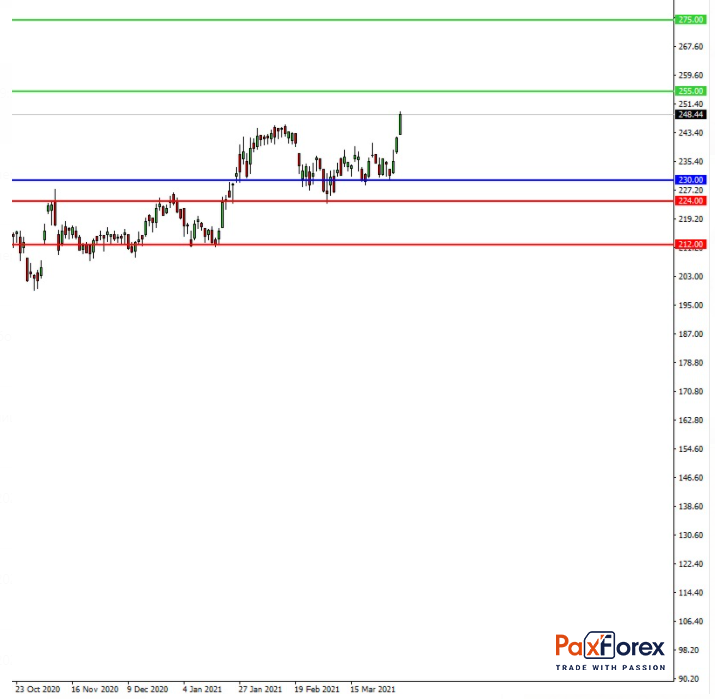 Provided that the price is above 230.00, follow these recommendations:
Time frame: D1
Recommendation: long position
Entry point: 250.00
Take Profit 1: 255.00
Take Profit 2: 275.00
Alternative scenario:
In case of breakdown of the level 230.00, follow the recommendations below:
Time frame: D1
Recommendation: short position
Entry point: 230.00
Take Profit 1: 224.00
Take Profit 2: 212.00