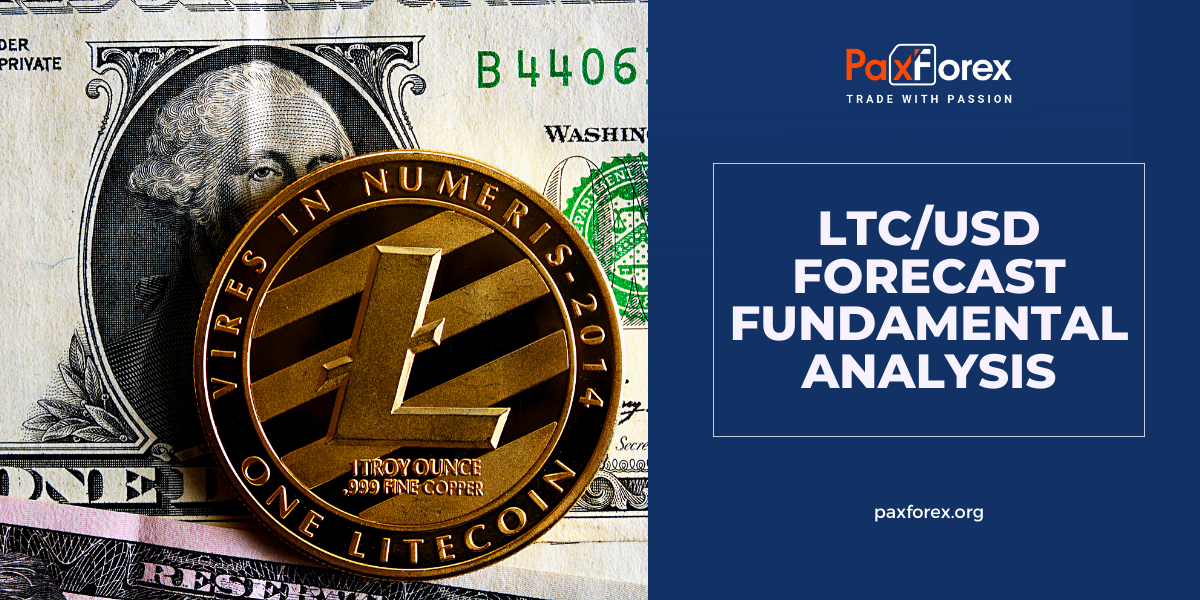 Source: PaxForex Premium Analytics Portal, Fundamental Insight
Litecoin, which established itself as the silver standard to Bitcoin, often referred to as digital gold, dropped out of the Top 10 cryptocurrencies by market cap in more than a decade. Price action is now holding just above the psychologically relevant $100 level, but despite its massive correction, Litecoin is up 8% in 2021. While it is nothing to get excited about in the cryptocurrency sector, and selling pressure remains on most assets in the space, patient investors have an excellent buying opportunity ahead, especially if support levels hold.
One thing to keep in mind is the supply of Litecoin, resulting in more long-term buying pressure. Bitcoin has a limit of 21 million, with almost 19 million already circulating, and an estimated 20% of Bitcoin permanently lost. Therefore, the total transactable volume is below 17 million Bitcoin. Litecoin has a maximum supply of 84 million, with less than 67 million minted. Three of the biggest advantages of Litecoin over Bitcoin are speed, transaction costs, and privacy. Mining costs are also notable cheaper compared to Bitcoin. It allows LTC/USD to attract more hobby miners, which increases decentralization. Bitcoin is highly concentrated, with a few big players controlling the market.
The forecast for the LTC/USD is turning cautiously bullish with a falling wedge formation and US Dollar weakness ahead. While the Tenkan-sen continues to descend, the Kijun-sen flatlined. Adding to a rising bullish outlook is the Ichimoku Kinko Hyo Cloud, which shows signs of moving higher after the Senkou Span A began to ascend. The CCI dropped into extreme oversold territory and has more downside potential in the short term with a positive outlook. Can bulls step in and defend the $100 level, forcing LTC/USD back into its horizontal resistance area? Subscribe to the PaxForex Daily Fundamental Analysis and earn over 5,000 pips per month.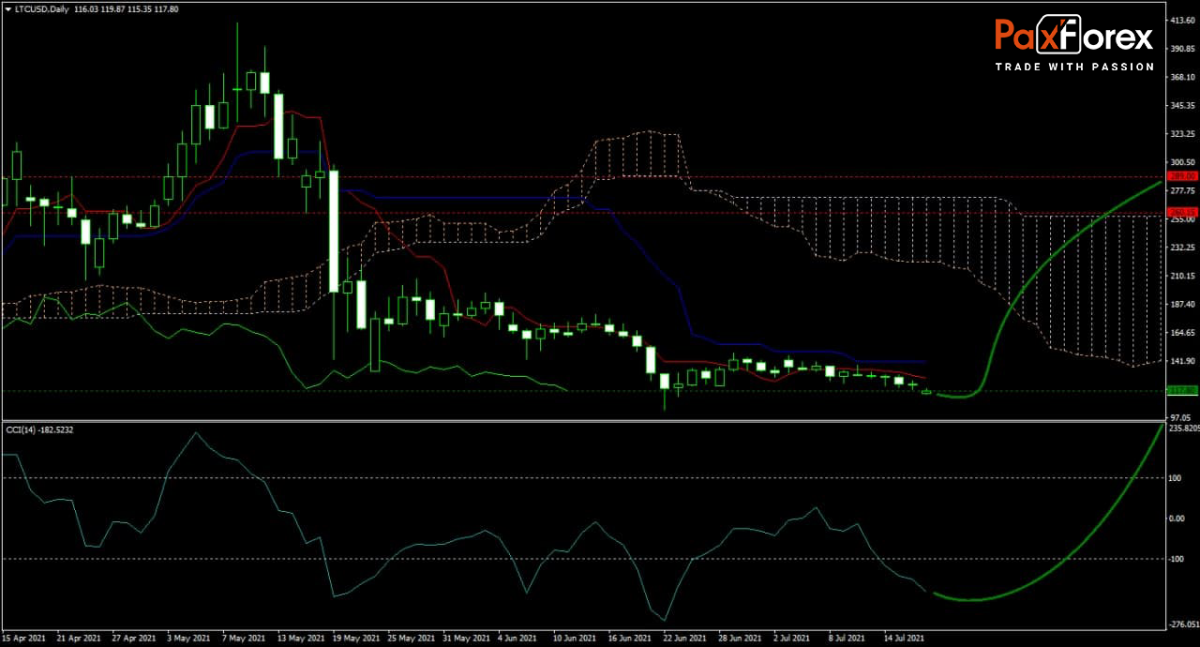 Should price action for the LTC/USD remain inside the or breakout above the 102.90 to 128.50 zone, PaxForex recommends the following trade set-up:
Timeframe: D1
Recommendation: Long Position
Entry Level: Long Position @ 117.80

Take Profit Zone: 260.15 – 289.00

Stop Loss Level: 95.25
Should price action for the LTC/USD breakdown below 102.90, PaxForex recommends the following trade set-up:
Timeframe: D1
Recommendation: Short Position
Entry Level: Short Position @ 95.25

Take Profit Zone: 69.75 – 77.90

Stop Loss Level: 102.90
Open your PaxForex Trading Account now and add this currency pair to your forex portfolio.