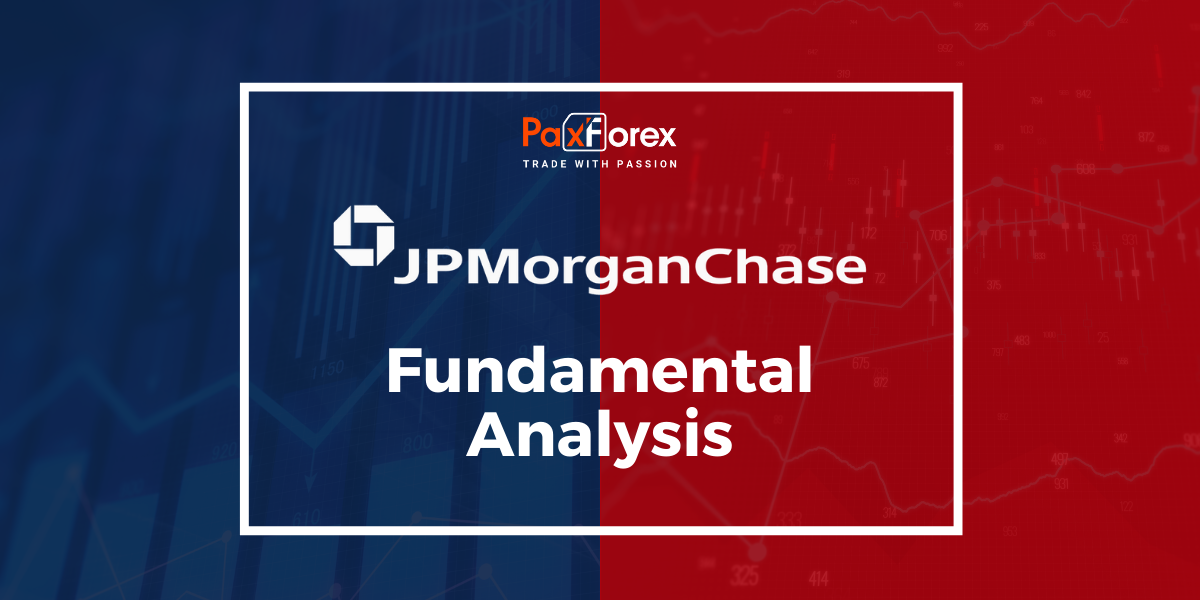 Source: PaxForex Premium Analytics Portal, Fundamental Insight
The last ten years have been very favorable for growth investors, but coming out of this pandemic-induced recession has been a stellar hour for undervalued stocks. As of April 6, the Russell 1000 Value Index was up 13% year-over-year, while the Russell 1000 Growth Index was up about 4% year-over-year.
In March, the Wall Street Journal reported that this was the largest gap between value and growth since 2000 when the tech bubble burst. Twenty years later, value is rising not only after technology prices take off, but also as the economy improves after the recession, although the recession has not yet been officially declared to be over.
Banks are now among the leaders in value as most were hit hard during the pandemic. There are still many worthy assets in the banking industry, and one of the best performers there is JPMorgan Chase.
JPMorgan Chase is the largest bank in the United States, and it has been the top major bank for the past decade. Its stock also beat its competitors during the pandemic recession, falling just 5 percent in 2020, when stock prices at other big banks fell by double-digit percentages over the year.
The bank ended the year with a fourth-quarter net income of $30.2 billion, up 1% from the same quarter a year earlier, and net income of $12.1 billion. The provision for credit losses was $1.9 billion for the quarter, after three consecutive quarters of provisioning. The $1.9 billion gain was due to the release of reserves, reflecting improved economic conditions and reduced net charge-offs (bad debts that are unlikely to be paid back).
There are a couple of factors that have consistently distinguished JPMorgan Chase throughout various cycles, whether it is the Great Recession, a bull market, or a pandemic. One is the so-called "fortress balance sheet," an expression adopted by CEO Jamie Dimon to define the company's efficiency and emphasis on capital strength. The company raised its Tier 1 common stock ratio in 2020, increased its book value per share by 8 percent to $81.75, and posted a 24 percent return on tangible common equity, up from 17 percent in the fourth quarter of 2019.
"We ended the year with a CET1 ratio of 13.1% [up from 12.4% at the beginning of the year] and over $200 billion in the capital, which provided us with significant opportunities to further invest in our business and community while returning capital to shareholders," Dimon said in his fourth-quarter earnings report.
Another benefit is a diverse revenue stream. The bank has four major revenue streams: consumer and community banking, corporate and investment banking, commercial banking, and asset and wealth management. Consumer banking, which includes traditional banking and lending, along with credit cards and auto loans, is the largest, while investment banking, which includes wholesale payments and trading in markets, is the next largest.
While the consumer banking group had particular issues in 2020, investment banking performed strongly in the fourth quarter, with revenues up 37% year over year. Volatility, in this case, helped as there was increased trading activity as well as the need for advisory and underwriting services. Asset management and wealth management and commercial banking segments are smaller, but they also grew last year, offsetting losses in consumer banking.
JPMorgan Chase is a leader or one of the leaders in all of these different lines of business. With a strong balance sheet, the bank is not only able to withstand aby crisis, but can also invest in its technology infrastructure and data capabilities to enhance its performance and productivity. In 2021, Dimon stated the bank intends to invest $12.5 billion in the tech sector.
Also, a strong balance sheet enables the company to make acquisitions to further grow its business. The company has indicated that it is interested in acquisitions, particularly in its asset management business.
JPMorgan Chase is considered by many to be a good company because it is undervalued relative to its earnings and market leader position. The company's forward price to earnings ratio is about 13.8, which is about the average P/E for financial institutions. Its price-to-book ratio is just under 2, which is not related to the asset's undervaluation but is relatively small compared to its upside potential in improving macroeconomic conditions.
All in all, JPMorgan Chase is, by any measure, an excellent investment option right now.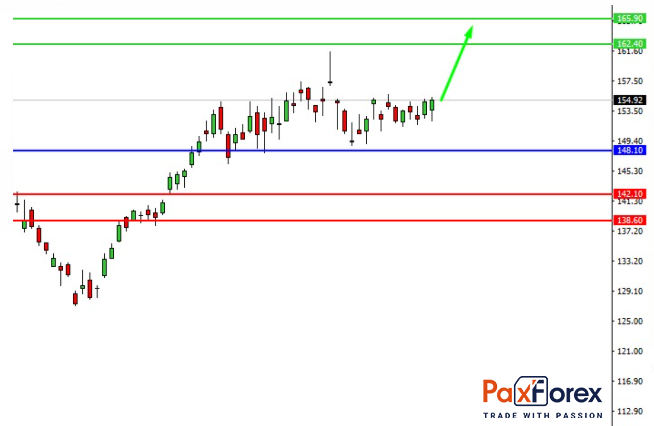 Provided that the company is traded above 148.10, follow the recommendations below:
Time frame: D1
Recommendation: long position
Entry point: 155.90
Take Profit 1: 162.40
Take Profit 2: 165.90
Alternative scenario:
In case of breakdown of the level 148.10, follow the recommendations below:
Time frame: D1
Recommendation: short position
Entry point: 148.10
Take Profit 1: 142.10
Take Profit 2: 138.60