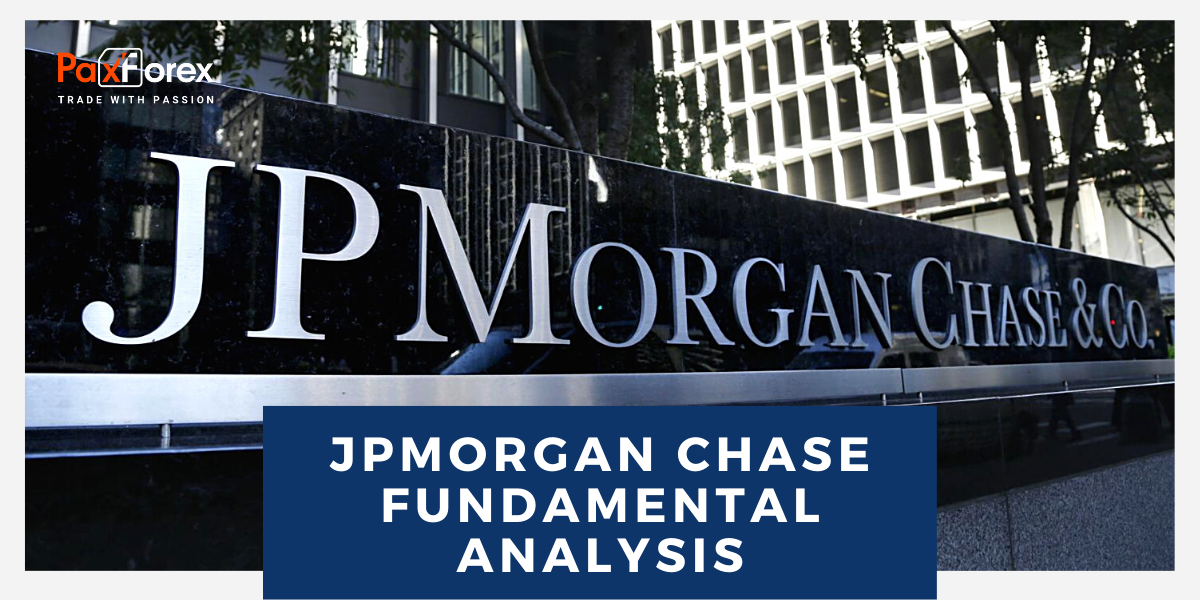 Source: PaxForex Premium Analytics Portal, Fundamental Insight
JPMorgan Chase, America's largest bank, had the eventful year of 2020. While the pandemic hit the bank hard and forced it to set aside tens of billions of dollars for future potential loan losses, the bank showed incredible resilience, making very solid gains all things considered. JPMorgan's stock price is down about 11% from where it was at the beginning of the year.
As soon as the Federal Reserve lifted its ban on big bank stock buybacks, JPMorgan Chase announced a $30 billion stock buyback program. CEO Jamie Dimon has recently been trying to get back into stock buybacks since the Fed banned them in the third quarter, believing it is the bank's best use of its excess equity.
If the coronavirus vaccines prove effective and the economy recovers quickly, as expected, the bank is also likely to increase its quarterly dividend payout, which is currently $0.90 per share.
Consolidation in asset management is accelerating, as evidenced by Morgan Stanley's two major acquisitions of E*Trade and Eaton Vance. JPMorgan's Asset Management division performed well during the pandemic and even increased earnings. In the third quarter, the division posted a net income of $877 million. The division posted a net income of $877 million, up more than 30 percent year-over-year.
In the third quarter of the year 2020, JPMorgan Chase set aside $33.6 billion for future potential loan losses, representing 3.26% of its total loan portfolio. That's a big number. The bank's net charge-off ratio (debt unlikely to be collected) for the third quarter of 2020 was only 0.49%, down from the third quarter of 2019.
Banks modeled the losses assuming no second round of stimulus. But it is now known that there will be a second round of $900 billion in the stimulus. That will likely mean fewer losses for the banking sector, and if there is a quick recovery, other losses that currently involve reserve settlements may not occur. It will allow JPMorgan to release some of its reserves -- potentially billions of dollars -- back into the income statement and, therefore, increase profits.
Like many banks, analysts are predicting lower earnings and higher profitability for JPMorgan in 2021. Low-interest rates will continue to reduce net interest income, and Dimon said in the bank's third-quarter earnings report that "we're not going to do anything to protect NII." What he means by that is that the bank is not going to put its excess cash into securities that produce very little return, which is probably the right move in the long run. While the bank's fee income business segments should remain strong, after a record year in some areas, such as corporate and investment banking, they are also likely to normalize a bit in 2021.
But despite lower revenues, with much lower lending costs in 2021, opportunities to release reserves back into earnings, share buybacks, and perhaps better loan demand at the end of 2021, the bank's earnings should still be much better than in 2020.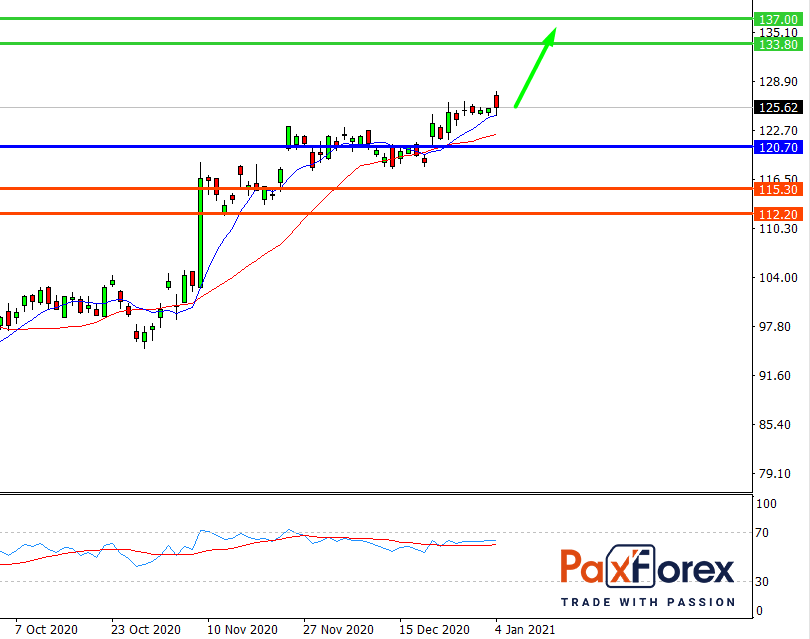 While the price is above 120.70, follow the recommendations below:
Time frame: D1
Recommendation: long position
Entry point: 127.07
Take Profit 1: 133.80
Take Profit 2: 137.00
Alternative scenario:
If the level 120.70 is broken-down, follow the recommendations below:
Time frame: D1
Recommendation: short position
Entry point: 120.70
Take Profit 1: 115.30
Take Profit 2: 112.20