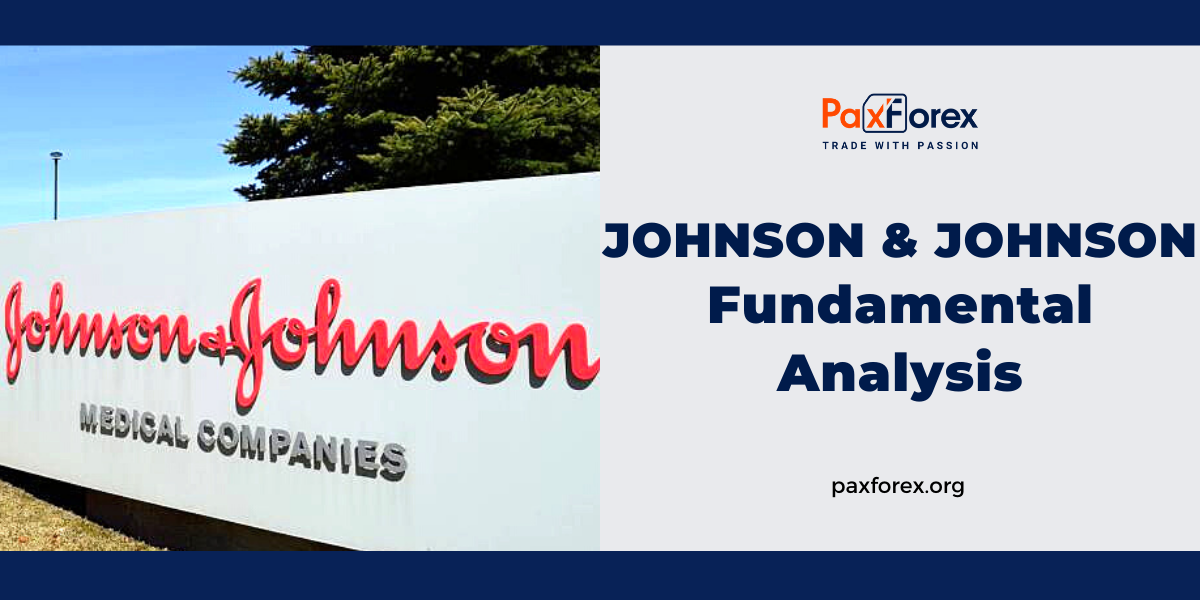 Source: PaxForex Premium Analytics Portal, Fundamental Insight
The past month has been crucial in the development of the Covid-19 vaccine. Pfizer received emergency vaccine approval on Dec. 11 for their BNT162b2 serum. Shortly after, Moderna received ECA approval for its mRNA-1273 vaccine on Dec. 18. Currently, thousands of health care workers are already getting doses of those vaccines.
However, many other companies in the race for the vaccine have not yet received regulatory approval for their developments. One of them is Johnson & Johnson, the only biggest healthcare company in the world by market capitalization. The company's vaccine is named Ad26.COV2.S, and it is an adenovirus vector vaccine.
It induces an immune response that will protect those vaccinated against the actual SARS-CoV-2 virus should they contact it. In preclinical studies, Ad26.COV2.S spurred an immune response and produced lung protection against the virus in animals.
The vaccine also showed promise in a Phase 1/2a clinical trial; the company first announced its interim data back in autumn. As per the Pharmacist, it was generally safe and well-tolerated throughout the study and was able to neutralize antibodies in 98% of the study participants.
Johnson & Johnson is currently conducting a Phase 3 clinical trial with 45,000 participants to assess the safety and effectiveness of the vaccine. The business stated it anticipates the results of this study by the end of this month. J&J hopes to receive regulatory approval soon, provided the vaccine is safe and effective.
Johnson & Johnson's vaccine does have a big advantage over some of its rivals: it is a single-use vaccine. Both Moderna's and Pfizer's require two doses several weeks apart. This circumstance should encourage Johnson & Johnson's vaccine to take a fair share of this enormous market, again, given that its effectiveness is comparable to that of other already approved vaccines.
There are many more arguments for why Johnson & Johnson deserves a place in traders` portfolios. For example, consider Johnson & Johnson's rich assortment of drugs. Among them is the psoriasis drug Stelara, whose sales in the first nine months of 2020 rose 17.2 percent to $5.5 billion. Other notable products include the psoriatic arthritis drug Tremfya, which had sales of $965 million in the first three quarters of 2020, up 30.2% from a year ago. Finally, cancer drugs Darzalex and Imbruvica are currently the key growth drivers for Johnson & Johnson. For the nine months ended, Darzalex sales totaled $2.9 billion, up 35.5% year over year. Meanwhile, Imbruvica's revenue for the same period was $3 billion, up 18.7% over the same period in 2019.
Johnson & Johnson also has more than two dozen drugs that are in Phase 3 clinical trials. The path from Phase 3 clinical trials to drug approval is no guarantee of getting a drug approved for mass release, but some studies show a roughly 59% chance of success, so Johnson & Johnson's current program is likely to produce at least a dozen new drugs (or new indications for existing drugs). Not to mention the company's medical devices segment and its consumer health care segment, which sells over-the-counter medications.
These two businesses help diversify the company's revenue base. Johnson & Johnson is additionally the Dividend King, increasing its dividend for more than 50 years in a row. The business now allows a yield of 2.49% - up from 1.55% for the S&P 500 - and a sound cash payout ratio of 56.4%. It makes Johnson & Johnson an attractive option for income-seeking investors.
Johnson & Johnson is not an outsider in the coronavirus vaccine race. The company was one of the first to be chosen to join Operation Warp Speed, an initiative offered by the U.S. government to accelerate the development of vaccines and therapeutics against Covid-19. Don't forget that Johnson & Johnson is likely to release clinical trial data on the Ad26.COV2.S. vaccine soon. And since this vaccine requires only one dose to work, its convenience could cause more volatility in the market if it proves to be safe and effective.
In short, Johnson & Johnson is still a strong contender for investors seeking returns from coronavirus vaccine companies. Besides, the pharmaceutical giant boasts a rich product line and diversified business, as well as attractive dividend yields. All of these aspects make Johnson & Johnson a company worthy of serious consideration.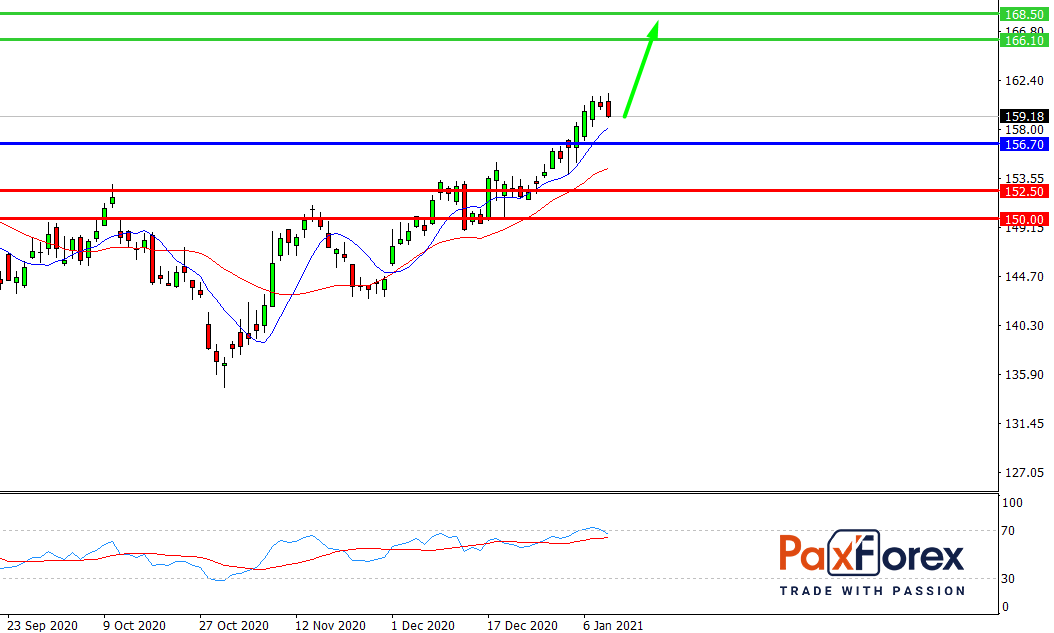 While the price is above 156.70, follow the recommendations below:
Time frame: D1
Recommendation: long position
Entry point: 160.04
Take Profit 1: 166.10
Take Profit 2: 168.50
Alternative scenario:
If the level 156.70 is broken-down, follow the recommendations below.
Time frame: D1
Recommendation: short position
Entry point: 156.70
Take Profit 1: 152.50
Take Profit 2: 150.00