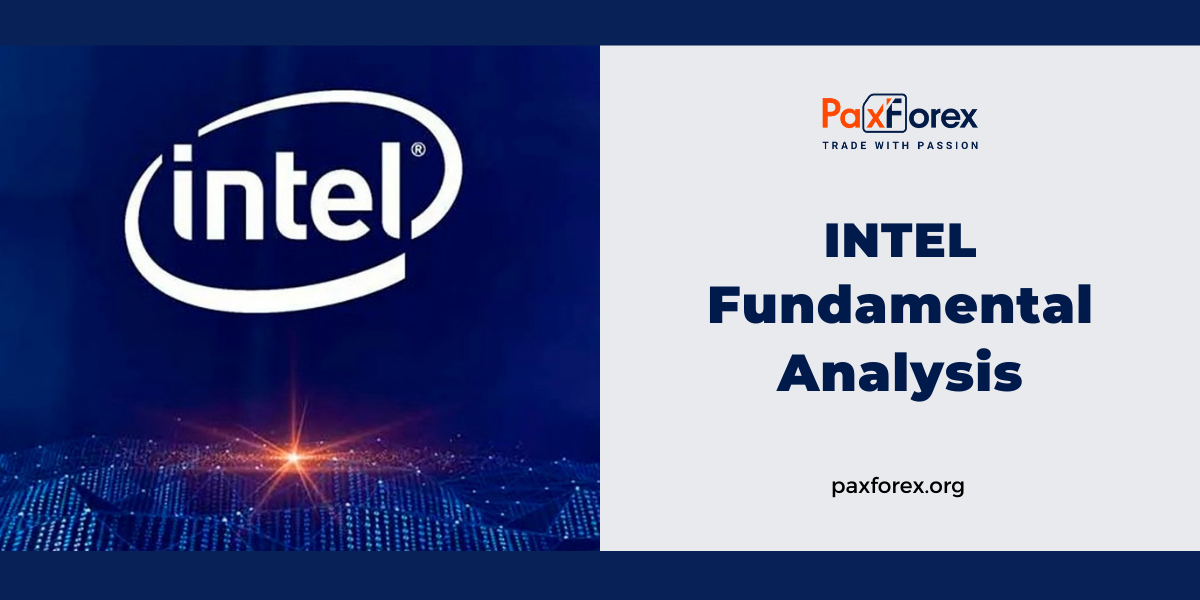 Source: PaxForex Premium Analytics Portal, Fundamental Insight
Intel may seem like the last company technology investors would want to buy, as its semiconductor development endeavors lag behind those of its main competitor today, Taiwan Semiconductor Manufacturing. But new management, represented by engineer Pat Gelsinger as CEO, has set in motion a process that should help Intel catch up with its rivals.
Because chip development cycles take three to five years, the outlooks for a return soon are uncertain. Nevertheless, under Gelsinger's leadership, investors have several high-grade incentives to consider the long-term outlook for Intel stock, despite the uncertainty.
- Low Value
Intel's difficulties have drawn one plus to the stock for possible new buyers: low valuation. Intel stock sells at a P/E ratio of about 12, and that compares well with valuations over the past 2.5 years.
Intel stock, on the other hand, doesn't match up well with its more in-demand semiconductor peers. In the manufacturing segment, TSMC is selling at 33 times earnings. As for chip development, TSMC customers (and Intel competitors) Advanced Micro Devices and Nvidia are popular enough to get P/E ratios around 38 and 93, respectively.
Intel's poor stock performance over the past five years and lack of revenue growth weighs down the valuation. The major peer companies have significantly outperformed Intel stock, which has gained only 56% over the past five years. Moreover, even with the recent unexpected spike in chip sales caused by the coronavirus quarantines, Intel's fiscal year 2020 earnings were up just 8% from 2019. More recently, the numbers have started to fall again, as revenue for the first six months of 2021 is down just under 1% in comparison with the first two quarters of 2020.
A small part of Intel's problem is its large size. The company's revenue of $77.9 billion in 2020 exceeded that of every other semiconductor company except Samsung. This large sales volume indicates that, despite its problems, Intel is still an important performer in the chip industry. It, at least, provides a base on which it can revive itself.
- Intel's manufacturing business provides an advantage
Intel retains much of that influence, remaining one of the few semiconductor developers to produce its chips. Most of its competitors are chip makers that rely on companies like TSMC to produce the chips they develop.
Admittedly, Intel's previous management intended to depend at least in part on outside manufacturing. However, Gelsinger has altered direction, investing billions in upgrading and expanding production in the United States. Not only does the company want to produce higher-quality chips in the U.S., but it has also founded Intel Foundry Services to provide foundry capacity to other chipmaking companies, as TSMC does.
In a related development, multiple sources say Intel is in talks to buy GlobalFoundries for $30 billion. GlobalFoundries comes after AMD spun off its foundry operations. Today, the semiconductor research site TrendForce estimates that it has a 7 percent share of the foundry market.
Besides, Intel may have finally overcome its manufacturing difficulties with its 10-nm processor. The company said in its second-quarter earnings call that it has shipped more than 50 million Tiger Lake processors. Intel also anticipates shipping several million Alder Lake processors later this year. According to the VideoCardz website, a leak from Intel claims that Alder
Lake could surpass AMD's fastest Ryzen processor.
Whether these rumors turn out to be true will become clear when Intel releases the Alder Lake. But AMD first released 7nm processors made by TSMC starting in 2019. By comparison, Intel expects Meteor Lake, Intel's 7nm processor, to begin production in 2023. Thus, the race to develop the highest-performing processors remains an ongoing process.
- National security concerns could play into Intel's hands
Another consequence of TSMC's technical superiority is that chip production has become concentrated around Taiwan. According to TrendForce, the island nation now accounts for about two-thirds of global chip production.
Unfortunately, China has long treated Taiwan as a rogue province and has vowed to return it to China within a few decades. Although the prospect of a military takeover does not seem likely at the moment, such action would have enormous consequences for the economy if chip production in Taiwan were to come under Chinese control. Since Intel's foundry is located in the U.S., Intel stock is effectively an insurance policy against such action.
In addition, the Senate approved $52 billion in subsidies for U.S. semiconductor companies, including $39 billion for research and development and domestic manufacturing incentives. As the largest plant owner in the U.S., Intel is likely to benefit directly from government subsidies, regardless of whether efforts to merge with GlobalFoundries become a reality.
Regardless of whether investors believe Intel's comeback story, all of these factors combine to strengthen the case that Intel stock is increasingly worth the risk.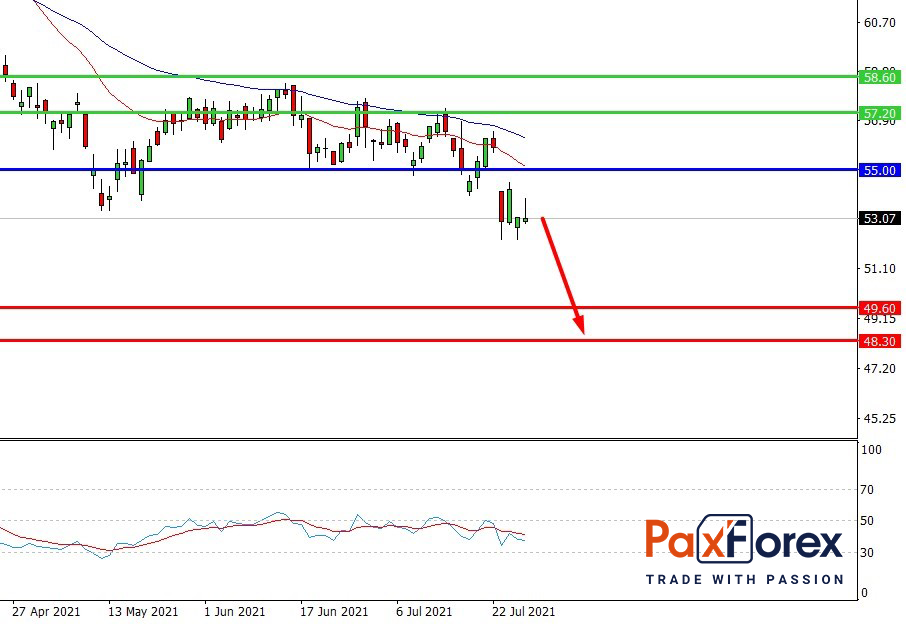 While the price is below 55.00, follow the recommendations below:
Time frame: D1
Recommendation: short position
Entry point: 53.18
Take Profit 1: 49.60
Take Profit 2: 48.30
Alternative scenario:
If the level 55.00 is broken-out, follow the recommendations below:
Time frame: D1
Recommendation: long position
Entry point: 55.00
Take Profit 1: 57.20
Take Profit 2: 58.60