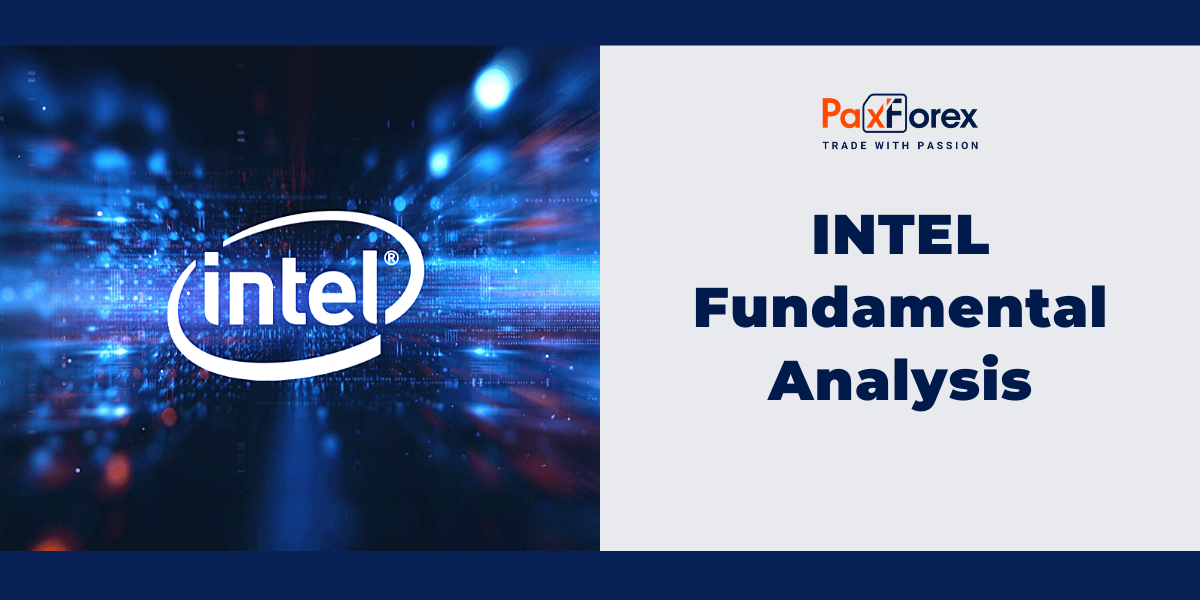 Source: PaxForex Premium Analytics Portal, Fundamental Insight
Chip giant Intel, best known for its PC and data center processors, which have long dominated both markets, is also one of the leading manufacturers of NAND memory chips used in SSDs and smartphones for data storage.
While Intel's core business is extremely (and consistently) profitable, the memory chip business is a very different story. NAND chips are marketable products, which means that chips from different vendors are basically the same. Most people have no idea which company manufactured NAND chips in their smartphones. They do not know because it does not matter.
The prices for marketable products are dictated by supply and demand and NAND chips are no different. Intel has no real price power in the NAND chip business. If there is an oversupply of chips, prices fall. If there is a supply shortage, prices go up. It leads to sometimes severe cycles when prices can collapse, making it almost impossible to make a profit.
Intel has been struggling for many years to bring new production processes for its PC chips and data centers to mass production. The chronic delay was one of the factors that led to the revival of competing for modern microdevices. The business of NAND chips, which is capital intensive and does not allow for a competitive advantage, is a distraction for the company.
Intel has finally concluded that the NAND chip business is not very suitable. Recently, the company announced that it has agreed to sell its NAND business to SK Hynix for $9 billion. The sale includes Intel's SSD business, NAND business components and plates, and the Dalian NAND factory in China. It does not include the Intel Optane business, which uses 3D XPoint memory chips.
Intel is withdrawing from this business because it cannot stand out and because other types of products will provide a better return on investment. "For Intel, this deal will allow us to further prioritize our investment in differentiated technologies where we can play a greater role in the success of our customers and provide an attractive return to our shareholders," said CEO Bob Swan.
NAND per bit prices tend to fall over time. That's why a 1TB SSD notebook is available today when five years ago you would have probably found a hard drive instead. To keep NAND chips running at a profit, the cost per bit should drop at least as fast as the price per bit.
In periods when supply is significantly ahead of demand, prices can drop so quickly that the profitability inevitably drops. A memory chip maker Micron, for example, has faced a 47 percent drop in average selling prices per bit in fiscal 2019 compared to fiscal 2018. Last year, Micron prices fell by only 13%.
In other words, it's a tough business, and it just doesn't make much sense for Intel to participate in it.
Intel plans to use the funds from the sale of the NAND business to finance investments in long-term development initiatives. The company's main task now is to protect its share in the PC and server chip market from AMD, which has been gaining momentum over the past few years.
Investors are likely to hear more about the company's exit from the NAND market when Intel reports third-quarter results after the market closes today. Analysts expect the company to report a 5% drop in sales and a sharp decline in adjusted earnings per share, although it surpassed expectations last time. Intel shares fell when the company reported second-quarter results despite these strong numbers because it announced a 7nm processor manufacturing cycle delay.
Leaving NAND should help Intel refocus on the core business. Given that AMD has proved to be a tough competitor, this step will not take long.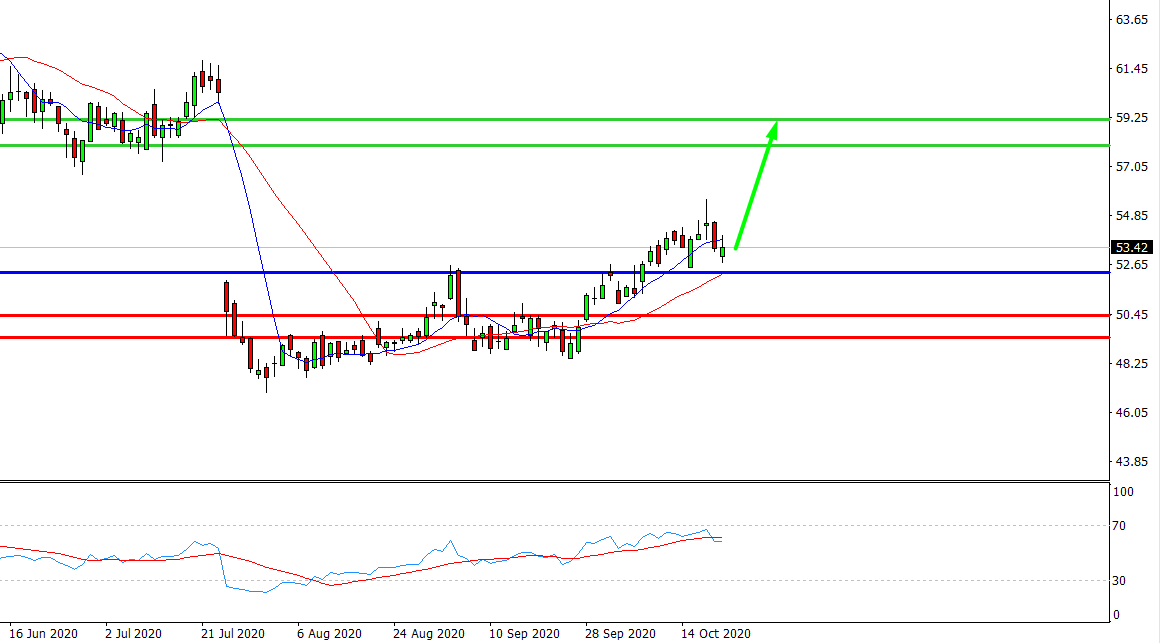 While the price is above 52.30, follow the recommendations below:
Time frame: D1
Recommendation: long position
Entry point: 54.58
Take Profit 1: 58.00
Take Profit 2: 59.20
Alternative scenario:
If the level 52.30 is broken-down, follow the recommendations below.
Time frame: D1
Recommendation: short position
Entry point: 52.30
Take Profit 1: 50.40
Take Profit 2: 49.40