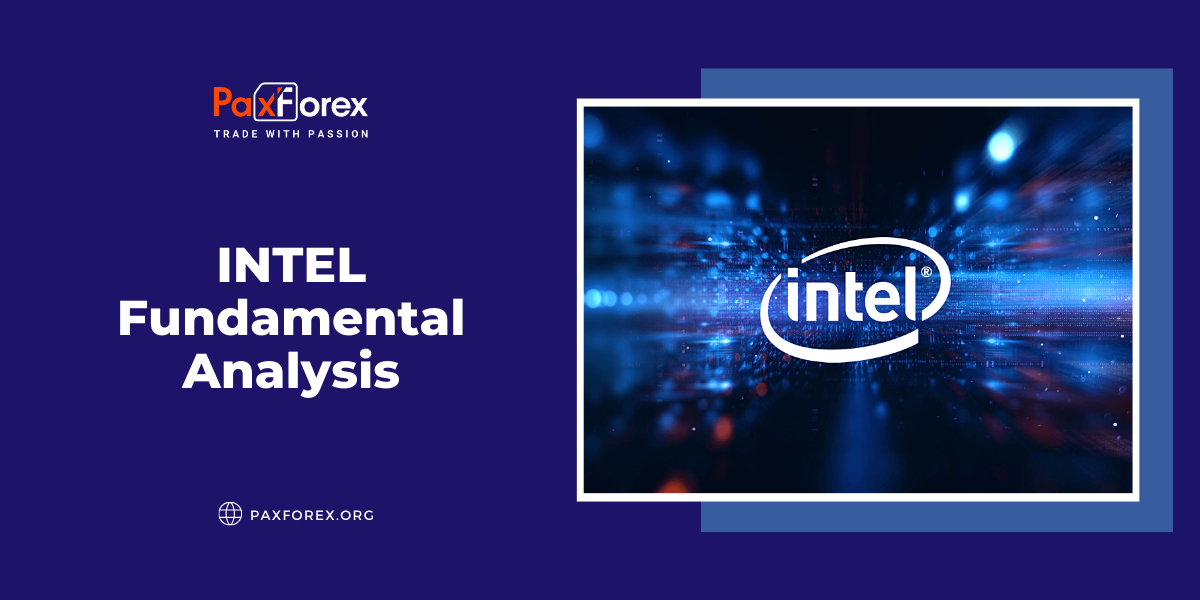 Source: PaxForex Premium Analytics Portal, Fundamental Insight
Intel has disappointed investors over the past year as stiff competition from companies like Advanced Micro Devices has hampered the chip giant. The company's stock has fallen far behind the broader PHLX Semiconductor Sector Index, which has risen impressively amid a global surge in chip demand.
Investors will be awaiting a turnaround in Intel's luck when the company reports its Q2 results tomorrow. After all, the company has shown in recent months that it is capable of fighting off competitors that are wresting a huge share of the PC and data center market from it. But can Intel succeed? Let's try to figure it out.
Intel stock prices started in 2021 on a promising note, but the rally was interrupted when the company reported its first-quarter results in April. Adjusted quarterly revenue was unchanged from the previous year at $18.6 billion. Intel's margins fell heavily, with adjusted gross margin dropping 6.1 percentage points year-over-year. The operating margin fell 6.7 percentage points. Not surprisingly, adjusted net income declined 6 percent from the previous year.
If the results were bad, Intel's forecasts were also uninspiring. Second-quarter earnings were $1.05 per share on revenues of $17.8 billion, below last year's adjusted earnings of $1.23 per share and revenues of $19.7 billion. For the full year, Intel forecasts adjusted revenues of $72.5 billion and earnings of $4.60 per share. That, again, is lower than the $77.9 billion in 2020 revenue and $5.30 earnings per share.
The easiest way for Intel to recapture investor trust would be to beat second-quarter forecasts and increase its full-year outlook. However, Intel may struggle to meet those numbers because of the challenges it faces in its two largest business segments.
The Client Computing Group (CCG) is Intel's largest source of revenue, bringing $10.6 billion in sales in Q1 and accounting for nearly 57% of total sales. Revenues in this segment grew 8% year over year in the first quarter, driven by record demand for laptop processors. Intel said in April that sales of laptops were up 54% from a year ago, but that was accompanied by a serious shortfall. Increased demand for entry-level laptops led to a 20% year-over-year drop in the average selling price of the CCG platform.
Meantime, the recent increase in market share achieved by Intel comes at the expense of lower margins. Earlier this year, the company lowered prices to carry customers off from AMD because the latter couldn't produce enough processors to meet demand. AMD, on the other hand, has improved its pricing power thanks to the higher performance of its Ryzen processors. Thus, just increasing market share may not be enough for Intel's CCGs to perform well.
Add to that the fact that AMD is pushing the boundaries in laptop and desktop processors, and Intel's recovery seems a bit difficult.
"Revenue from sales of the Ryzen Mobile 5000 series processors is growing twice as fast as the previous generation," CEO Lisa Su said in April. "We expect growth to continue in 2021 as the number of laptop platforms based on our new processors increases by 50 percent over the previous generation."
Meanwhile, Intel's 10-nanometer Alder Lake desktop processors, which are expected to compete with AMD's current 7-nanometer Ryzen processors, aren't due until late 2021. So it wouldn't be surprising to see AMD maintain the stunning sales of its Ryzen processors, especially as it takes steps to increase shipments.
At the same time, the data center group (DCG) is also on the decline thanks to AMD's EPYC server chips. Intel's DCG revenue, which accounted for 30% of total sales in the first quarter, is down a frightening 20% year-over-year to $5.6 billion. Again, the technological advantage of AMD's third-generation EPYC server processors means Intel will struggle to recapture lost market share in this niche.
Third-party tests conducted by Tom's Hardware also confirm the superiority of AMD server chips over Intel's Ice Lake offerings. In addition, AMD chips are priced very competitively compared to their Intel counterparts. Even worse, Intel is unlikely to catch up with AMD anytime soon, as it has delayed the release of its next-generation Sapphire Rapids data center processors until April 2022. AMD's stock jumped on news of the delay as the chipmaker now has a clearer path to increasing its server market share.
In the second quarter, the odds are stacked against Intel. It lags behind AMD technologically, and that may not change anytime soon. Not surprisingly, analysts anticipate Intel's failures to continue into 2022, with profit and revenue expected to decline.
Thus, buying Intel stock now does not look like a good idea. Other technology stocks are likely to provide more growth than Intel, which may continue to underperform until it becomes more competitive.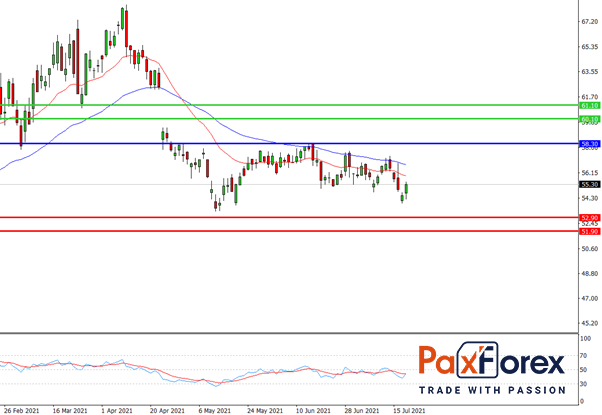 While the price is below 58.30, follow the recommendations below:
Time frame: D1
Recommendation: short position
Entry point: 54.97
Take Profit 1: 52.90
Take Profit 2: 51.90
Alternative scenario:
If the level 58.30 is broken-out, follow the recommendations below:
Time frame: D1
Recommendation: long position
Entry point: 58.30
Take Profit 1: 60.10
Take Profit 2: 61.10