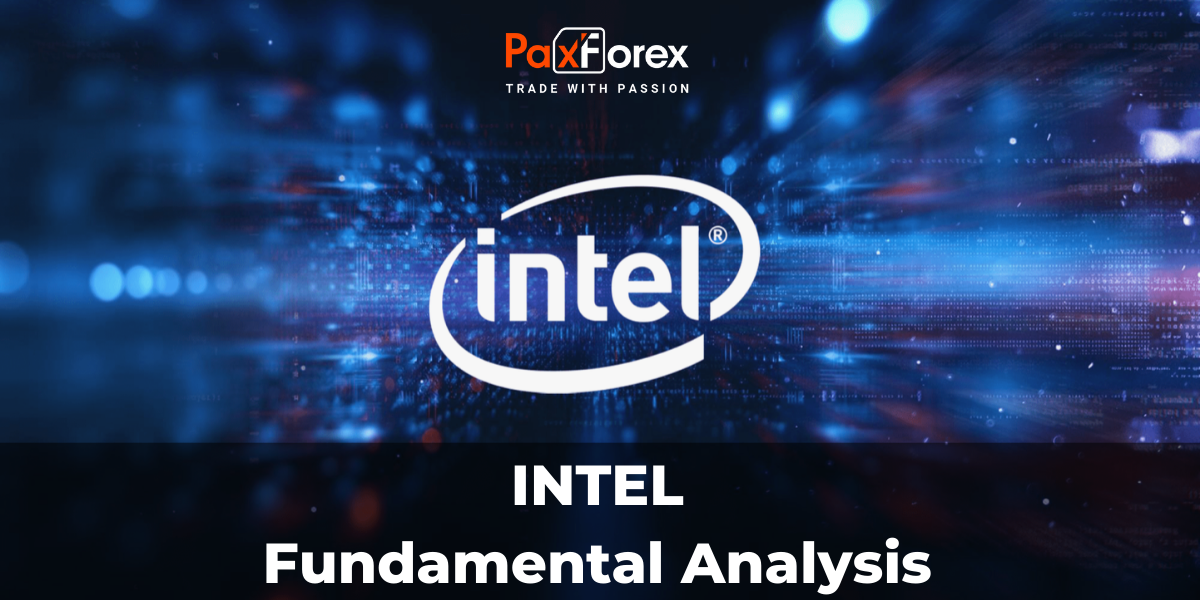 Source: PaxForex Premium Analytics Portal, Fundamental Insight
Last year, there were rumors about Apple's plans to cut or drop out of cooperation with Intel for Mac series processors chips. With the start of Apple's Worldwide Developers Conference (WWDC) on June 22, those stories are back on the rise, and it seems more like Intel will soon be out of Apple's projects for the next Mac.
Many might believe it is unfortunate news for Intel INTC. But some won't. There is a belief that Intel will be better off without Apple.
Today, Apple accounts for about 6% of the world market for PC-based devices sold and about 2% to 4% of Intel's sales. As per Intel's 12-month revenue of over $75 billion, Apple's sales range from $1.5 billion to $3.0 billion per year for the chipmaker. This figure is significant, but given Intel's overall business size, it is unlikely to be excessive.
Furthermore, Apple is a troublesome supplier that puts tremendous demand on suppliers. We have seen this in the 5G modem business - not only with Intel, which sold its business to Apple last year but also with Qualcomm, the mobile chip giant. Without Apple, Intel can spend time and energy on what is essential and contributing to its growth - its broad strategy, which includes data center, network, and Internet of Things (IoT).
Intel has performed well in the last two quarters since it launched its 5G modem, first in January 2020. Then in the quarter ending April, when its revenue grew 69 percent year on year and earnings increased by 23 percent.
While the company achieved a notable 14 percent year-on-year increase in customer computing (PC) revenue in the April quarter, its Data Center Group saw incredible growth. Sales during this period reached $7.0 billion, a 43 percent year-on-year increase.
Revenues surged 53% year on year, while volume and average selling price grew 27% and 13%, respectively. It in itself is impressive, given that the ordinary direction of technology pricing is declining.
The recent success is evidence of Intel's diversification. Its data-centric strategy, which was officially declared in April 2019, has originated or extended many business lines adding to that data storage, memory, artificial intelligence, and networking. This has resulted in a total addressable market of $300 billion, nearly 10 times the Intel historical processor business target market of $35 billion.
Following the notable increase in Intel's data center team in the last two quarters alone, the proceeded focus on this area will bring more benefits to Intel in terms of revenue and profit than a focus on Apple could bring.
Redirecting more resources from Apple, Intel will be able to pay more attention to these issues, remarkably as the global need for PCs grows along with a growing desire to allow employees to work remotely even after the coronavirus withdraws. It will indicate risen corporate spending in the data center and cloud to support workloads, data, artificial intelligence, and security.
The business has also made significant investments to additional diversification in areas such as Edge, IoT, standalone vehicles (ADAS), and 5G networks. These technologies have just begun to be introduced, but already embody a multi-billion dollar revenue stream for Intel and are part of the $300 billion total addressable markets mentioned above. Over the next four quarters, growth in these areas, which is expected to account for 7 percent of compound annual growth, will also help offset lost revenue from Apple.
The inevitable withdrawal of Apple is not uncharted territory for Intel. Across the prior several years, the company has repeatedly encountered pressure on its business. Among supply restrictions, lags in new process technologies for its 10nm and 7nm, and growth of stronger competitors in AMD, Qualcomm, and ARM... All this has become a good reason for betting against Intel.
Until now, these bets have been wrong.
However, notwithstanding intensified competition and AMD's innovative offerings, Intel has maintained a strong market position in all areas.
In general, despite the many strong headlines, the parting of Apple from Intel is not a big problem.