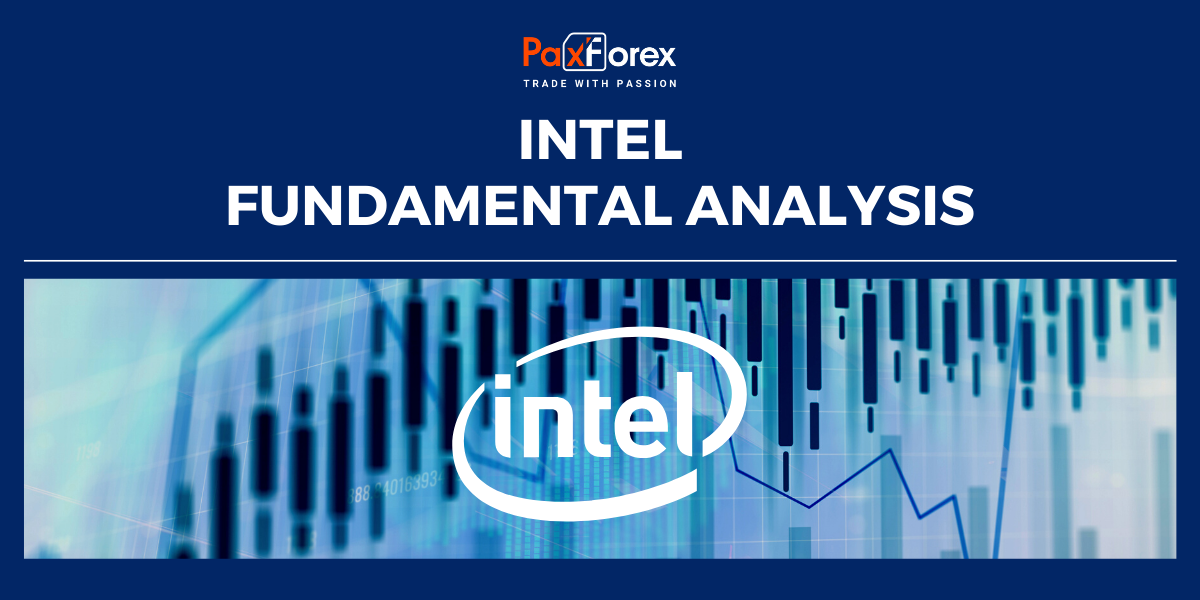 Source: PaxForex Premium Analytics Portal, Fundamental Insight
Shares of Intel recently fell after the chip maker released its first-quarter results. The company's revenue dropped 1% year-over-year to $19.7 billion, but still, beat analysts' forecasts by $1.75 billion.
Net income (non-GAAP) was down 6% to $5.7 billion. Non-GAAP EPS, supported by buybacks, fell 1% to $1.39 and beat expectations by $0.25. These numbers do not take into account the NAND business, which will be sold to SK Hynix, and other non-recurring items.
Intel expects second-quarter revenue and non-GAAP earnings to decrease 10% and 15% year-over-year, respectively. Analysts had expected revenue and profit to fall 9% and 19%, respectively.
For the full year, Intel expects GAAP revenue to fall 1% to $77 billion and non-GAAP revenue to fall 7% to $72.5 billion, below the consensus forecast of $72.8 billion. The company expects non-GAAP EPS to decline 13%, compared with a more gloomy forecast of a 19% decline.
Intel's first-quarter growth broke Wall Street's low bar, but mixed forecasts suggest the company's problems will persist through the year. Intel stock may look cheap at 13 times forward earnings and a not bad forward yield of 2.4%, but it's still not worth buying for the following simple reasons.
Revenue for the Intel Client Computing Group division rose 8% year over year to $10.6 billion last quarter as the company sold more PC processors. Total PC sales were up 38% year-over-year, with a 54% increase in notebook sales offsetting a 4% decline in desktop sales.
However, PC sales increased mainly because the pandemic forced people to buy new systems for remote work, online education, and gaming. Once the pandemic is over, this "tailwind" will undoubtedly weaken.
Intel's ongoing chip shortage, which began in 2018 and has yet to be resolved, has led many PC manufacturers to buy more chips from rival AMD, which outsources chip production to Taiwan Semiconductor Manufacturing instead of producing them in-house.
Consequently, Intel has given up the desktop and notebook processor markets to AMD over the past three years.
This decline could continue for the future as the attendant pandemic factors dissipate and AMD moves forward in a "technology race" to build smaller, more powerful chips with TSMC.
Last year, cloud computing capital expenditures surged worldwide as data centers upgraded their equipment to handle a large number of online occupations during the pandemic.
For example, the three largest hyper-cloud companies -- Amazon, Microsoft, and Google -- combined to increase their capital spending by 32% in 2020. This increase in spending should be good news for Intel, which has a near-monopoly on data center processors.
However, in the first quarter, Intel's data center group (DCG) revenues fell 20% year over year to $5.6 billion. The company attributed the decline to a "complex" comparison to the 43% growth a year ago, which was driven by cloud computing, enterprise, government, and communications sector upgrades.
But those problematic associations could continue through 2021, as cloud and data center customers prefer to buy other chips, such as NVIDIA's high-performance GPUs for artificial intelligence tasks, rather than Intel's flagship Xeon CPUs. NVIDIA's recent launch of its own data center processor and its outlined takeover of Arm could add to that pressure.
To solve current manufacturing problems, Intel will outsource the production of some of its chips to TSMC. But it also plans to take chip orders from third-party manufacturers at its new Intel Foundry Services division.
This strategy contradicts itself. Intel still needs TSMC to produce some of its new chips because of the limitations of existing foundries but is building new plants to produce chips for other manufacturers without its own plants.
In other words, Intel will still be temporarily reliant on TSMC, which remains ahead in the process race while trying to compete with TSMC and Samsung for orders for less advanced chips. The foundry services business is also likely to generate lower revenues than the CCG and DCG businesses.
Finally, Intel's adjusted gross margin, which fell 6.1 percentage points year-over-year to 58.4% in the first quarter, may remain under pressure as PC sales slow, data center sales decline and the company expands its low-margin foundry services business.
Intel also plans to cut share buybacks to save more cash for business expansion. It is a forced measure, but it will lead to slower growth in earnings per share as its gross and operating margins shrink.
Intel is not yet doomed, but it lags far behind chip makers such as AMD, NVIDIA, and TSMC. Intel's new CEO Pat Gelsinger says 2021 will be a "pivotal year" for the company -- but investors had better wait for that and see how the transition actually plays out before considering the company as a worthy investment.
While the price is below 60.90, follow the recommendations below:
Time frame: D1
Recommendation: short position
Entry point: 57.70
Take Profit 1: 53.60
Take Profit 2: 51.70
Alternative scenario:
If the level 60.90 is broken-out, follow the recommendations below:
Time frame: D1
Recommendation: long position
Entry point: 60.90
Take Profit 1: 64.20
Take Profit 2: 66.10