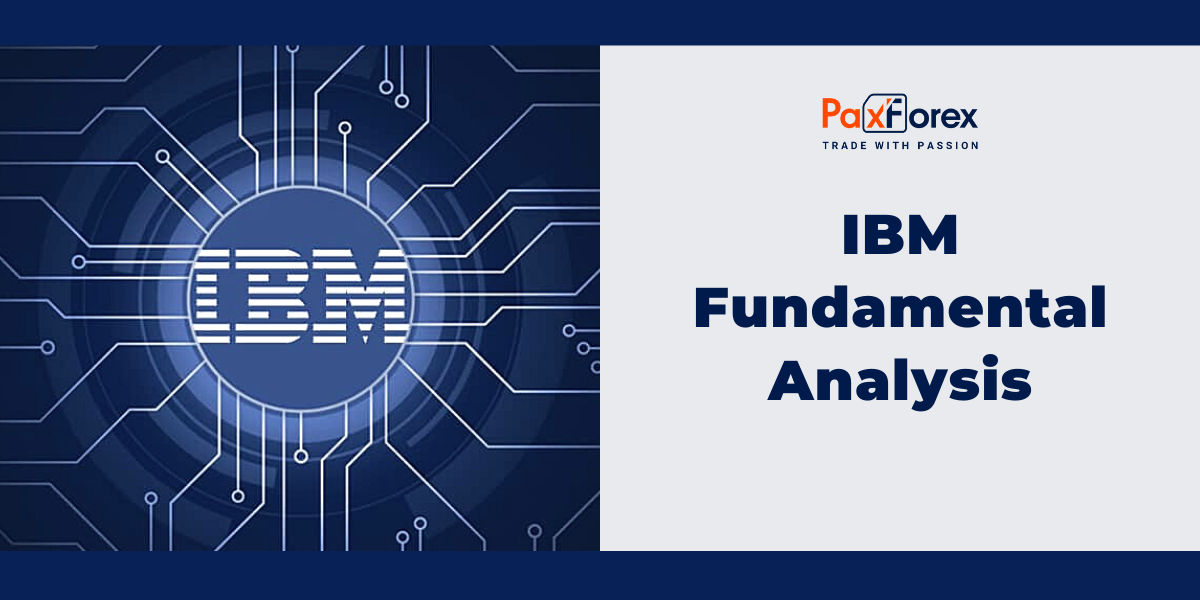 Source: PaxForex Premium Analytics Portal, Fundamental Insight
IBM shares have dropped by about 16% over the past five years, which has had an extremely negative impact on the S&P 500 profits of 75%. Even after the dividends were reinvested, IBM shares brought in only 3% of the profit.
Let's assess the company's mistakes and its development strategy and see if it can finally generate higher returns over the next five years.
Many of IBM's current problems began with Sam Palmisano, who was the eighth CEO of the technology giant from 2002 to 2012. In 2002 IBM bought the consulting business of PwC, in 2005 sold its personal computer business to Lenovo, and relied heavily on cost-cutting and redemption measures to increase its profits.
Palmisano largely ignored the emergence of public cloud platforms, including Amazon Web Services and Microsoft Azure, which eventually led to the destruction of the enterprise software market using cloud services.
By the time Ginni Rometty replaced Palmisano, IBM's revenue growth had leveled off and the company was absorbed by the buybacks. Rometty shifted the focus and sold weaker IBM enterprises, including its server segment; expanded its presence in the cloud services market with major acquisitions such as SoftLayer; and opted for a faster-growing "strategic imperatives" (cloud and mobile services, security, analytics, and social services) to offset the slower growth of the software, hardware and IT services segments.
Unfortunately, IBM's revenues continued to decline as the sluggishness of traditional business, many of which were destroyed by competing cloud services, blocked the growth of its own cloud business.
The final major decision of Rometty as CEO of IBM was the acquisition of Red Hat for 34 billion dollars, which was completed in July last year. Rometty believed that Red Hat's open-source software would enable IBM to provide more cloud and artificial intelligence services for hybrid cloud deployments that link public cloud services (such as AWS and Azure) with private clouds in the field.
Arvind Krishna, head of cloud services at IBM, took over as CEO earlier this year and promised to lead the company to "two major transformations" in the hybrid cloud services and AI markets. Krishna recently took the first major step by separating the Managed Infrastructure Services division into the new company.
This split, which is expected to be completed by the end of 2021, will allow IBM to focus on the fast-growing cloud computing and AI markets, while not burdening itself with the slower-growing IT services segment. Meanwhile, the individual IT business may focus on cutting costs and investing in its own growth, rather than subsidizing IBM's faster-growing companies.
The new IBM will focus on expanding into the hybrid cloud computing market with its own services and Red Hat open-source software. Instead of directly challenging AWS or Azure in the public cloud computing market, IBM will connect its open-source solutions to these public cloud platforms and private clouds, and provide more tools to screen and analyze all of these data.
IBM's advanced cloud solutions can benefit from the growth of the hybrid cloud market, which it sees as a $1 trillion market opportunity, and deliver higher revenues and profit growth in 2022 and beyond.
But that success is not guaranteed. Amazon, Microsoft, and other public cloud leaders also offer more services for hybrid cloud deployment. These solutions can bridge the gap between public and private clouds and complicate IBM and Red Hat deployment of hybrid cloud services.
IBM became the Dividend Aristocrat of the S&P 500 after raising dividends in April this year for the 25th consecutive year but is likely to lose this elite title after the split. IBM claims that the two new companies will pay "combined" quarterly dividends, which are "no less" than the current IBM dividends.
Therefore, investors may have to retain their shares in both the new IBM and the slower-growing IT company to receive the same amount of dividends.
IBM has been a disappointing investment over the past five years, but the next five years may be brighter as it gets rid of its sluggish IT services business, expands its fast-growing cloud and
AI services, and is less concerned about dividends and buybacks.
Investors should maintain realistic expectations as the company still faces stiff competition in the hybrid cloud computing market, but IBM can succeed if it leverages Red Hat's leading position in open source software and its own strengths in enterprise software to attract more customers.
IBM shares are already cheap at 11-fold forward revenue and should remain low after the split. Therefore, it is clear that the downside potential of the stock is limited and should gradually grow over the next five years as Krishna aggressively transforms the more elegant IBM.
While the price is above 120.40, follow the recommendations below:
Time frame: D1
Recommendation: long position
Entry point: 125.93
Take Profit 1: 132.90
Take Profit 2: 136.00
Alternative scenario:
If the level 120.40 is broken-down, follow the recommendations below.
Time frame: D1
Recommendation: short position
Entry point: 120.40
Take Profit 1: 115.20
Take Profit 2: 111.90