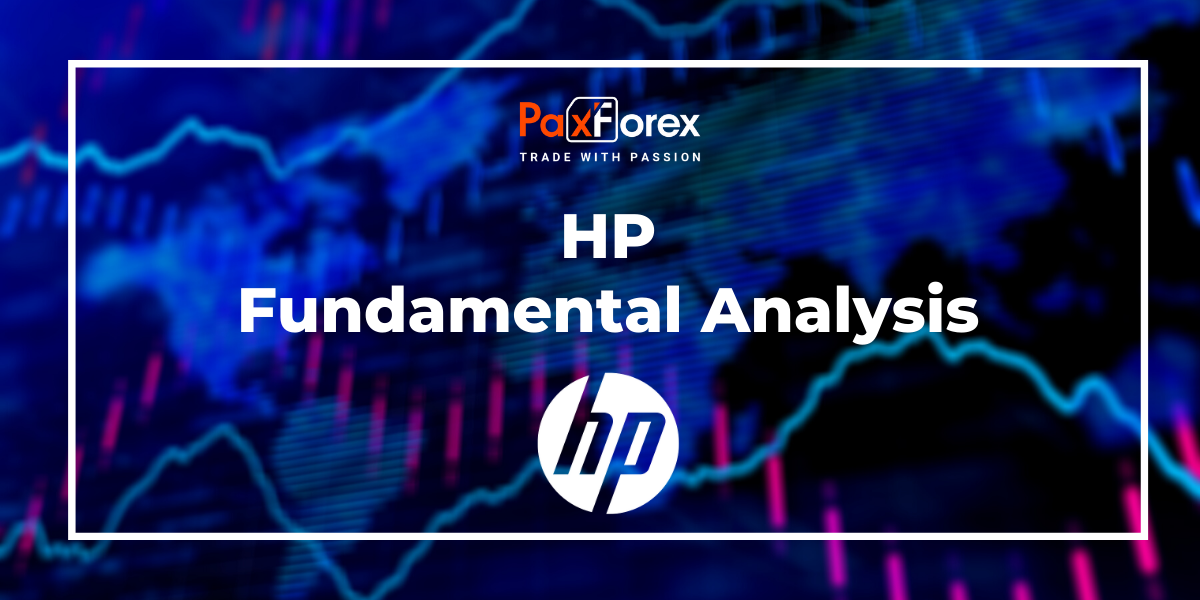 Source: PaxForex Premium Analytics Portal, Fundamental Insight
The shares of HP have fallen by almost 10% in the last three years as the S&P 500 has grown by almost 40%. Even after the indexation of reinvested dividends, the total income of the company was less than 1%.
HP was struggling as its relatively stable PC sales were offset by lower sales of printers and consumables. The resignation of CEO Dion Weisler, Xerox's failed aggressive takeover bid, as well as disruptions in the COVID-19 environment also prevented supporters of short positions from changing their views.
However, according to Canalys, global PC shipments grew 13 percent year-over-year in the third quarter of 2020, the industry's strongest growth in the last decade as the pandemic lifted sales of PCs for remote work, online education, and video games. Will these tailwinds stabilize HP's business and make the company an attractive investment again?
Last quarter, HP generated 72% of the revenue from the personal systems business, which sells laptops, desktops, and workstations. The division's revenue grew by 7 percent year on year as the pandemic caused more PC purchases.
However, HP relied on a 32 percent jump in laptop shipments to offset a 30 percent drop in desktop shipments during the quarter, and this feverish demand for laptops could quickly cool down after the pandemic ended. Strong competition from rivals such as Lenovo and Dell will also undermine HP's ability to raise prices.
The remaining 28% of HP's revenue went to the printing business last quarter. Segment revenue fell 20 percent year-over-year, as unambiguous growth in the consumer equipment business (fuelled by the "work from home" trend) was offset by a double-digit decline in commercial equipment and supply revenues.
HP's printing and supply-chain business is stuck in a century of decline: Printers are falling in demand as digital documents replace printed documents and online sales of low-cost printing inks and toners are eliminating the need for HP branded products. The continuing decline in HP's print supply business is particularly worrisome as it generates much higher profits than its hardware business.
Weakness in HP's printing business once again compensates for the growth of its PC business, and the company's total revenue for the quarter fell by 2% compared to the previous quarter. Operating margins in both segments decreased, while adjusted EPS earnings per share dropped 16%. Analysts expect the company's full-year revenue and earnings to decline by 5% and 2%, respectively.HP is desperate to correct its sinking printing business, but its strategies have yet to bear fruit.
Under Dion Weisler, HP expanded its business by purchasing the printing businesses of Samsung and Apogee, Europe's largest independent managed printing service provider. The company also began selling more industrial 3D printers. The expansion led to inorganic revenue growth in the segment, but the growth quickly stopped after these major acquisitions were made.
To fight against print ink sellers, HP launched a subscription service called Instant Ink, which delivers new ink cartridges to customers before existing cartridges ran out. Prices for the plans were calculated based on the number of pages printed each month, but customers who only occasionally printed documents probably did not see the urgent need for a subscription.
Instead of proposing aggressive development strategies, Enrique Lores, CEO of the company, who replaced Weisler in November last year, focused mainly on spending cuts, share buyback, and dividend payments.
HP expects free cash flow to decline from $4.0 billion in 2019 to $2.5 billion this year. But Lores still told investors that the company would return "100%" of its FCF to investors "in the long term unless there are higher investment opportunities" during a conference call last quarter.
Three things could happen to HP. First, the company could maintain the status quo, treading water through buybacks, and eventually being dragged into the dying printing business. Secondly, it could reconsider the decision to merge with Xerox, which would combine one of the world's leading printer manufacturers with one of the largest photocopier manufacturers.
Finally, it might consider spinning off its printing business as a separate company. It would allow HP's PC business to more effectively compete with Lenovo and Dell, which do not sell printers, and at the same time would allow a separate printing business to either restructure or merge with another company.
Traders should consider buying HP only if the company will think about selling or spinning-off. Shares may seem like an eight-fold forward deal with a 3.6% forward yield, but it is cheap because they have serious problems.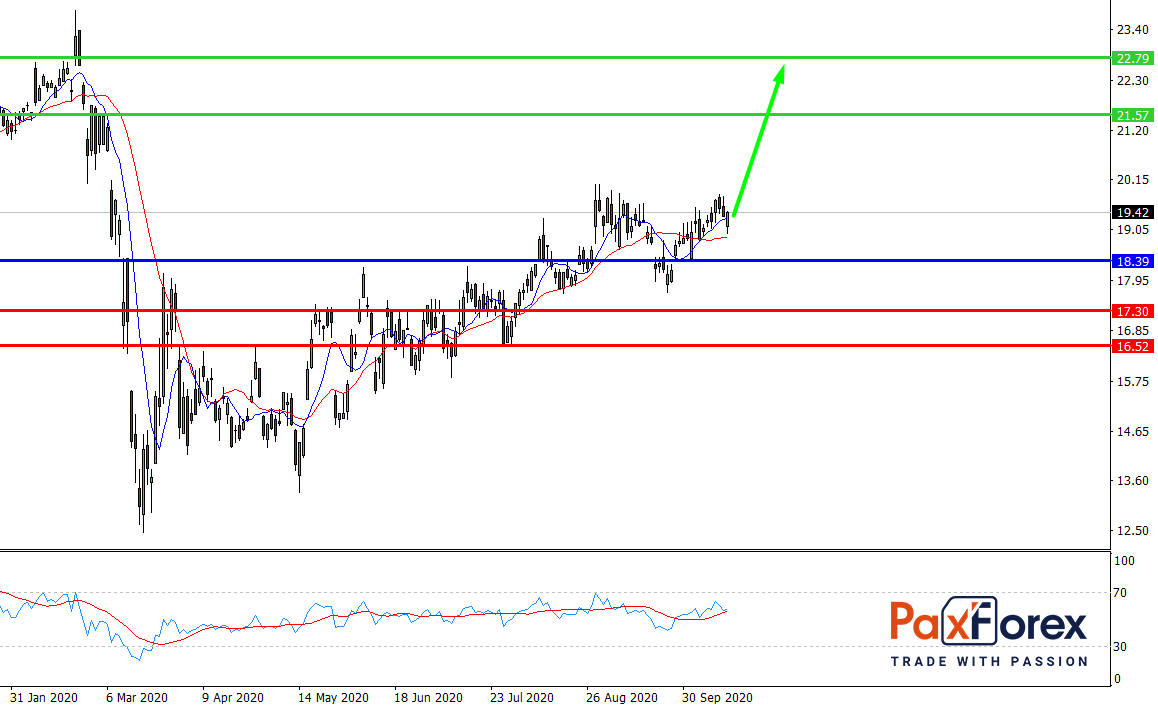 Provided that the company is traded above 18.39, follow the recommendations below:
Time frame: D1
Recommendation: long position
Entry point: 19.42
Take Profit 1: 21.57
Take Profit 2: 22.79
Alternative scenario:
In case of breakdown of the level 18.39, follow the recommendations below:
Time frame: D1
Recommendation: short position
Entry point: 18.39
Take Profit 1: 17.30
Take Profit 2: 16.52