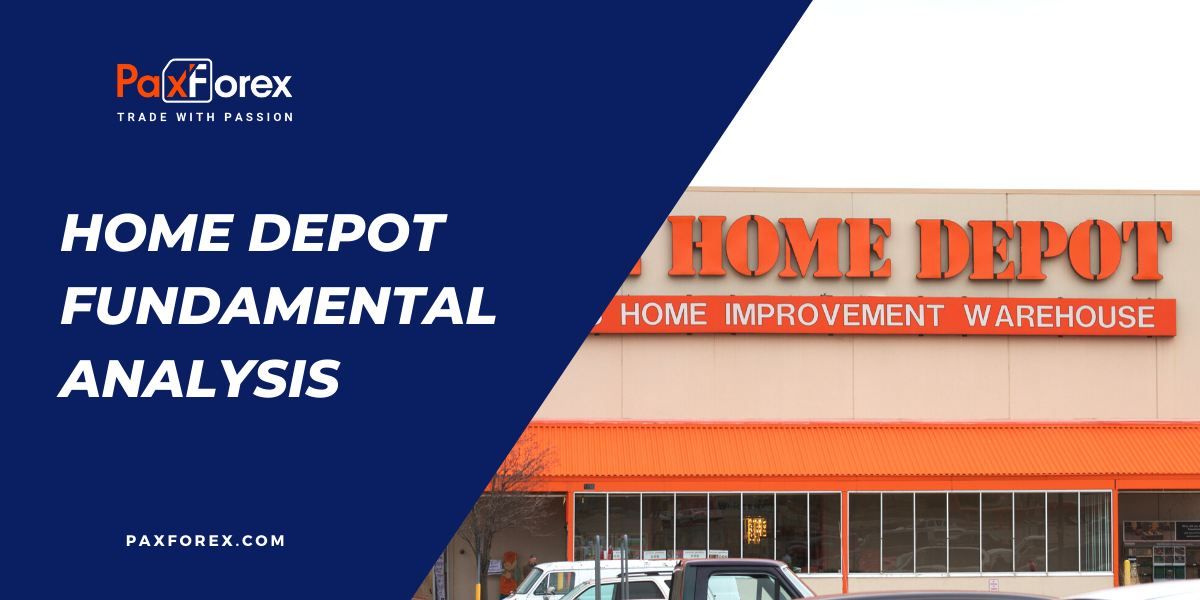 Source: PaxForex Premium Analytics Portal, Fundamental Insight
Home Depot sales are increasing, but this does not mean that the company's shares automatically become a "buy". A home improvement retailer benefits significantly from the fact that consumers are less able to spend their income. Shares have already grown 26% a year, so perhaps a recent jump in stock would draw attention to their current price.
And there is a risk that for all the housing improvement costs that consumers have made during the pandemic, there will be "fatigue" associated with improving housing conditions or a limited number of projects to be implemented throughout the house. It could potentially lead to lower sales shortly when the pandemic is over, and consumers will have more opportunities to spend their liquid income.
To determine if it makes sense to buy shares, let's look at the company's long-term prospects and then compare them with some estimates.
Home Depot is a rare retailer with an advantage over Amazon. The types of products sold make it more likely that a customer will want to visit one of its 2,293 stores to touch, feel, or measure before making a purchase.
And the company makes significant investments in its digital capabilities through its $11 billion One Home Depot program. It recently added an option in selected stores to order online and receive at the point of delivery, with an assistant who brings the goods to your car in the Home Depot parking lot. Anyone who has been to one of the stores knows that many of the goods sold can be quite heavy and cumbersome. The ability to buy online and get the goods delivered to your home or your car at the side of the road can add additional sales in the long term due to the convenience.
Finally, after a decline for over a decade, the share of homeowners in the U.S. has been growing since 2016 and increased in the second quarter of 2020 during the peak of the pandemic. Record low mortgage rates and the likelihood that a higher percentage of the population will work from home even after the pandemic may keep the homeownership rate high for at least a few more years. And owners tend to spend more money on their property than tenants, and some of this expense will go to Home Depot.
Currently, Home Depot offers a price to earnings ratio of 22.8 and a price to sales ratio of 2.349. It means incredible performance compared to its competitor Lowe's. But this may be justified, given that Home Depot is superior to Lowe's in at least a few essential indicators. And over the past ten years, the gap has widened in Home Depot's favor in terms of Net Profit Margin and Return on Investment (ROIC).
Home Depot trades close to its peak P/E and P/S levels compared to its historical ranges. But the company is also reaching its peaks, as evidenced by the increase in ROIC and profit margins. Today you buy a better company than a few years ago. Moreover, when interest rates are lower, you should be prepared to pay higher rates, because future cash flows are discounted at a lower rate, increasing their current value. And the interest rates today are close to a record low.
It should also be noted that investors have some contradictory signals related to tomorrow's third-quarter earnings report.
On the one hand, the demand from the industry has soared to the sky, and the housing market remains strong. On the other hand, there are some alarming signals about such fundamental indicators as unemployment and economic growth trends. At the same time, Home Depot has faced market share problems from industry veterans such as Lowe's and new entrants such as Wayfair.
This bad/good situation forms a crucial earnings report from the industry leader on November 17, which should attract investors' attention.
While Lowe's has outperformed Home Depot in terms of growth rates over the past six months, the market leader is still at the top when it comes to key financial indicators such as profitability and cash flow. Operating profit was $9.3 billion in the first half of 2020, representing 14.1 percent of sales. A comparable figure for Lowe's is 12.7 percent.
But Lowe's has reduced this gap over the past year due to improvements in inventory and price trends both in stores and on the Internet. Tomorrow we'll find out if Home Depot has managed to retreat from its younger friend.
Shaky economic growth trends and the risks associated with further COVID-19 outbreaks could prevent CEO Craig Menear and his team from releasing their short-term guidance again this week. But recent sales trends will tell us a lot about how well the market is coping with challenges such as high unemployment and the end of fiscal stimulus.
Overall, record-low interest rates could boost already high homeownership rates for several years. It, along with a higher level of remote employment than before the pandemic, will help stimulate sales for Home Depot. Also, projects that required home visits by professionals postponed during a pandemic may resume later.
These excellent long-term prospects and relatively fair value make these consumer stocks discretionary, so investors can feel confident in adding them to their portfolio.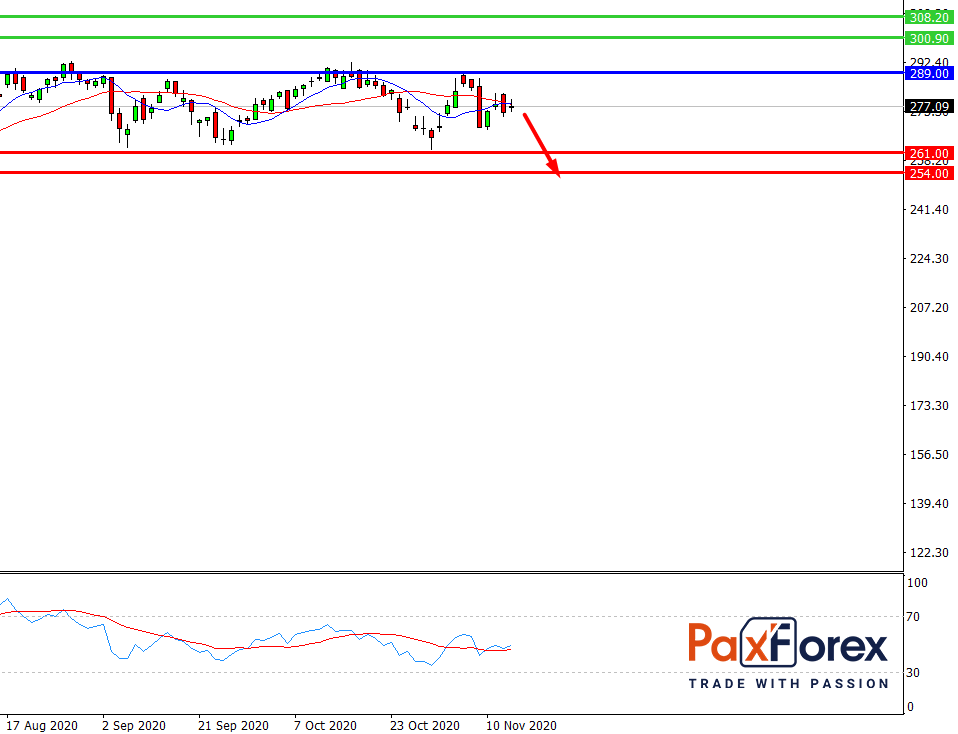 While the price is below 289.20, follow the recommendations below:
Time frame: D1
Recommendation: short position
Entry point: 277.80
Take Profit 1: 261.30
Take Profit 2: 254.40
Alternative scenario:
If the level 289.20 is broken-out, follow the recommendations below.
Time frame: D1
Recommendation: long position
Entry point: 289.20
Take Profit 1: 300.90
Take Profit 2: 308.20