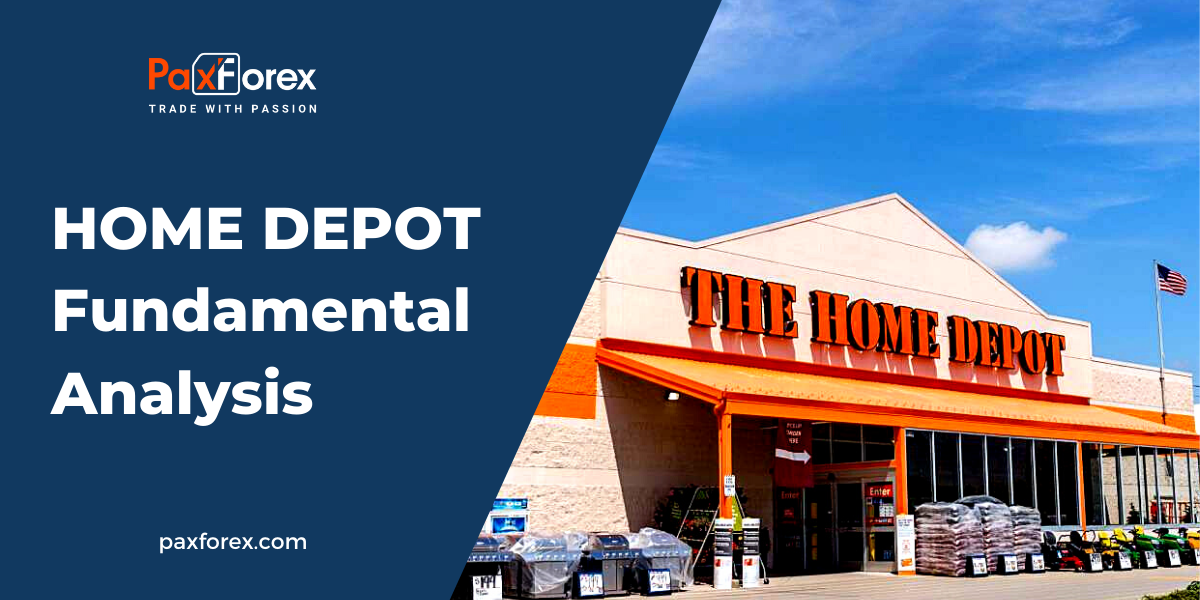 Source: PaxForex Premium Analytics Portal, Fundamental Insight
Investors bought a lot of Home Depot shares, which caused some good growth. Although economic conditions in the U.S. suggest a difficult sales period for the company, Wall Street is more focused on the rapidly growing demand for housing improvement projects. At the same time, the recession caused by shrinking jobs and falling incomes can only be temporary. This optimism will be tested when the retailer announces its earnings results for the second fiscal quarter on Tuesday, August 18.
Home Depot operated in the first fiscal quarter despite quarantine measures, so its sales growth was strong compared to non-essential retailers such as TJX Companies, which showed a 50% decline in revenue for the period. The Home Depot network grew 7.5% in the U.S. Main Market, or approximately twice as much as in the prior period. Investors will also be watching to see if Lowe's will outperform its bigger competitor after sales rose 12% in Q1. Lowe's will announce its latest results the day after Home Depot does so. Home Depot hasn't regained any financial prospects, but most investors who follow the stock expect global sales to rise by about 9% to $33.5 billion. Home Depot is also pouring cash into its online sales network, which is operating at unusually high volumes. Almost every day in April, for example, was equivalent to the Black Friday demand level.
It remains to be seen how these shifts will affect Home Depot's profitability over the next few years. Management predicted slightly lower operating margins in 2020, and this week's report will provide the clearest evidence that investors can expect a bigger drop in the future. This key indicator dropped to 11.6% last quarter compared to 13.6% a year earlier. Home Depot has steadily increased its profitability to 15% of pre-pandemic sales.
CEO Craig Menear and his team typically rely on several key economic indicators when they comment on annual growth forecasts. The largest is a gross domestic product, which fell more than 30% year on year in the second quarter. On the other hand, consumer income increased in April thanks to economic stimulus measures and then declined slightly in May and June.
Large fluctuations in these fundamental growth indicators probably mean that Home Depot will decline again to release short-term sales and profit forecasts for the rest of 2020. However, the risk of a further downturn in economic trends may force the management to be unusually cautious about its targets for the next quarters. The company has probably completed one of the strongest six-month periods in recent years. But investors have some good reasons to prepare for weaker results, at least in early 2021.