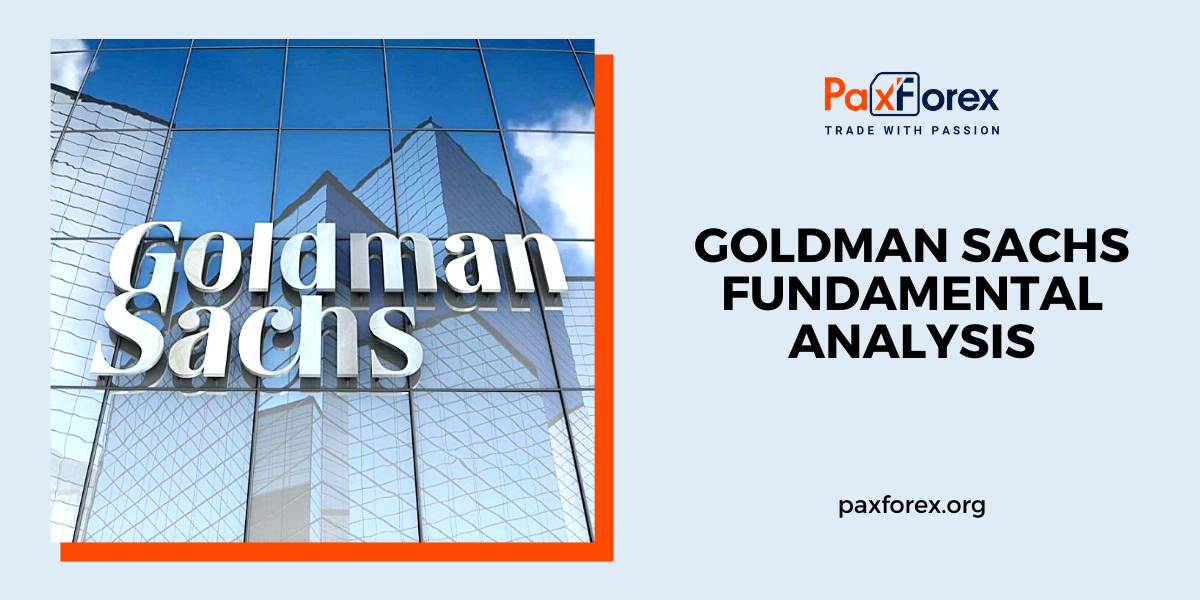 Source: PaxForex Premium Analytics Portal, Fundamental Insight
Investment banking behemoth Goldman Sachs recently announced its intention to acquire GreenSky, a sales and "buy-now-pay-later" fintech company, in an all-stock deal worth about $2.2 billion. GreenSky is a major intermediary for home improvement loans and planned transactions, and allows customers to make purchases and repay them in multiple payments over some time.
GreenSky currently serves a $9 billion loan portfolio and has served about 4 million consumers with about $30 billion in loans since launch. Here are three reasons why Goldman is entering the "buy-now-pay-later" realm and acquiring GreenSky.
First, to help continue Marcus' growth.
Over the past several years, GS has been looking to grow its franchise in consumer lending to generate more stable revenues that can be volatile in investment banking. An important part of that strategy was the bank's launch of its digital bank, Marcus, which offers high-yield savings accounts, loans, and credit cards, and eventually plans to offer checking accounts as well.
GreenSky will help Marcus expand its offering of credit products, but apart from that, it will help the bank increase its overall user base. Marcus currently has about 8 million customers.
GreenSky provides a low-cost strategy for acquiring not only more customers who will take high-profit loans, but also customers who can be cross-sold other Marcus products - whether it's a savings or checking account or perhaps a mortgage.
In a presentation on the acquisition, Goldman said GreenSky represents an opportunity to capture the $430 billion home repair market, which provides 20% plus returns at scale.
GreenSky has also created a network of more than 10,000 salespeople with whom it works to transact and engage customers at the point of sale. This segment could also be valuable in the future. Goldman already offers many capital markets and investment banking products that it could sell to these customers.
And who knows, maybe at some point the bank will expand its consumer franchise into business banking. Of course, this is not projected or anticipated, but this segment could be a great starting point if Goldman ever decides to do so.
Second, it would help improve the bank's stability.
Most fintech companies tend to struggle to generate the profitability and returns that shareholders want because they are acting as a bank without being a licensed bank. Not being a bank has its advantages, most notably less regulatory oversight, which allows these fast-moving technology companies to be more nimble and acquire customers in a much more efficient way than a traditional bank.
But the disadvantage is that fintechs cannot collect cheap deposits to finance loans and therefore have to count on partner banks and warehouse space, which increases the cost of financing. GreenSky also relies on partner banks for its loans, which probably costs them as well.
With the backing of a major bank like Goldman, GreenSky won't have to worry as much about the financing aspect, especially if Marcus proves successful in collecting deposits. The bank will also probably be able -- if it wants to -- to put these high-interest loans on its balance sheet and collect regular monthly interest payments.
This is more profitable than selling loans for fees, on which GreenSky earns most of its income. Goldman will also be able to offer GreenSky more resources to improve its technology platform.
Well, third, it's a pretty good purchase price.
Goldman's $2.2 billion offer sent GreenSky's stock soaring more than 50 percent, but the purchase price is not such a crazy valuation for a somewhat promising fintech company operating on a "buy-now-pay-later" basis, a sector that is now attracting a lot of investor interest. On a prospective basis and after the Goldman announcement, GreenSky currently trades at 3.8 to sales, 20 to earnings, and 14.3 to earnings before interest, taxes, depreciation, and amortization (EBITDA).
As Marcus and the consumer banking franchise seem to be on the right track, this Goldman deal is to everyone's liking. It offers the consumer banking business a whole new customer base with a low acquisition rate to which it can hopefully cross-sell its other consumer banking products. In addition, the price Goldman is paying is reasonable, given how large the bank is and how the bank's stability should make GreenSky's operations more efficient and profitable.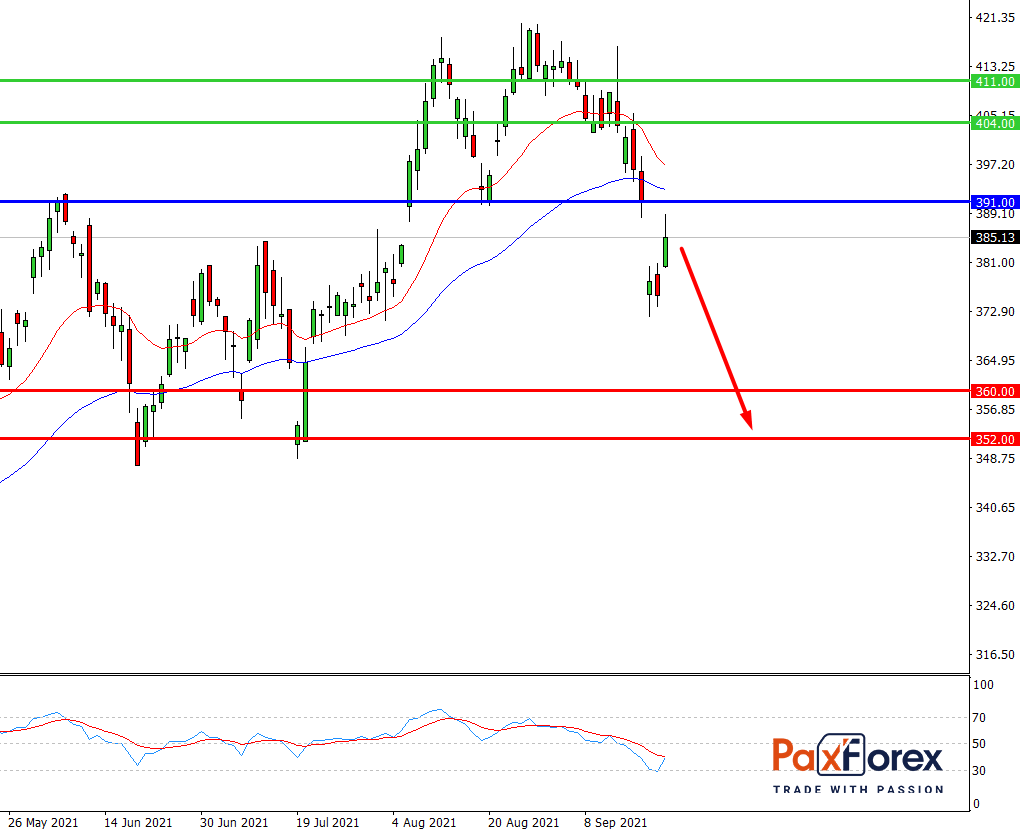 As long as the price is below 391.00, follow the recommendations below:
Time frame: D1
Recommendation: short position
Entry point: 375.00
Take Profit 1: 360.00
Take Profit 2: 352.00
Alternative scenario:
If the level of 391.00 is broken-out, follow the recommendations below:
Time frame: D1
Recommendation: long position
Entry point: 391.00
Take Profit 1: 404.00
Take Profit 2: 411.00