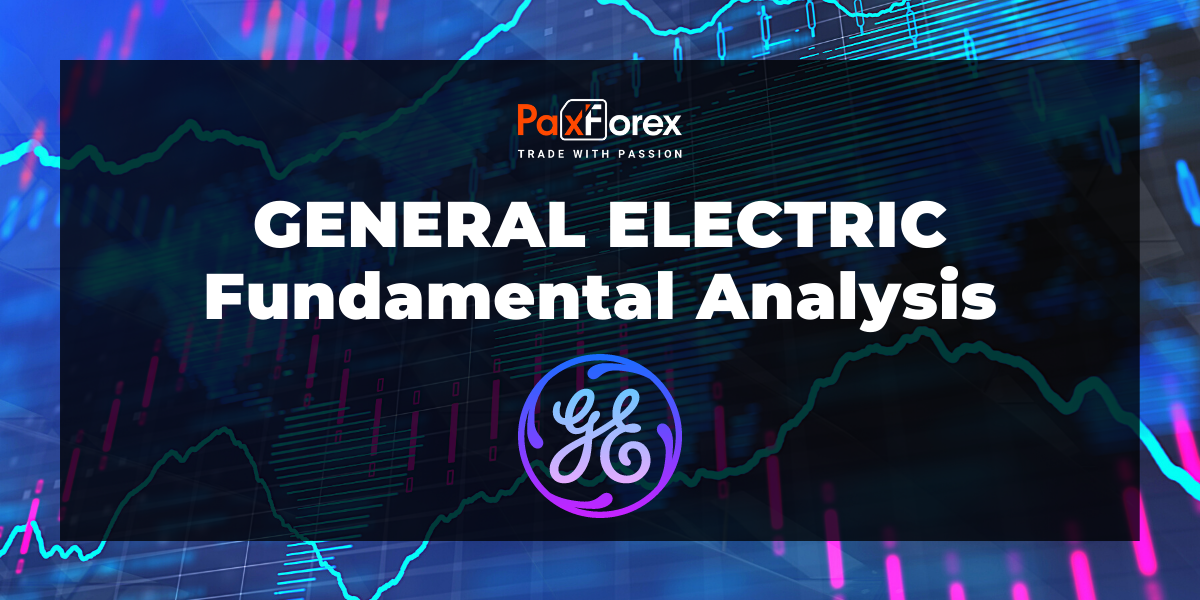 Source: PaxForex Premium Analytics Portal, Fundamental Insight
Just when General Electric seemed to be gaining momentum at the beginning of this year, the Covid-19 pandemic reversed its results. Indeed, the pandemic harmed almost every part of the industrial conglomerate's business.
Nevertheless, there are signs that the worst of the crises may be over for General Electric. The company's third-quarter profit report this week will include important information to help investors determine if GE is really coming back to the same level.
Three months ago, GE reported a 20 percent decline in its industrial profits. The biggest blow was to the aviation division, whose income naturally fell by 44% year on year. Aircraft manufacturers have slowed down production (lower jet engine sales), while airlines have sharply reduced flight activity, resulting in lower maintenance revenues. The company also reported a 9% decline in revenue in the power segment and a 4% decline in the medical division, as some power projects were postponed and hospitals performed fewer medical procedures due to COVID-19.
The GE renewable energy segment demonstrated organic revenue growth of 1 percent year on year, compared to 28 percent organic growth in the first quarter. This segment experienced the same delays in project implementation as GE Power.
The third-quarter report will give investors an indication of whether the energy and renewable energy projects deferred from the second quarter are beginning to progress again. Meanwhile, the volume of elective medical procedures tends to increase, which is a good sign for GE Healthcare. And while the aviation business will not recover so quickly, airlines are increasing their schedules compared to spring, which most likely has led to a consistent increase in service revenues.
Investors should also pay close attention to GE's projections and comments for the fourth quarter. Last month, CEO Larry Culp said the company was on track to receive positive industrial free cash flow in the second half of 2020, after spending $4.3 billion on that basis in the first half of the year. However, both Europe and the United States have suffered an alarming increase in COVID-19 cases in recent weeks. Management is likely to consider any possible business implications of the increase in COVID-19 cases at the time of the Q3 income announcement.
This week, General Electric will also present two important updates related to its subsidiary GE Capital. First, last quarter, the company conducted a full review of the air leasing portfolio of GECAS. In the second quarter, the company reported an impairment charge of approximately $300 million in its profit and loss statement based on an analysis of leasing transactions and GECAS customers that it believes are riskier. A full analysis may lead to additional impairment charges.
Second, GE completes an annual review of its insurance business for potential premium disadvantage in the third quarter. It is being closely monitored, in particular, after GE announced large expenses of $9.5 billion in early 2018. Last year's review resulted in an accrual of $1 billion before taxes, mainly due to the impact of lower interest rates. Interest rates have fallen further over the past year, increasing the likelihood of another accrual this year.
The pandemic, however, is still a wild card. Three months ago, Culp`s company noted that GE began to receive fewer new applications for long-term care and increased the number of cases of termination of the policy. If these trends continue, they could potentially offset (or more than offset) the counter wind with lower interest rates.
General Electric ended the second quarter with more than $41 billion in cash after it received a large amount from the sale of its biopharmaceutical division for $21 billion earlier this year. The company had more cash than usual due to the uncertainty surrounding the pandemic.
However, if a review of the insurance does not identify major problems and the business environment for GE's industrial segments appears more stable, the company may begin to deploy some of its excess cash. Part of the $16 billion held by GE Capital will be required to repay $5 billion of debt in the second half of 2020. Earlier this year, GE also planned to make a $4 to $5 billion pension contribution and pay off the balance (now $4.7 billion) of GE Capital intercompany loan for the industrial side of the business.
If GE continues these actions or other steps to reduce its debt burden, it should give investors confidence that the company will regain its financial strength. Conversely, if GE continues to accumulate cash, it will indicate that management continues to worry about the business environment.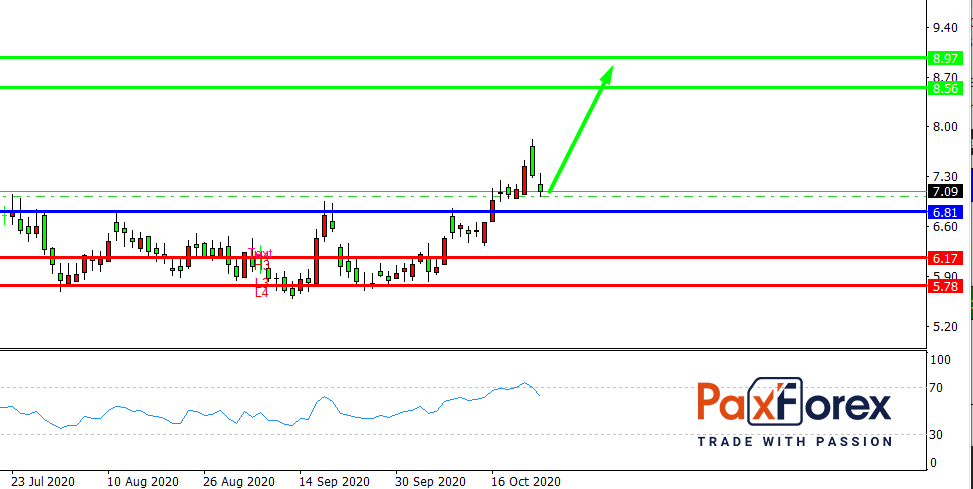 While the price is above 6.81, follow the recommendations below:
Time frame: D1
Recommendation: long position
Entry point: 7.72
Take Profit 1: 8.56
Take Profit 2: 8.97
Alternative scenario:
If the level 6.81 is broken-down, follow the recommendations below.
Time frame: D1
Recommendation: short position
Entry point: 6.81
Take Profit 1: 6.17
Take Profit 2: 5.78