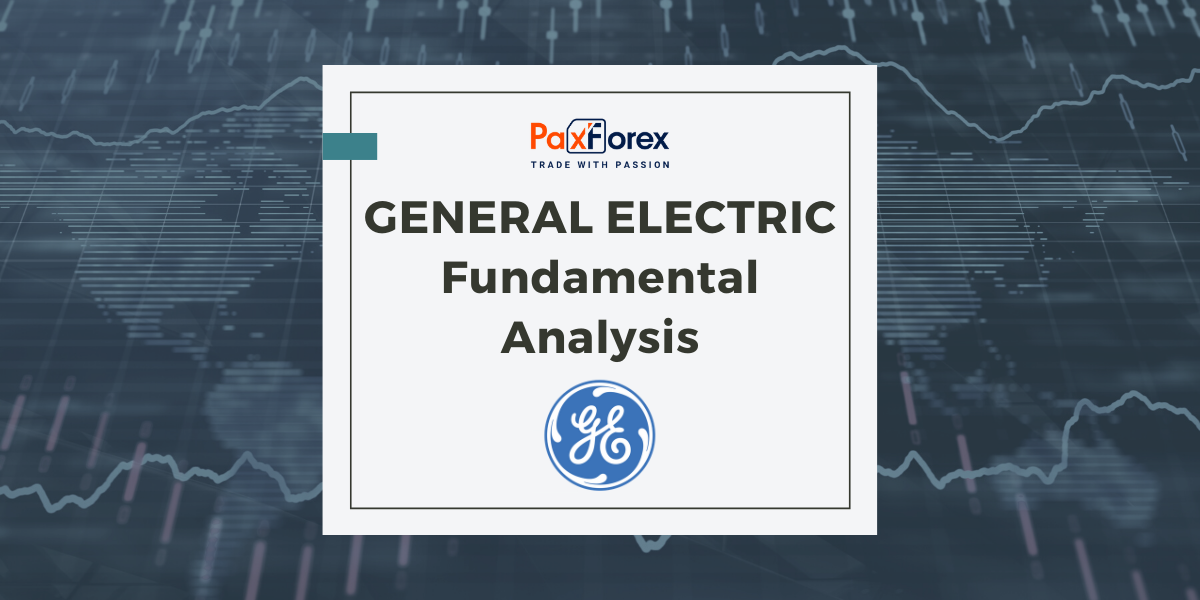 Source: PaxForex Premium Analytics Portal, Fundamental Insight
General Electric shareholders could be understood for assuming that the business has already bounced back from the bottom. After all, the company's stock is up 83% over the past quarter. Nevertheless, it should be noted that the price is still down 3% from a year ago. So, the company's stock may be significantly more expensive in 2021 as well.
Let's take a closer look at this industrial giant and see what GE has to do to succeed in 2021.
The argument for investing in GE stock is straightforward to comprehend but difficult to estimate. It is based on the opinion that GE's free cash flow (FCF) is set to mark a multi-year recovery. For reference, FCF is simply the cash flow for the year that a company gets free to pay off debt, make stock buybacks and/or pay dividends to investors.
Bulls expect all four of GE's industrial segments to enhance FCF going forward. The company's key segment, GE Aviation, is anticipated to show a multi-year recovery from the disastrous 2020 when a coronavirus pandemic spread from China and wreaked havoc on the global airline industry.
At the same time, GE HealthCare is projected to continue to post low-to-medium growth and $1 billion in profits. In the industrial sector, the other two segments, electric power, and renewable energy are expected to continue on the path to becoming FCF generators again, with profits comparable to those of their peers.
Turning away from the industrial business and into the financial sector, GE Capital expresses a major hope that the recovery of commercial aviation will help its aircraft leasing business, GE Capital Aviation Services or GECAS.
Putting it all together, the interest in GE relies on analysts predicting FCF improvement in the future and then using that to make a valuation of the company. One way to do this is to look at the price to cash flow ratio. Generally, a price to FCF ratio of about 20 times can be seen as a fair value for a company increasing yields in the mid-single-digit percentage.
Unfortunately, it can be said that GE's recent earnings and FCF generation has been inconsistent at best over the past few years, and there are many variables to consider in its recovery. It is a fact reflected in what Wall Street analysts are projecting for its FCF going forward.
Two of GE's more bullish analysts, namely Julian Mitchell of Barclay and Andrew Obin of Bank of America, reportedly project $6 billion and $4.7 billion in FCF for GE in 2022. At the same time, the experts` consensus is $3.6 billion. Clearly, an FCF value of $6 billion in 2020 would make GE an extremely appealing investment. Of course, the expected $3.6 billion shows that GE's stock price looks slightly overvalued.
The difference in analyst forecasts underscores that there is a lot of hesitation about GE's earnings and FCF trajectory. It's understandable. After all, GE Aviation's earnings will be largely dependent on how much of a recovery commercial air travel will make. Besides, there is no guarantee that GE's energy and renewable energy segments will improve profitability as expected.
Therefore, it is very difficult to put a point on GE's future FCF. Indeed, the consensus FCF forecast for 2022 has dropped from the nearly $4 billion expected a few weeks ago.
Obviously, there is a lot of ambiguity about GE's future earnings and FCF growth. However, we do know that it is very likely that GE's FCF will improve significantly. The healthcare business is a very solid player. GE Aviation is the world's leading aircraft engine manufacturer, supplying engines for both the Boeing 737 Max and the Airbus A320neo, and also has a significantly growing defense business. Clearly, the coronavirus vaccine will increase the prospects for air travel in 2021. Also, GE is already making progress in electricity and renewable energy, and CEO Larry Culp has a very successful track record of business improvement.
Overall, the answer is yes, but investors will need to watch for improvements in commercial airlines and margins in energy and renewables. Given that most observers don't expect the airline industry to return to 2019 levels until 2023 or 2024, that means GE will be in the middle of a multi-year recovery in 2022. So, FCF is likely to improve markedly in the years after that.
If this is too long a wait for investors, the answer is to avoid these stocks. However, if you think the vaccine will lead to a recovery in air traffic, and you believe in Culp's ability to improve margins - then you would favor the more optimistic FCF estimates above. In that case, GE remains a good value asset.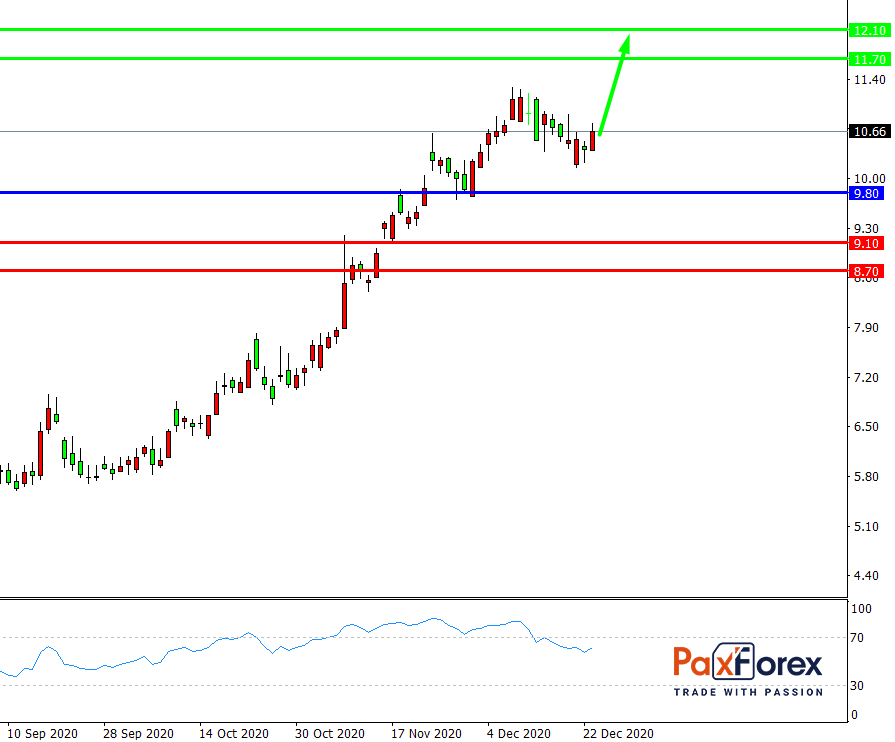 While the price is above 9.80, follow the recommendations below:
Time frame: D1
Recommendation: long position
Entry point: 10.85
Take Profit 1: 11.70
Take Profit 2: 12.10
Alternative scenario:
If the level 9.80 is broken-down, follow the recommendations below:
Time frame: D1
Recommendation: short position
Entry point: 9.80
Take Profit 1: 9.10
Take Profit 2: 8.70