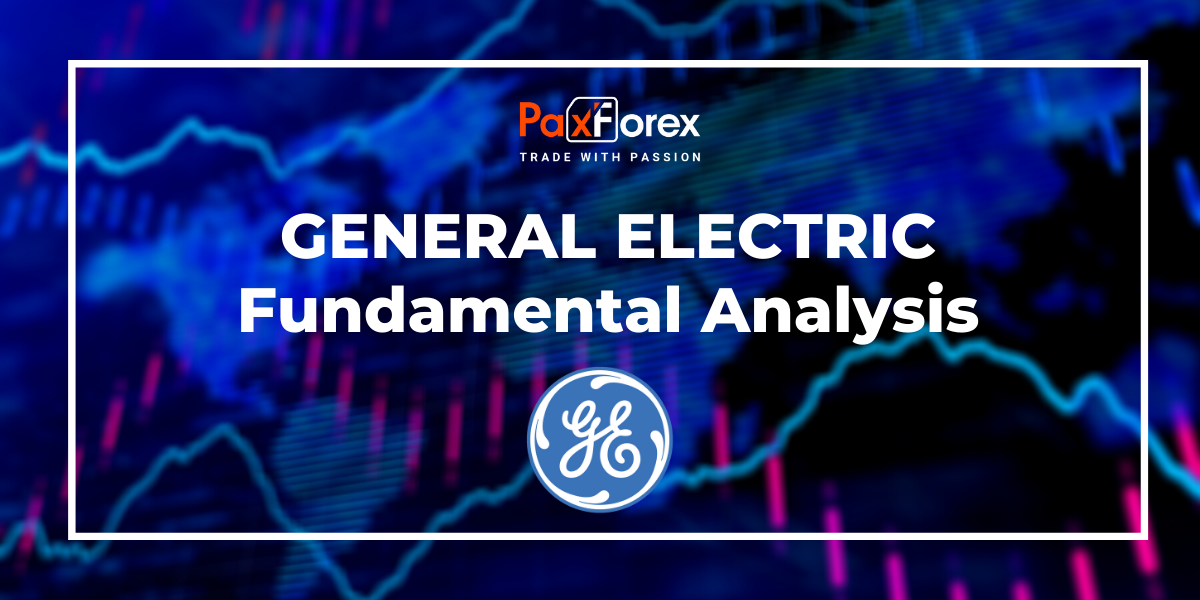 Source: PaxForex Premium Analytics Portal, Fundamental Insight
General Electric was working on an ambitious turning point - then there was the Boeing 737 Max crisis and the Coronavirus pandemic. So should GE shares be considered a potential investment?
The American-made icon took off in 2019 after a brutal couple of years of profit. But after a strong start in 2020, shares returned to the lowest level since the fading financial crisis. The Covid-19 outbreak is having a huge impact on core business, including jet engines and gas turbines. But GE Healthcare is holding up well enough.
To assess the current situation, we should look at the fundamental picture of General Electric.
On July 29, the industrial giant reported a loss of 15 cents per share in the second quarter, a penny worse than predicted, with revenues of $17.75 billion. That's compared to 16 cents per share and $24.41 billion in sales a year ago. Closely monitored cash flow was better than expected, but CEO Culp made a vague macro forecast. He also warned of a long recovery in commercial aviation, as did Delta Air Lines.
GE invested $4.3 billion in cash in the first half of 2020, largely due to the weakness of commercial aviation. It expects a return to positive industrial free cash flow only in 2021.
The anxiety hit GE shares. After a difficult period for GE earnings, the industrial FCF is a more appropriate indicator for many investors as an indicator of General Electric's status and reversal rates.
When GE releases its next report on October 28, Wall Street expects a net loss of 8 cents per share, compared to 15 cents per share a year ago, according to Zacks Investment Research. Revenue is down 19 percent to $19.05 billion.
Analysts also expect the average net loss to be 5 cents per share for the entire year 2020, before GE's earnings recover to 28 cents per share in 2021. It will still be below 65 cents per share in 2019. Keep in mind that all profit estimates should be taken with a degree of skepticism, given the current epidemiological situation.
Seven Wall Street analysts estimate GE shares as a buy, five as a hold, and none as a sell, according to Zacks.
Aviation is "the best in its class franchise" and "pearl of the crown" of GE's huge business portfolio, according to Wall Street analysts. It is also the largest segment of GE in terms of revenue - but, recently, it drags GE.
Problems with Boeing and the coronavirus crisis have knocked down GE Aviation from the commercial point of view, although the defense side remains strong.
GE produces jet engines for aircraft manufacturers, manages a profitable aftermarket engine repair and maintenance business, and rents aircraft to airlines. GE's joint venture manufactures engines for the 737 Max problem aircraft.
The company's commercial aviation business strikes from all sides as the Boeing 737 Max stays on the ground after two fatal flights, while airlines park the aircraft and delay or cancel orders due to the pandemic. Meanwhile, visits to the engine shops have slowed down, while leasing customers are seeking short-term delays.
Boeing did not register any new orders in September, while this year the number of pending orders has decreased by more than 1000 aircraft.
Meanwhile, General Electric is facing a slowdown in the production of 737 Max, as well as another wide-body Boeing aircraft, as the pandemic continues to restrain global air travel.
This year, GE Aviation has reduced its workforce by about 25 percent. A long-time aviation industry leader, David Joyce, retired in August, giving way to John Slattery, who had previously headed Embraer.
Culp's top priority is to improve General Electric's financial position. He is also committed to strengthening his five core businesses through a multi-billion dollar restructuring plan.
These businesses include aviation, energy, healthcare, renewable energy, and financial services (of which the aircraft leasing division is part). Each of these divisions incurred losses in Q2, except for medical services.
However, GE has made progress in other areas as well:
In 2020, it reached about a third of its planned $2 billion in cost-cutting and $3 billion in cash conservation.
It reduced debt by $9.1 billion per year, including $7.8 billion in its industrial business and $1.3 billion in its financial business, known as GE Capital.
In May, the company sold its iconic lighting fixture to Savant Systems after many businesses had been sold in recent years. GE will also sell its remaining stake in Baker Hughes over the next three years to strengthen the balance sheet.
In 2021, the company appointed Deloitte as its independent auditor, ending a centuries-old relationship with KPMG. Many on Wall Street saw this step as an improvement in reporting after official investigations into GE's accounting practices, indicating a break from the past.
However, the Boeing 737 Max remains a serious uncertainty for GE. The coronavirus pandemic makes it even more difficult to get the aircraft back into service - and the prospects for future engine orders in a broader sense.
Under Culp's management, General Electric has reduced its quarterly dividend to a symbolic penny per share. The earlier reduction, in 2017, was only the second after the Great Depression.
The reduction in dividends shocked investors, many of whom valued GE shares for their long and reliable dividend payout history. The current 4-cent annual dividend payment for GE shares offers a return of 0.6 percent.
As the Boeing 737 Max crisis and pandemic drag on, GE shares form a base. But stocks remain below the 200-day line and close to their lowest level in about ten years. They are also well below their potential new buying point of 8.67 and even below their historical highs.
The profit forecast of GE continues to look weak, and the management predicts a prolonged recovery of the coronavirus. On Wall Street, the health of GE's core businesses remains a contentious issue. General Electric also does not belong to the leading industry group.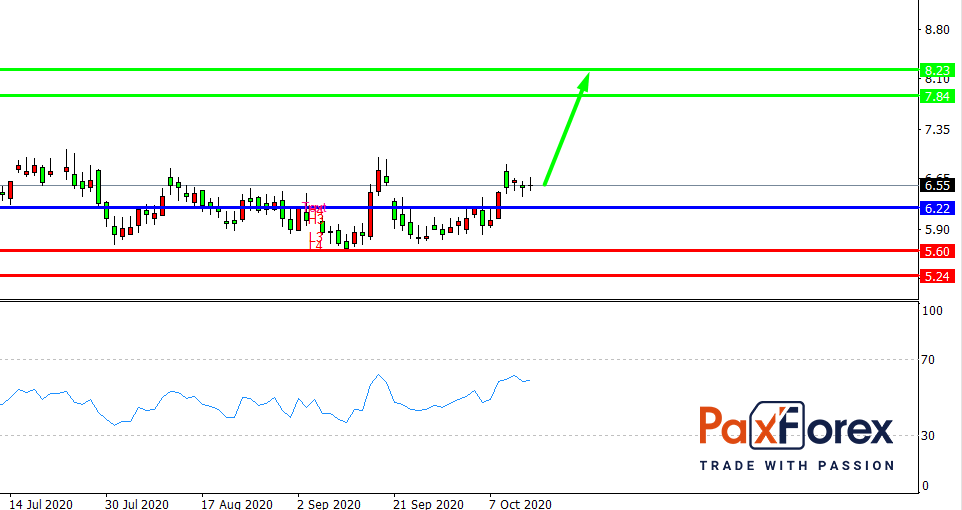 While the price is above 6.22, follow the recommendations below:
Time frame: D1
Recommendation: long position
Entry point: 6.84
Take Profit 1: 7.84
Take Profit 2: 8.23
Alternative scenario:
If the level 6.22 is broken-down, follow the recommendations below.
Time frame: D1
Recommendation: short position
Entry point: 6.22
Take Profit 1: 5.60
Take Profit 2: 5.24