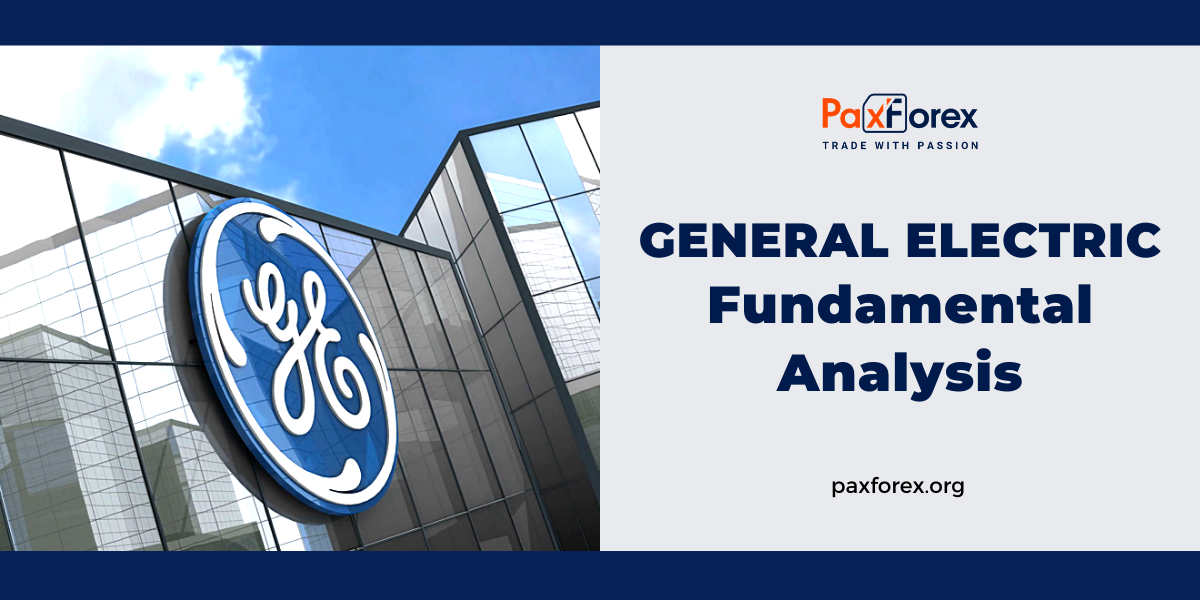 Source: PaxForex Premium Analytics Portal, Fundamental Insight
General Electric's bold moves are winning over Wall Street traders as the industrial giant tries to shore up its core business, cut debt and reduce risk, and that Boeing 737 Max gets back on track.
General Electric's showed a bullish rally in 2019 after several years of solid earnings. After a strong start in 2020, the stock fell to its lowest level. The pandemic hit GE's flagship aircraft and power plants. But health care is holding up fairly well, and renewables are on the rise. With many cyclical, General Electric shares are rising as the Senate renews hopes for more stimulus and infrastructure spending.
On key earnings and sales metrics, GE stock gets a poor EPS rating of 11 out of 99, and an SMR rating of C on a scale from A+ (best) to E (worst). The EPS Rating compares the company's earnings per share to the growth of all other companies, and its SMR Rating reflects sales growth, profit margin, and return on equity.
GE stock has a pre-tax margin of 7.6%. Its annual ROE is 20.7%, above the 17% minimum and higher than investors would like to see. On Oct. 29, the industrial giant posted a 60% drop in earnings per share for the third quarter as sales fell 17%.
General Electric generated $514 million in industrial free cash flow (FCF) in the third quarter after losing $4.3 billion in the first half of 2020. The measure closely tracks as a sign of GE's positive performance and ability to repay debt. Analysts forecast that GE's earnings will rise to 31 cents in 2021 as sales rise 2 percent, but that will still be below 2019 levels. GE's performance in recent years has been impacted by the company- and industry-specific issues, especially the collapse in the electricity market.
General Electric makes jet engines for aircraft manufacturers. It also runs a profitable aftermarket engine repair and maintenance business. Also, it leases aircraft to airlines. GE's joint venture makes engines for the 737 Max.
The commercial aviation business suffered losses after the Boeing 737 Max airplane broke up. Airlines were not using this brand of aircraft and were delaying or canceling flights because of the pandemic. As a result, GE Aviation cut jobs by 25 percent and later warned of further layoffs.
In December, the Boeing 737 Max returned to service, and deliveries resumed after it was certified to fly. Some airlines began ordering the Boeing 737 Max again. CEO Larry Culp's top priority is to improve General Electric's financial position. He is also seeking to strengthen GE's five business segments as part of a multibillion-dollar restructuring plan.
A huge and costly restructuring began in 2017. Poorly thought-out acquisitions and execution errors led to a collapse in debt and a drop in the company's revenues and free cash flow.
Following the termination of various businesses, General Electric's focus is on aviation, energy, health care, and renewable energy. It also has a downsized financial services division, which includes an aircraft leasing division. In the third quarter, despite the pandemic, GE's industrial business showed improvement in revenue growth and operating margins compared with the previous quarter.
At the same time, General Electric agreed to an SEC investigation related to its electric power and insurance business. It also cut billions in expenses and debt in 2020.
For GE Aviation, the slow recovery of global air travel remains a major activity. Rebuilding the 737 MAX is another big challenge. At the same time, GE Power has suffered a steep decline in the market for coal and gas-fired power plant turbines, with demand shifting to wind and solar power plants. It plans to exit the coal market and focus more on less-polluting natural gas as the global gas turbine market slowly stabilizes.
In December 2018, General Electric reduced its quarterly dividend to a token penny per share. The reduction previously announced in November 2017, along with a broad restructuring, cut the dividend in half, to 12 cents. GE stock's current 4-cent annual payout offers a 0.6 percent yield.
Many Wall Street analysts are optimistic about GE and its improving fundamentals.
From a technical perspective, GE stock looks to be a buy. reflects hopes for improved fundamentals when the Boeing 737 Max flies again, and expectations for a recovery from the pandemic in the overall economy.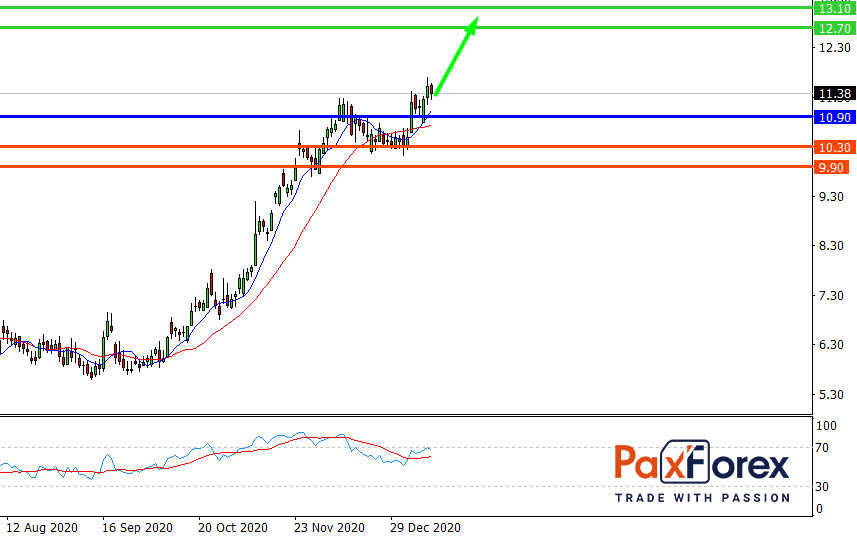 While the price is above 10.90, follow the recommendations below:
Time frame: D1
Recommendation: long position
Entry point: 11.50
Take Profit 1: 12.70
Take Profit 2: 13.10
Alternative scenario:
If the level 10.90 is broken-down, follow the recommendations below:
Time frame: D1
Recommendation: short position
Entry point: 10.90
Take Profit 1: 10.30
Take Profit 2: 9.90