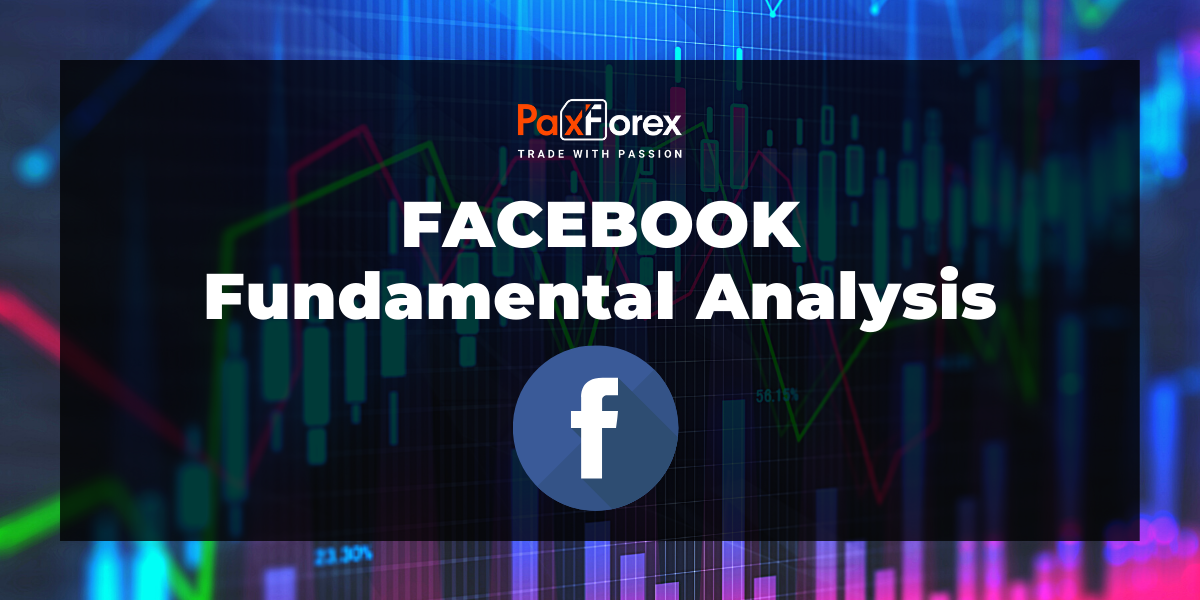 Source: PaxForex Premium Analytics Portal, Fundamental Insight
When the pandemic first caused local authorities to introduce quarantine restrictions, the use of social media applications reached unprecedented levels around the world. However, this did not always lead to an increase in the income of these companies as could be expected. Facebook and other social network companies receive the vast majority of their income from advertisers. But spending more time on their platforms is not always profitable if marketers are not interested in buying advertising because services are closed during a pandemic.
People start leaving home more and more often and do not spend as much time on web surfing as when the Coronavirus pandemic had just begun. As a result, they are less likely to use Facebook and its family of applications, but advertisers are also starting to buy advertising again. It can have an amazing impact on Facebook's results when it reports income on October 29.
Here are the three most important indicators to track when a company publishes a report.
First, investors will want to know about revenue growth. Revenues have increased by 11% in the last quarter. Two opposing forces worked during this period. People were more likely to use services because they communicated with friends and family while maintaining social distance. Advertisers reduced expenses on the platform as some tried to reduce expenses, while others were not open for business. It became obvious when the company reported that the total volume of advertising materials increased by 40%, while the price per ad decreased by 21%.
Now that more and more businesses are reopening around the world, the cost of advertising can actually increase, even if user participation in Facebook applications is decreasing. However, the company is facing problems on this front, as the California Consumer Protection Act came into force in July, which will reduce the ability of businesses to target advertising in California.
Second, shareholders will want to pay attention to the growth in the number of users. In July, Facebook announced that it had 1.8 billion daily active users and 2.7 billion monthly active users - both up 12 percent from the previous year. The company predicts that user growth will be moderate in the current quarter as economies around the world recover and allow people more mobility.
Thirdly, it will be important to look at the operating margin of the company. This indicator has decreased to 27% in the last quarter compared to 32% in the previous year. Costs are increasing as the company hires people to help with its long-term development initiatives and to reduce website maintenance. While many employers were cutting staff, Facebook hired 4,200 new employees in the last quarter.
Facebook projects revenue growth to be around 10 percent this quarter as the obstacles mentioned above offset the increased interest from advertisers as restrictions on posting on the site continue to ease.
Shares rose more than 27% year-on-year, although the growth was somewhat volatile as prices fell to $148 per share and rose to $304 per share. Facebook remains an active buyer of its own shares, having bought back $1.4 billion worth of shares in the last quarter. The company can take the opportunity of any further downturn to buy more shares. Investors may want to consider doing the same if the company's share price drops after the October 29 profit report is published.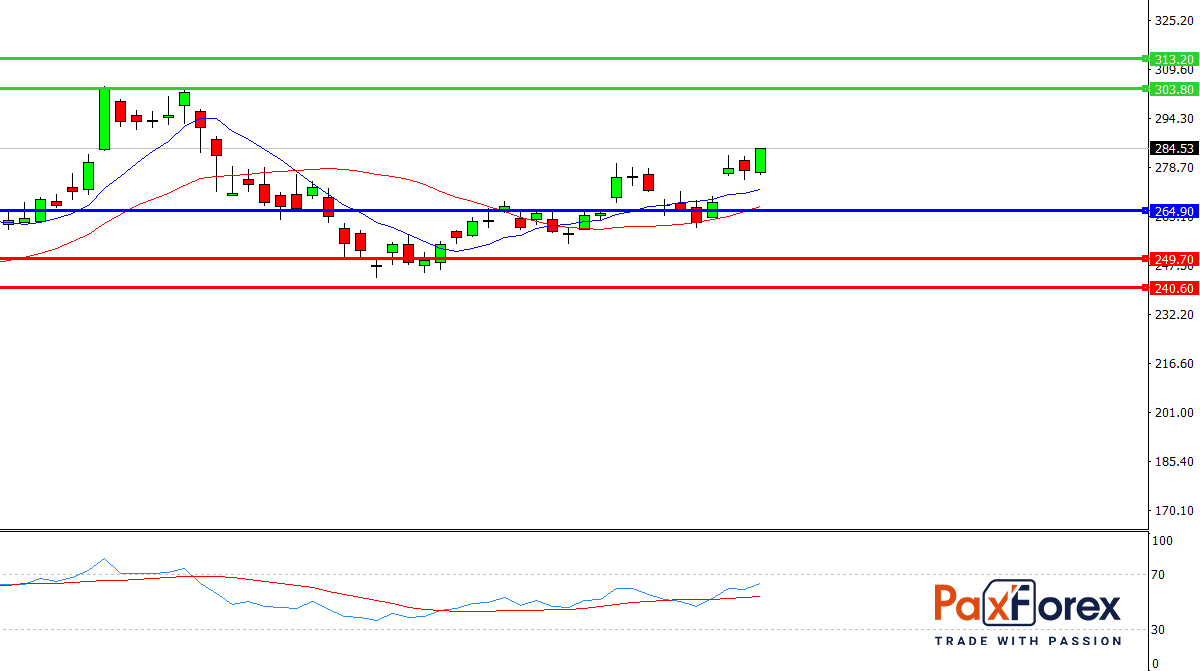 While the price is above 264.90, follow the recommendations below:
Time frame: D1
Recommendation: long position
Entry point: 284.79
Take Profit 1: 303.80
Take Profit 2: 313.20
Alternative scenario:
If the level 264.90 is broken-down, follow the recommendations below.
Time frame: D1
Recommendation: short position
Entry point: 264.90
Take Profit 1: 249.70
Take Profit 2: 240.60