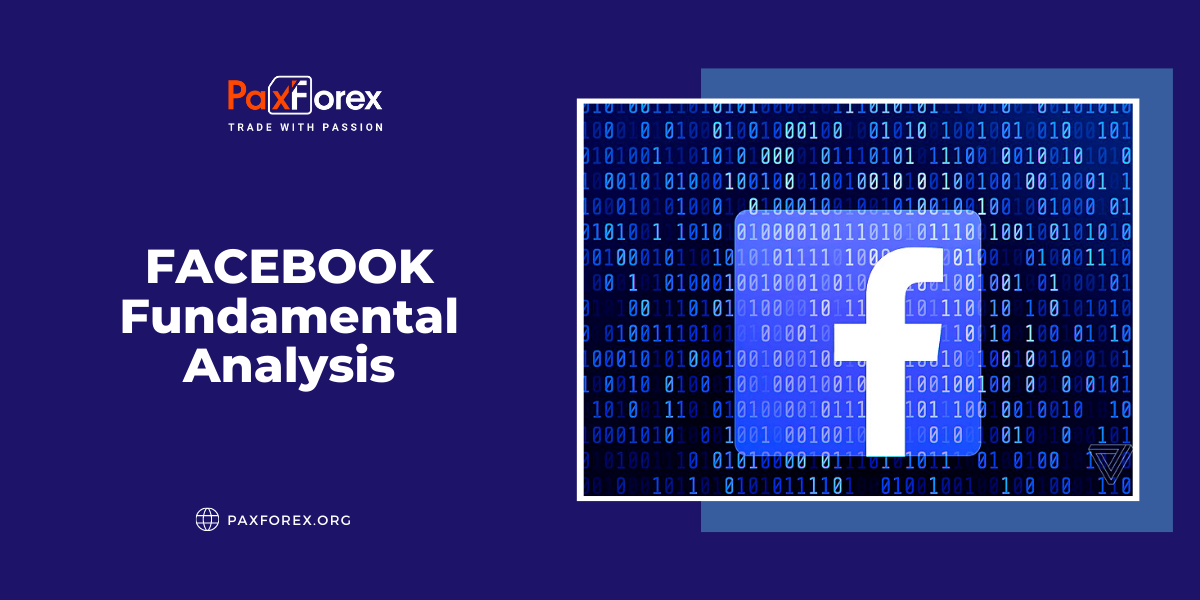 Source: PaxForex Premium Analytics Portal, Fundamental Insight
Meta Platforms, the tech giant formerly known as Facebook, has lost more than 50% of its market value this year as investors have been concerned about its slowing growth and polar plans. The broader sell-off in the tech sector, which was largely driven by rising interest rates and other macroeconomic factors, has only exacerbated the problem.
But did investors overreact by prematurely dumping Meta stock, which is still about 330% above its initial public offering price a decade ago? Let's look at a few reasons to buy Meta - and one reason to sell - to find out.
The company's advertising business may stabilize shortly
Meta gets almost all of its revenue from the advertising business, which it almost duopolizes with Alphabet's Google in the U.S. and other major markets.
In 2021, Meta's revenue rose 37% to $118 billion, but in the first quarter of 2022, it rose just 7% year over year to $27.9 billion. The company expects this slowdown to continue, and revenue to remain nearly flat in the second quarter.
Meta attributes this gloomy outlook mainly to Apple's privacy update on iOS, which has reduced the effectiveness of Meta's targeted advertising; strong competition from ByteDance's TikTok; slowing growth in Europe amid the war in Ukraine, and unfavorable foreign exchange rates.
These issues seem complicated, but Piper Sandler analyst Thomas Champion said he believes Apple took a more "accommodating" stance toward advertisers during the World Wide Developers Conference (WWDC) in early June. Champion noted that Apple has not tightened its privacy standards again and has even made a few changes to its SKAdNetwork that could open up new advertising opportunities for Meta.
Citi analyst Ronald Josi, who reiterated Meta's "buy" rating in early June with a $300 price target, said he also believes ad revenue growth will accelerate again in the second half of 2022 when near-term adversity eases. If that happens, Meta could finally dispel bearish fears about Apple and ByteDance and reassure investors that its advertising business could survive a potential recession.
The slowdown may be temporary
As Meta's revenue growth has stalled, the company has increased spending on new short videos for Facebook and Instagram, which could eventually expand its moat against TikTok, as well as on its loss-making Reality Labs segment, which makes virtual reality (VR) and augmented reality (AR) devices.
The combination of slowing sales and rising costs spooked investors, and the bears were convinced that Meta's days of high growth were over. As a result, analysts expect Meta's revenue to grow only 7% this year and earnings per share (EPS) to decline 14%. But if we look beyond 2022, Wall Street's expectations for the next two years are still quite optimistic.
We have to take these long-term estimates with a grain of salt, but they strongly suggest that Meta will be able to continue to monetize its core family of apps (Facebook, Messenger, Instagram, and WhatsApp) with new features. Meta served 3.64 billion active users in the last quarter, and this huge audience should remain a profitable target for advertisers.
Low expectations and low valuation
Meta trades at 14 times earnings estimates, making it the cheapest FAANG stock. This low ratio indicates that investors are not too confident in Meta's ability to overcome its recent problems.
However, market expectations for Meta are so low right now that any positive developments - including stabilization of the advertising business, tighter spending measures in the Reality Labs division, lower inflation, or other positive macroeconomic developments - are likely to drive the company's stock higher.
So it might make sense to just buy Meta as a value play rather than betting on more speculative technology stocks.
Meta's advertising business may have overcome the recent downturn, but the company still faces unresolved antitrust and privacy issues in the U.S., U.K., and Europe, as well as calls to spin off Instagram and WhatsApp into separate companies.
Sheryl Sandberg, Meta's longtime chief operating officer, who led the tech giant through many of these difficult times, also recently resigned, to be replaced by the company's chief development officer, Javier Olivan. It's unclear whether Olivan will be able to successfully confront all of these regulatory challenges, many of which could disrupt or stall the long-term growth of Meta's advertising business.
Obviously, Meta will face many obstacles shortly, but it is unlikely that its core platforms will ever disappear, like Myspace or Friendster. Its apps are still used monthly by nearly half the world's population. And the company still had $43.9 billion in cash and marketable securities last quarter, giving it plenty of room for new investments and acquisitions.
Simply put, Meta's strengths easily outweigh its weaknesses. Its stock isn't going to take off anytime soon, but the downside potential at these prices is pretty limited. Once the company's advertising business recovers, it could command a much higher valuation and bring impressive returns to patient investors.
As long as the price is below the 172.00 level, follow the recommendations below:
Time frame: D1
Recommendation: short position
Entry point: 155.41
Take Profit 1: 140.00
Take Profit 2: 120.00
Alternative scenario:
If the level of 172.00 is broken-out, follow the recommendations below:
Time frame: D1
Recommendation: long position
Entry point: 172.00
Take Profit 1: 202.00
Take Profit 2: 224.00