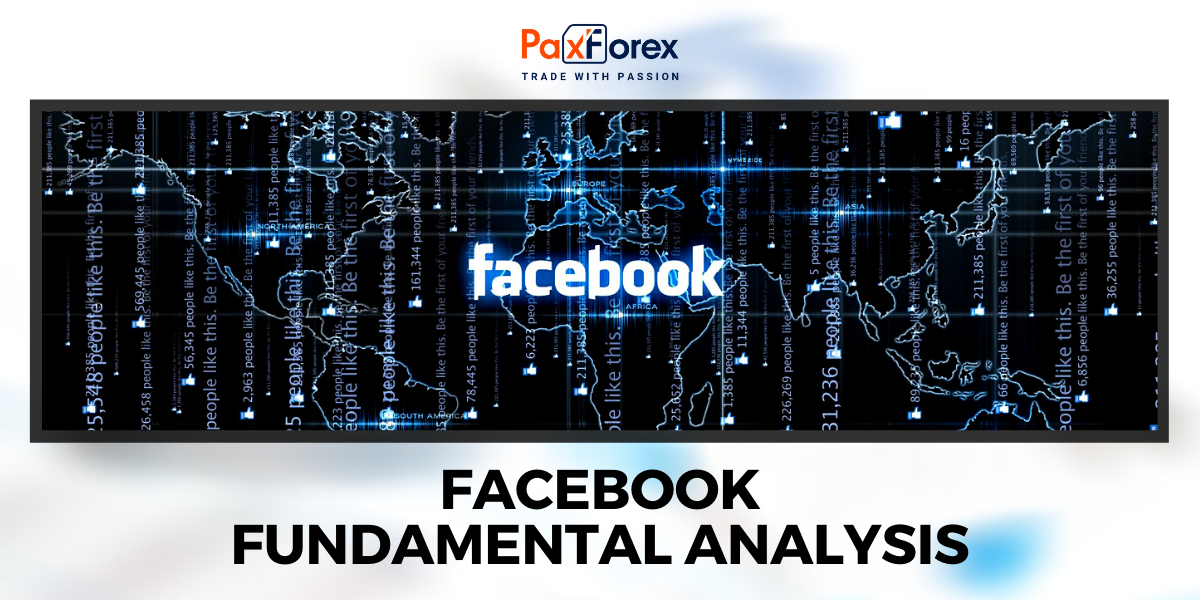 Source: PaxForex Premium Analytics Portal, Fundamental Insight
The stock was down 7 percent at the end of last week on a modest gain for the S&P 500, and the business faces many new difficulties. WhatsApp users are reportedly leaving the app in search of alternatives such as Signal and Telegram after Facebook published a new data-sharing policy, and the tech giant is at war with fellow FAANG, Apple, over changes to iOS 14 that require Facebook to obtain authorization from users to enable some data-tracking tools.
However, if you're considering shorting Facebook right now, this assumption may be short-sighted. Below are the most common but mistaken judgments to sell the stock.
Investors have not reacted well to Facebook and Twitter's decision to halt Trump's accounts on their platforms. Twitter says it will permanently ban Trump's account, while Facebook says it will be suspended "indefinitely." Following the verdict was issued, Facebook shares fell 4 percent, while Twitter dropped 6.4 percent.
Still, the risk to Facebook seems insignificant. Trump had only 33 million subscribers on the platform, a small fraction of Facebook's more than 2 billion active users, and most of the response appeared to be a knee-jerk move to the big headline, especially since conservatives condemned the move. Nevertheless, this conspicuous risk seems to be fading, and given that Trump is no longer president, his impact on Facebook will only shrink.
Moreover, the decision has also entertained some Facebook users, as CEO Mark Zuckerberg has been repeatedly criticized for not doing more to control "bad" content on the platform and being too welcoming to the ex-president.In the long run, Trump's ban is mostly loud, and he is not the reason Facebook users spend time on the platform.
Reasonably the most significant weigher on Facebook stock these days is the possible influence of continuing antitrust investigations. In October, a House antitrust subcommittee accused Facebook, and few other companies, of operating monopoly power in their sectors, and executives of those companies testified before Congress. Meantime, the FTC also sued Facebook on antitrust grounds last month.
But there's a logic why these stocks have performed well over the past ten years. From an investor's view, monopolies are exceptional because they allow for high profits and block competition. The risk in them is that regulators are sure to take an interest in them, but Facebook has already encountered lots of fines and restraints, like a $5 billion fine from the FTC two years ago and the GDPR protocol meant to strengthen user privacy protections. None of those have had a notable influence on the stock.
While antitrust investigations may gain traction with Democrats now in control of the federal government, even a Facebook breakup likely won't hurt investors much, as some analysts believe Instagram could now be worth $200 billion as an independent business.
Facebook is "unfavorable for democracy"
This issue is the most controversial one the company faces, and if you have ethical reasons not to buy Facebook stock, it's a great reason to take control of tech stocks, as investors should feel comfortable backing the business they invested in.
At this point, it's almost become hardly a reason to say that Facebook is bad for democracy, at least in some circles. True, the Facebook platform contributed to "Russian hacking" in the 2016 election, or advertising Russians to manipulate voters, and some of the plans for the Capitol revolt on January 6 took place on Facebook, among other platforms. But such concerns have done relatively little to deter Facebook users or advertisers, though they have been problematic for the company's brand image.
After the George Floyd protests, activist groups organized the #StopHateforProfit boycott, calling on major corporations to stop advertising for July. Many of the world's biggest brands, such as Disney, Coca-Cola, and Unilever, took up the call, and some even said they would extend their boycotts. Still, Facebook posted solid growth in the third quarter, even with this boycott and pandemic-related advertising issues. Revenue for the quarter rose 22% to $21.2 billion, and earnings per share jumped 28% to $2.71. Both were record highs for the company.
While Facebook needs to do more to protect its platform from abusive users, this performance shows that business growth will not be easily hampered because the company's platform and reach are unique to both users and advertisers.
Many of Facebook's risks already seem fully justified. The stock is trading at a discount to the S&P 500 and should take advantage of the tailwinds from the economic recovery expected later this year, and how that drags down the impact of last year's lockdowns. While investors should keep an eye on the risks the company faces, overall, there are more reasons to buy the Facebook stock today than to sell.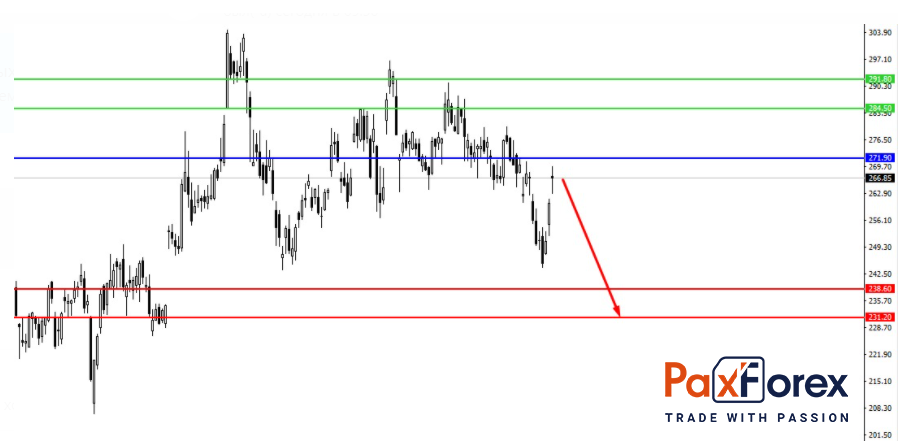 Provided that the price is below 271.90, follow these recommendations:
Time frame: D1
Recommendation: short position
Entry point: 261.10
Take Profit 1: 238.60
Take Profit 2: 231.20
Alternative scenario:
In case of breakout of the level 271.90, follow the recommendations below:
Time frame: D1
Recommendation: long position
Entry point: 271.90
Take Profit 1: 284.50
Take Profit 2: 291.80