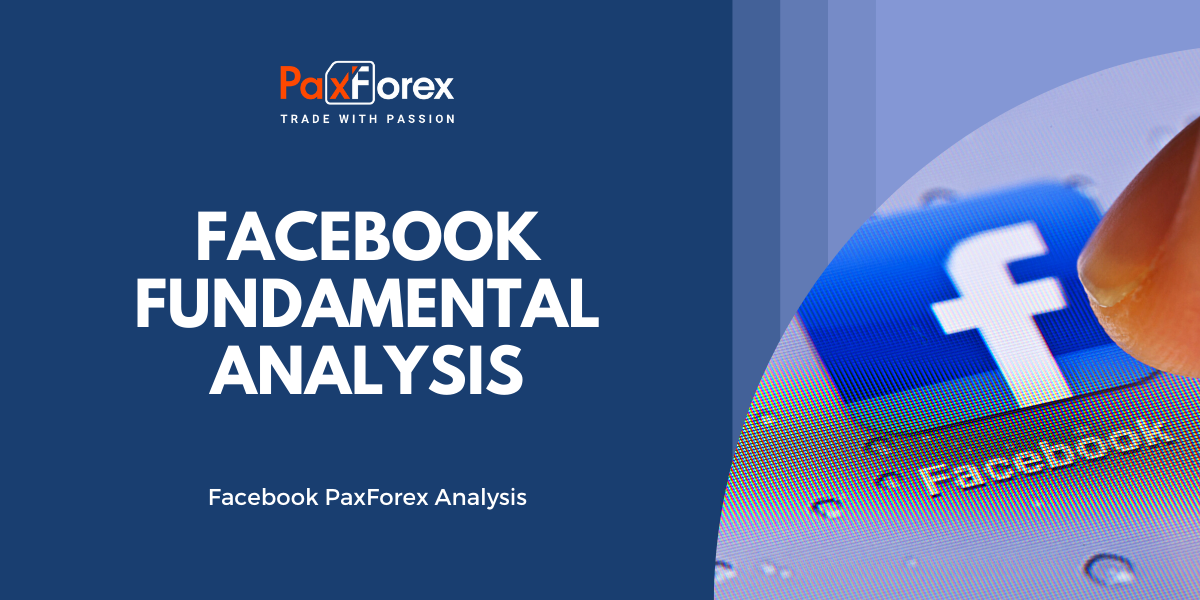 Source: PaxForex Premium Analytics Portal, Fundamental Insight
The business of Facebook is in the spotlight, and neither the pandemic nor the loud boycott could stop it. But FB stocks could be under threat as antitrust lawsuits look more and more likely. Shares fell in price this week as the stock market as a whole grew. And investors are currently evaluating the implications of the House Big Tech antitrust report.
A House Big Tech antitrust commission report published this week said Facebook "has maintained its monopoly through a series of anti-competitive business practices. The report concludes that Facebook has worked to preserve its monopoly by using its data advantages "to identify emerging competitive threats and then acquire, copy or destroy these firms.
The House of Representatives Democrats' report will become increasingly important if a party passes the November elections, which seems quite possible. Meanwhile, the Federal Trade Commission is reportedly preparing to file an antitrust suit against Facebook, pending a final decision on the matter.
However, Facebook still has many positive catalysts, as it is building up its e-commerce and taking over TikTok. Facebook's second-quarter revenue surpassed Wall Street's estimates. Sales increased by 11 percent over last year despite quarantine measures. Even the additional pressure caused by a loud boycott of advertising in July failed to keep Facebook's revenue from growing by 10 percent at the beginning of the third quarter. So, is this still a good time to buy FB stock?
FTC has signed an agreement to merge Instagram with Facebook but reserved the right to review its decision later. However, Facebook claims that the cancellation of its Instagram deal in 2012 or WhatsApp in 2014 is so long after the fact "will send an alarming message to the business community. The comment appeared on October 4 in the Wall Street Journal report, which prepares antitrust defense for Facebook.
FTC Chairman Joseph Simons said his goal is to complete any major cases before the presidential election. It means that the decision to file a lawsuit can be made on any day.
Simons said the Facebook integration of his Messenger, WhatsApp and Instagram would complicate the process. Facebook defense does the same: The company would spend billions to maintain individual systems. The security and user experience would suffer.
Facebook integration would allow users of a single site to communicate privately with all Facebook platforms. Facebook Pay, launched last year to simplify and unify the processing of payments through Facebook and Messenger, will eventually loop into Instagram and WhatsApp.
If the FTC files an antitrust case, it could take years for the trial to take place. However, FB shares face short-term risk. FTC is likely to try to block further integration with Facebook, hindering the company's grand vision.
Numerous public prosecutors are also weighing antitrust actions against Facebook. Meanwhile, the European Union is examining whether Facebook uses user data to reward its partners, but withholds access to competitors.
Facebook got a break in July 2019, when the FTC approved a large but acceptable $5 billion fine for violating its privacy. Facebook allowed Cambridge Analytica, Trump's campaign contractor, to access users' personal information to send out messages about the 2016 election. The settlement has removed fears that the government will force Facebook to make significant changes in business practices. If the FTC now decides against the antitrust suit, FB shares could take off higher.
Besides, the Ministry of Justice may soon file an anti-monopoly lawsuit against FANG company, Alphabet. It may focus on the anti-monopoly risks of Facebook.
Facebook still has a great untapped potential that has excited Wall Street. In May, the company launched its new social media shopping center Shops. Now it takes over TikTok with the recently launched Instagram Reels. And long-term efforts to monetize the massive database of WhatsApp users are just beginning.
However, it is not clear whether the Trump administration's initiative to ban TikTok will help Facebook, as it tries to make waves in the exchange space with short videos. Although the deal still needs approval, it now seems that Oracle will take a minority stake in TikTok and serve as its trusted technology partner to overcome U.S. suspicions.
However, Morgan Stanley analyst Brian Nowak raised his FB share price target to 295 from 285 on September 18. He cited survey data showing that 12 percent of Americans use Instagram Reels daily, while 8 percent shop regularly at Instagram. Novak said these initiatives plus Facebook Marketplace could add $3 billion in 2021.
Wall Street analysts believe that FANG stocks still have long-term growth and provide unrivaled value for advertisers. Facebook has proven its resilience during an unprecedented economic downturn.
All this potential makes any decision to bet against FB shares crazy. However, since antitrust and regulatory threats are surrounding Facebook, there's no good reason to invest in stocks right now.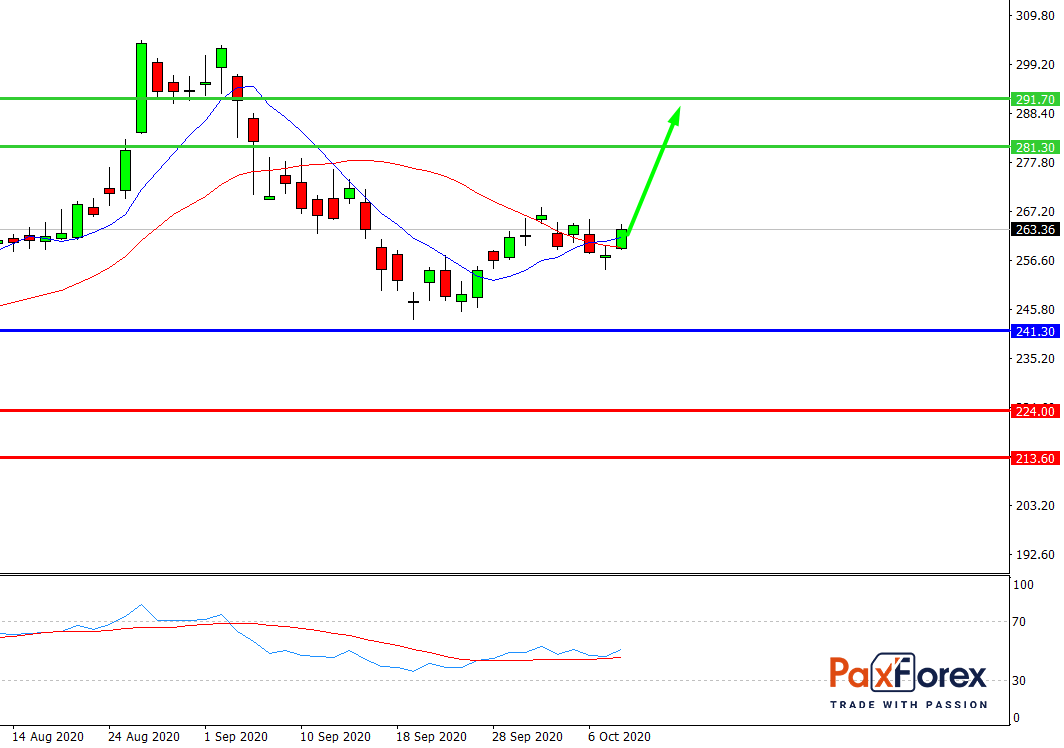 While the price is above 241.30, follow the recommendations below:
Time frame: D1
Recommendation: long position
Entry point: 258.38
Take Profit 1: 281.30
Take Profit 2: 291.70
Alternative scenario:
If the level 241.30 is broken-down, follow the recommendations below.
Time frame: D1
Recommendation: short position
Entry point: 241.30
Take Profit 1: 224.00
Take Profit 2: 213.60