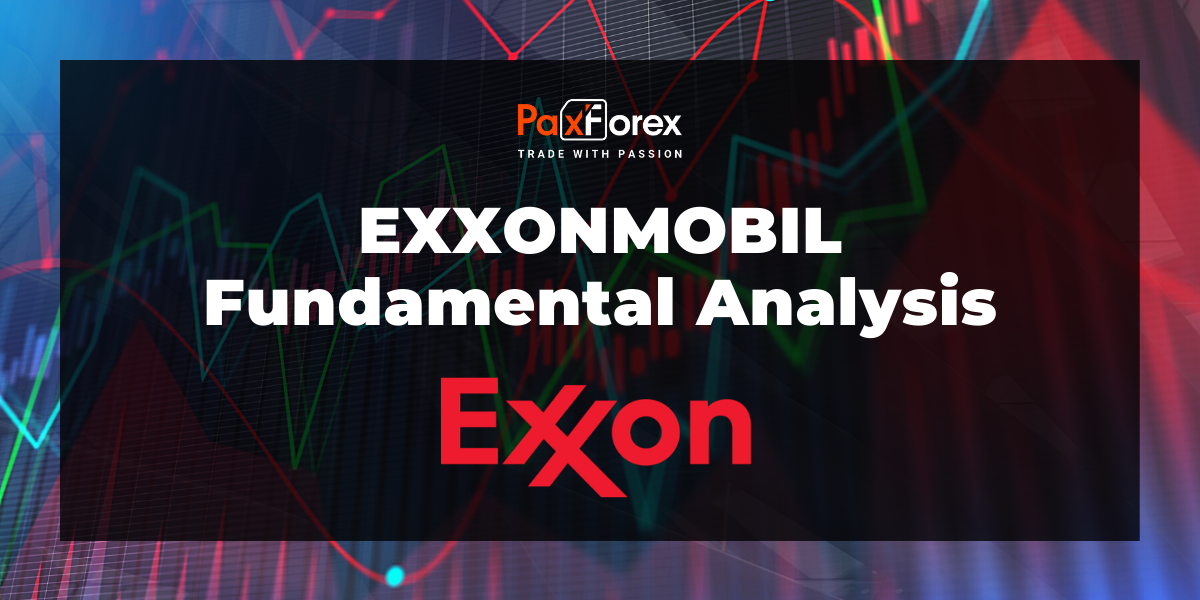 Source: PaxForex Premium Analytics Portal, Fundamental Insight
The American energy giant ExxonMobil is going through a difficult time, with its shares falling by about 50% in 2020. It's certainly not the only international oil tycoon facing difficulties, but investors need to step back and consider several key factors before deciding to buy these shares. The third-quarter earnings report will be released on Friday, October 30. Here is a brief overview of some of the vital factors that need to be taken into account.
Environmentalists would like you to believe that the loss of carbon fuels such as oil and natural gas is fast approaching. It is unlikely to happen, given that oil and gas are integral to the global energy picture. Yes, clean energy is rapidly developing and displacing carbon fuels. But this is mostly coal-based, while oil and natural gas will remain key energy sources for decades, even in aggressive clean energy scenarios. In fact, the transition from one energy source to another takes a long time. For example, it took oil 100 years to displace coal as the world's largest energy source. Of course, this time everything may go faster, but the need for Exxon energy business will not disappear overnight.

While some once very famous energy companies such as Chesapeake Energy have filed for bankruptcy, Exxon has not even approached this point. To begin with, Exxon has a long history of doing business conservatively. It has not changed significantly: financial debt to equity within a reasonable range of 0.35 times. It is remarkable because Exxon has taken debt to continue to invest in its business and pay dividends, but this is still one of the lowest rates among energy companies. Only a fellow Chevron has a lower ratio, which is 0.20 times. Based on these first two points, the "worst" scenario for investors is unlikely to be a total loss of capital. And if we assume that the current disruption in the industry is temporary, there may be potential for a significant recovery after such a severe drop in prices. Energy is, historically speaking, a cyclical industry.

And now heavy artillery. Exxon has been consistently increasing its dividends for 37 years. It is an incredible strip, especially considering that oil is a very volatile commodity. The deep drop in prices in the conditions of low demand due to the pandemic is just the last example, though it is especially worrying. There are two problems for Exxon, both of which are related to the company's decision to increase its leverage.
Firstly, in recent years Exxon has embarked on a massive program of capital investments, as it seems that its production will grow again. It, like its colleagues, has moved to the cost front, but it really cannot abandon the plan because it needs to make these investments if it wants to grow.
Secondly, Exxon's long-term dividend obligations can fluctuate. The management basically announced that they didn't want to take any more debt when Exxon held a conference call on the second-quarter earnings of 2020. While it remains committed to paying dividends, if oil prices do not achieve a sustainable recovery, it may not be able to support both the dividends and its capital expenditure plans without incurring more debt.
If the pressure is exerted, and management decides to avoid additional debt, the dividend is likely to lose out on capital expenditures. It makes things a little easier, mainly what happened in BP and Royal Dutch Shell, which cut their payments in 2020.
For investors who want to invest in the non-favorable energy sector and are not too concerned about dividends, Exxon remains a reliable option. If energy prices start rising again, it could lead to a significant turn for the better. But dividend-centric investors need to be more careful. Yes, a 10 percent dividend yield is tempting, but the risk of a decline in dividends has increased significantly. While earlier dividends were practically unthinkable, so far, the company has only really stated that it would keep the dividends until 2020. If you are a profit-driven investor, other oil and gas opportunities, such as Chevron, maybe the best option now.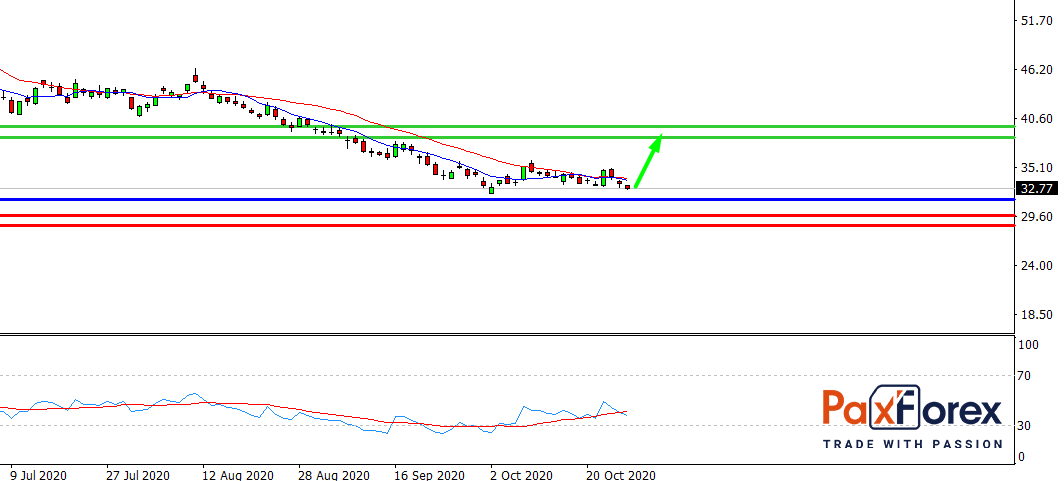 While the price is above 31.50, follow the recommendations below:
Time frame: D1
Recommendation: long position
Entry point: 34.86
Take Profit 1: 38.50
Take Profit 2: 39.70
Alternative scenario:
If the level 31.50 is broken-down, follow the recommendations below.
Time frame: D1
Recommendation: short position
Entry point: 31.50
Take Profit 1: 29.70
Take Profit 2: 28.50