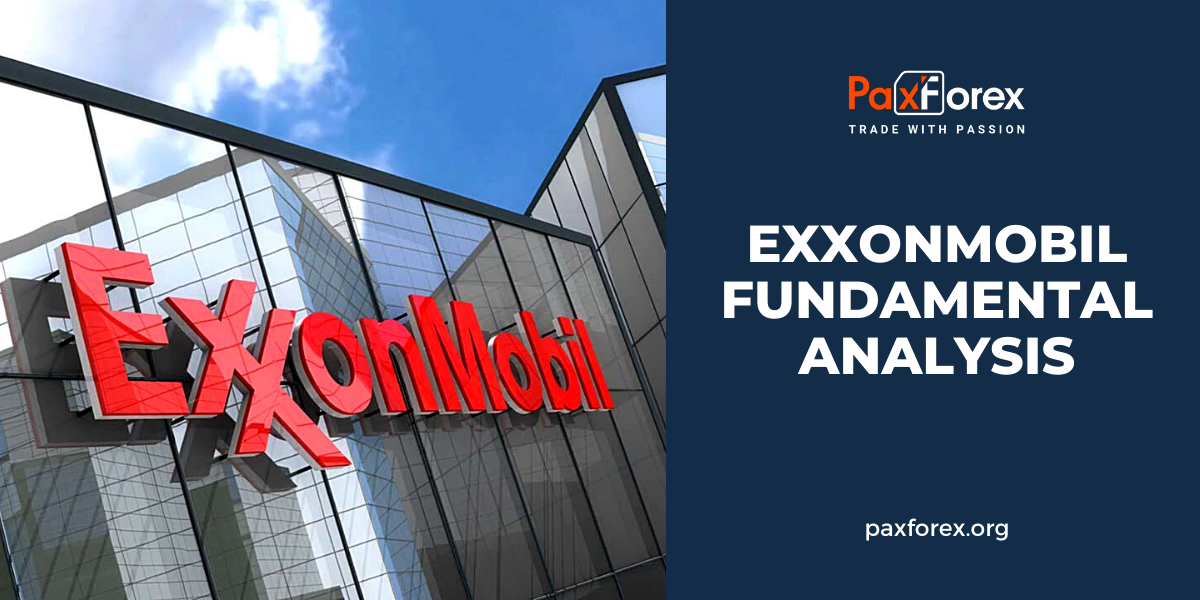 Source: PaxForex Premium Analytics Portal, Fundamental Insight
The first big problem facing ExxonMobil today is the tragically low oil price. This problem has posed a serious problem for the global energy giant as it tries to save its dividends by continuing to invest in projects necessary to maintain and increase oil production. And there is no easy way out of this situation.
The strengthening of the United States as a more material global producer of oil and gas in recent years has plunged the world into a situation where supply exceeds demand. It was a manageable imbalance when OPEC worked to reduce supply to make room for increased energy production in the United States. However, the global pandemic and the economic lockdowns that were used to decelerate its spread have exacerbated the situation. The massive reduction in demand led to a huge oversupply in the energy industry. Oil prices fell and excess production was stored in warehouses.
It is under such conditions that Exxon and its colleagues have to work today. And it is unlikely that the situation will improve in the short term. First of all, it is necessary to increase demand, which will most likely require successful development, production, and distribution of coronavirus vaccine. And then it is necessary to work off all the oil surpluses that are in storage. Until that happens, oil companies such as Exxon are likely to face prolonged low energy prices.
It is a terrible situation for the industry, but especially alarming for Exxon. Before the pandemic, the company started a multi-year investment program, planning to spend up to $30 billion a year until 2025. The goal was to reverse the downtrend in the company's production volumes. But with such low energy prices, everything went wrong as planned. For example, during the first nine months of 2020, the company's capital expenditures fell by about 25% year on year. The company is working on further cuts in 2021 and expects capital expenditures to be only $16 billion - about half of the $30 billion planned in the company's plans before the start of trading on September 19.
If capital expenditures were the only issue, there would be no problem. Exxon boasts an excellent debt to equity ratio of approximately 0.4 times. It is no coincidence and is actually at the bottom of its comparison group. The company's efforts to cut costs and sell assets are likely to be sufficient to allow the oil and gas giant to break through this obstacle course. But it also needs to continue investing if it wants to maintain and increase production. It can stretch out its plans and reduce its actual costs, so it invests in the most profitable projects, but it still has to spend.
It contradicts another major cash leak in Exxon: its dividends. It is another nuance that has to be reckoned with. As an example, Exxon spent about $15.2 billion on capital investments in the first nine months of 2020 and paid dividends of about $11.2 billion. Since the company lost $2.3 billion during this period, its business clearly could not cover its dividends and capital investments. This explains why, by the end of the third quarter, the long-term debt had increased by almost 80% year on year. Exxon uses its balance sheet to cover the cash shortages it faces due to low energy prices.
Some investors fear that the company's series of annual dividend increases, which have lasted more than three decades, is coming to an end. It helps explain why the company's return on equity is a huge 9 percent. It is a very serious concern, given that dividends are expensive and Exxon's spending plans are not optional and would require significant and sustained increases in oil prices to address this issue. But it seems unlikely today, and even after the world recovers from COVID-19, the imbalance between supply and demand will not be resolved overnight because of the excess oil stored in the storage tanks.
After all, the next five years will be challenging for ExxonMobil and its shareholders. It will be difficult for the energy giant to maintain both dividends and investment plans unless oil recovers, which does not seem to be a very likely outcome shortly. The reduction in capital expenditures and the divestment of assets that it is doing to help balance calculations right now, meanwhile, could ultimately hinder its plans in the longer term.
While the company itself is likely to handle this, the next five years will be tough, and investors receiving dividends may find that they are left out. Risky investors may want to reconsider their views on these stocks, as it could literally take the next five years to resolve all of the difficulties Exxon faces today.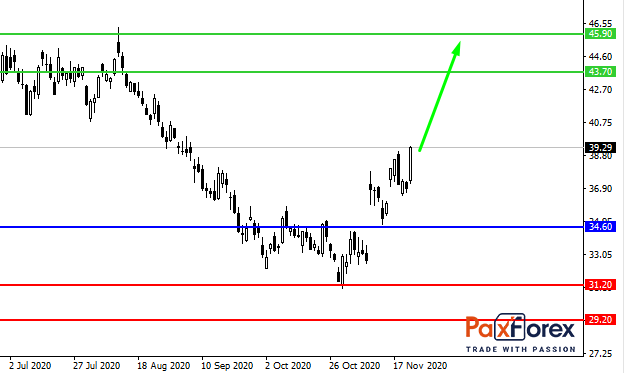 While the price is above 34.60, follow the recommendations below:
Time frame: D1
Recommendation: long position
Entry point: 39.36
Take Profit 1: 43.70
Take Profit 2: 45.90
Alternative scenario:
If the level 34.60 is broken-down, follow the recommendations below.
Time frame: D1
Recommendation: short position
Entry point: 34.60
Take Profit 1: 31.20
Take Profit 2: 29.20