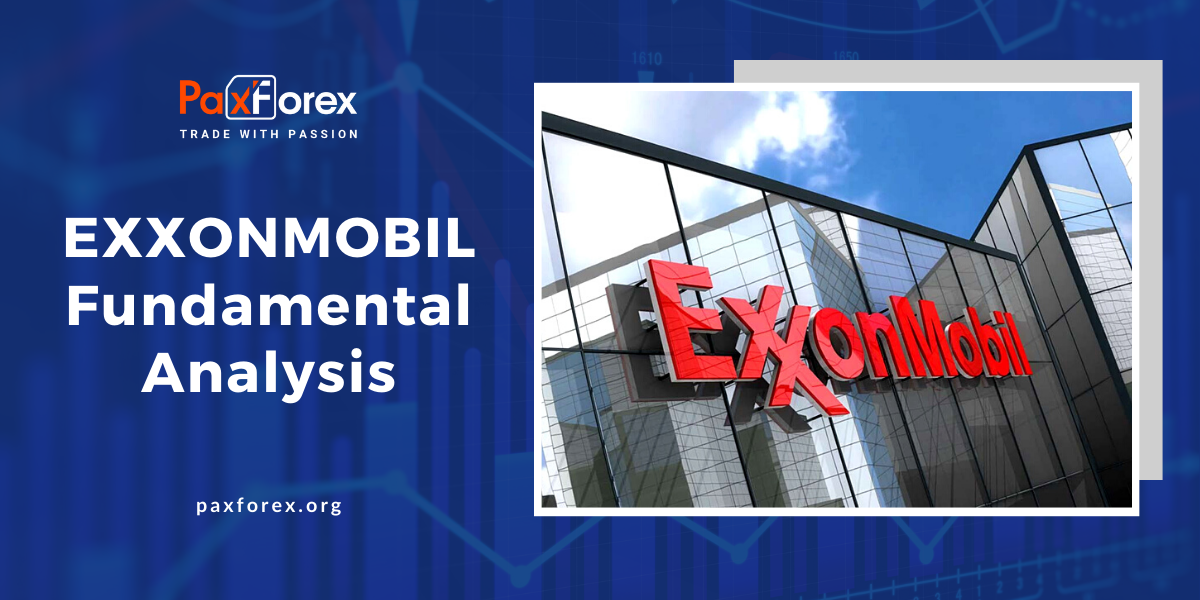 Source: PaxForex Premium Analytics Portal, Fundamental Insight
ExxonMobil has made it a priority to maintain dividends, while oil prices remain low. Is it worth buying Exxon shares now? Let's take a look at the company reports and the market situation in general.
On October 30, Exxon reported a loss of 18 cents per share in the 3rd quarter against a profit of 68 cents per share in the corresponding quarter last year. Wall Street expected a loss of 28 cents per share. Revenue fell 29 percent to $46.2 billion, down from a projected $49.5 billion.
Oil production fell 3.7% to 3.7 million barrels per day. An extractive business lost $1.5 billion, earning $8.3 billion a year ago. Refining and marketing revenues fell 91 percent to $134 million. Revenues from the chemical industry increased 34 percent to $1.27 billion.
The oil giant maintained quarterly dividends at 87 cents per share. But to protect its payments, the company reduces costs and jobs. Exxon sees its 2021 capital program at $16-19 billion, below its 2020 target of $23 billion. This year, Exxon has already reduced its investment by 10 billion dollars.
The company will also cut its workforce in the U.S. by 1,900 people after it announced a 1,600-strong layoff in Europe earlier this month. In total, it plans to eliminate about 14,000 employees.
Exxon is also looking at "modest asset sales" in 2021 and is "actively discussing" with "incoming offers," said CFO Andrew Swiger, during the earnings report.
Exxon's revenue has fallen 54 percent on average over the past three years. On the revenue side, the company's three-year growth rate fell 4 percent. As it is well known, investors are generally better off looking for stocks with steady profits and sales growth of at least 25 percent.
Exxon shares do indeed offer a strong dividend yield of 9.6%. But it is growing partly because stocks have tended to decline over the past five years. A high dividend yield is not the best reward for a falling share price.
Exxon profits and stocks tend to rise and fall along with oil prices, which can be very volatile.
March saw the biggest drop in oil prices since the start of the Gulf War in 1991 when OPEC+ failed to reach an agreement to reduce production. But eventually, the group came together, as the pandemic further reduced prices. In April, even the American crude oil became negative for the first time.
In the meantime, global demand declined. The International Energy Agency now sees the first annual drop in demand since 2009. The IEA predicted a decline of 8.4 million barrels per day in September this year in its report on the oil market, a stunning reversal compared to January's forecast of 1.2 million barrels per day.
In August, after more than 90 years in the key index, the stock was hit again after being replaced by Salesforce. In recent years, Dow Jones has moved from industrial stocks to technology firms.
However, analysts predict limited downside potential for XOM shares due to the long term change in the index, as it is not widely used as an investment benchmark, unlike the S&P 500.
"ExxonMobil's exclusion from the DJIA, which has been on the list since 1928, symbolizes how much the energy sector has fallen in the past few years," said Edward Jones analyst, Jennifer Rowland, in a note on August 25.
"In the future, Chevron will be the only energy resource on the DJIA. The S&P 500 has five shares (Apple, Microsoft, Amazon, Alphabet, and Facebook) that are individually larger than the entire U.S. energy sector - that's quite revealing.
Chevron even slightly outperformed Exxon in market capitalization during trading in early October. But since then, Exxon has regained its title as the largest American oil company.
As demand declines, independent American oil shale companies cut their costs to stay within their balance sheets, leaving the doors open for the big oil companies.
Exxon became a bigger oil shale player by concluding a $5.6 billion deal in 2017 to double its oil and gas holdings in the Perm basin.
Exxon plans to produce 1 million barrels per day in the Permian Basin as early as 2024, 80 percent more than previously estimated. Consolidation may occur in the shale space as large oil companies continue to buy oil shale.
But in October, Exxon said it planned to end the year with only ten drilling rigs in the Permian region compared to the planned 50-60 before the pandemic.
Exxon is selling assets that could reach $25 billion by 2025, across Europe, Africa, and Asia, as it hopes to free up more capital to invest in the Permian Basin and massive projects such as the oil field in Guyana.
Competition is moving towards expanding oil shale holdings. In July, Chevron announced the purchase of Noble Energy, an oil and gas company, as part of a $5 billion sale of all its shares. Noble owns 92,000 acres in the oil-rich Delaware Basin of the Permian region.
Overall, Exxon revenues are volatile and must remain under pressure as coronavirus reduces demand. XOM shares also fluctuate depending on the price of crude oil. It may mean fast short-term profits, but also sharp sales, as was the case after the March OPEC meeting.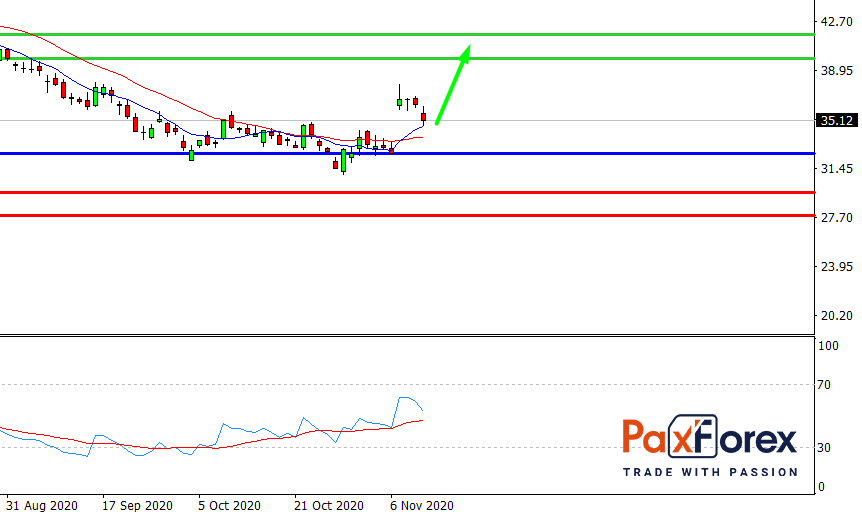 While the price is above 32.60, follow the recommendations below:
Time frame: D1
Recommendation: long position
Entry point: 35.23
Take Profit 1: 39.90
Take Profit 2: 41.70
Alternative scenario:
If the level 32.60 is broken-down, follow the recommendations below:
Time frame: D1
Recommendation: short position
Entry point: 32.60
Take Profit 1: 29.60
Take Profit 2: 27.90