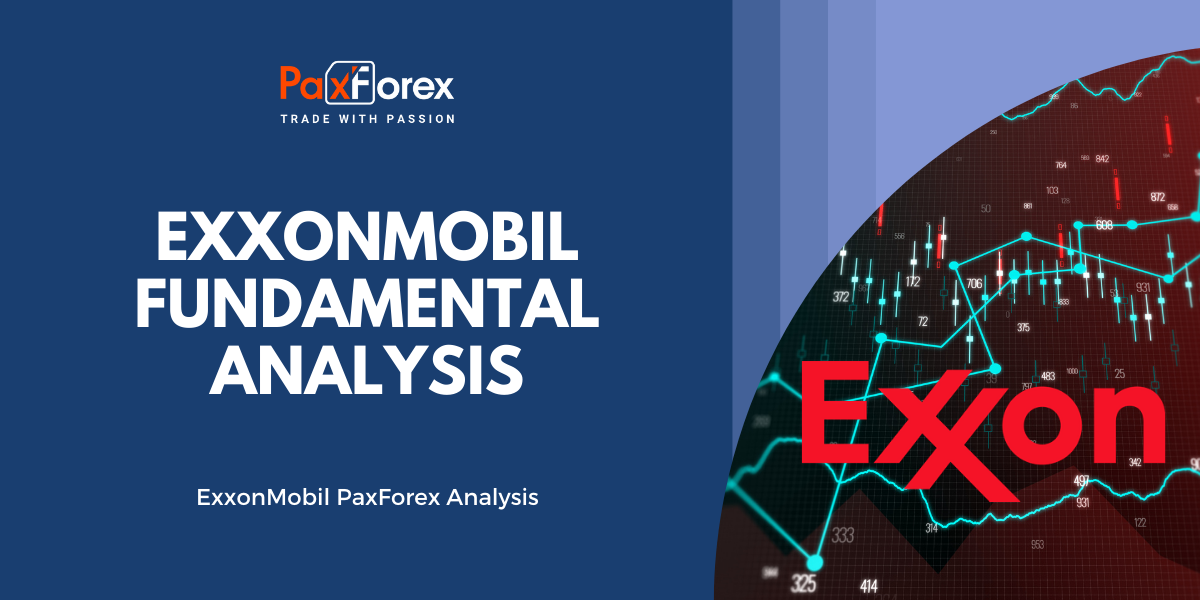 Source: PaxForex Premium Analytics Portal, Fundamental Insight
Shares of oil and gas giant ExxonMobil fell by 14.1% in September.
This far exceeded the losses of the S&P 500, which fell by only 3.9% at the end of the month. However, the company performed better than the entire oil and gas industry, according to SPDR S&P Oil, which fell by 18.3% over the month.
Exxon shares were steadily declining throughout the month, but they saw a significant surge on September 16 and a significant drop on September 23. Both movements were caused by concerns about oversupply and how they affected oil prices.
On September 14, when hurricane Sally hit the Gulf Coast of the United States, both major oil benchmarks closed below $40 per barrel. International Brent closed at $39.61 per barrel, while American WTI closed at $37.26. The devastation after Sally in the main oil and gas region led to an increase in oil prices over the next week as investors expected production in the region to begin to decline, which would reduce global oversupply. By September 17, Brent had jumped to $43.82 per barrel, while WTI had risen to $41.22. Exxon shares, like most oil companies, rose on September 16, when WTI crossed the $40 threshold.
However, the rally was short-lived. Next Wednesday, September 23, an unexpected increase in U.S. crude oil reserves amid the news that Libya may resume oil production, led to the company's shares falling back in price.
Investors should also bear in mind that, according to leaked documents reported by Bloomberg, the company prepares to raise its carbon dioxide emissions by 17% within the next five years.
The oil and gas industry as a whole, including emissions of fuels based on oil and natural gas, is the world's largest producer of greenhouse gases, including carbon dioxide. Shell and BP have answered to shareholder requests to enforce climate-friendly policies and plans.
On the contrary, ExxonMobil has not committed to "net-zero". In March, Exxon CEO Darren Woods described the carbon targets of oil companies as a "beauty contest", explaining that if an individual company reduces its emissions by selling its assets with the highest emissions to another company, the total emissions in the world do not change.
ExxonMobil's merged plan is to increase oil production, which will add about 21 million metric tons of carbon dioxide per year by 2025. This enlargement more than compensates for the company's proposed emission reduction efforts, which include some investment in renewable energy sources and the containment of some carbon dioxide underground.
It should be noted that 21 million metric tons represent only the amount of additional carbon dioxide emissions offered by ExxonMobil to increase production. According to these documents, the total amount of emissions - taking into account the above-mentioned reduction efforts - in 2025 will amount to 143 million metric tons of carbon dioxide equivalent.
The global oversupply, along with lower demand for fuel as a result of the coronavirus pandemic, has impacted the price of ExxonMobil shares for several months. To date, Exxon shares have lost more than half their value. Even for a company as large and well-established as ExxonMobil, the oil industry is a risky place for investors these days and should have seen further developments.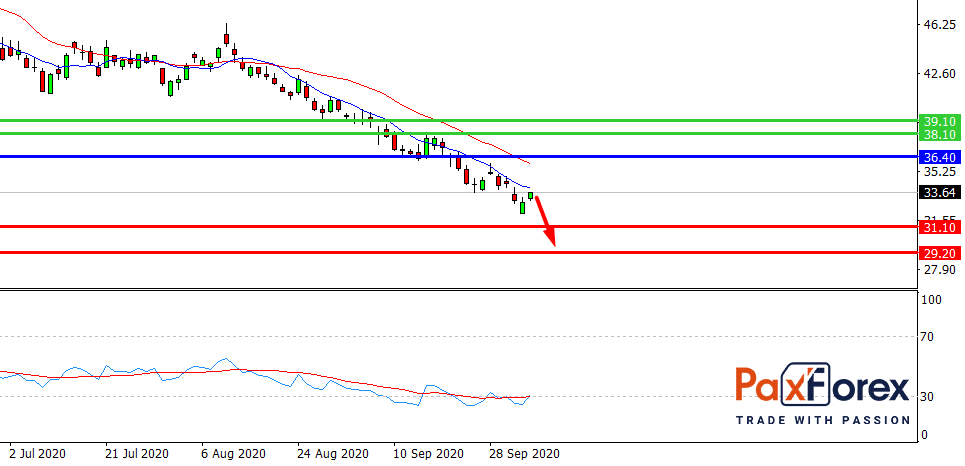 Provided that the price is traded below 36.40, follow the recommendations below:
Time frame: D1
Recommendation: short position
Entry point: 34.04
Take Profit 1: 31.10
Take Profit 2: 29.20
Alternative scenario:
In case of breakout of the level 36.40, follow the recommendations below:
Time frame: D1
Recommendation: long position
Entry point: 36.40
Take Profit 1: 38.10
Take Profit 2: 39.10