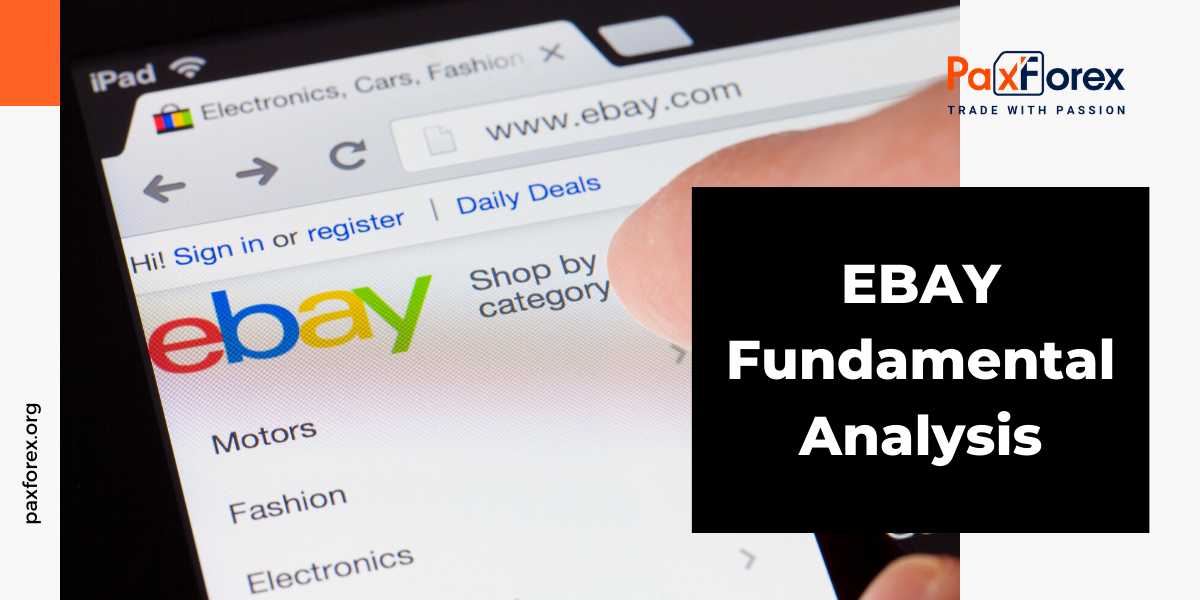 Source: PaxForex Premium Analytics Portal, Fundamental Insight
It is quite logical that shareholders had every reason to anticipate outstanding third-quarter results from eBay. The online services market, more than any other, has been a major winner of the consumer and merchant transition to e-commerce, which has been significantly accelerated by the coronavirus pandemic in the first half of 2020.
Last week eBay indicated that this spike in demand is holding back even the resumption of physical shopping around the world. The company is transforming this growth into profit.
Let's take a closer look at eBay's Q3 earnings report to assess the company's situation and prospects.
Wall Street shows a slowdown from its peak lockdown period due to COVID-19 in Q2 but still anticipates robust sales increase. Current volume growth on eBay was surprisingly strong at 21 percent, up from 29 percent in the previous quarter, with each of the previous three quarters showing uniform or negative results. Management, in turn, projected strong growth of 15 percent on eBay.
The quality of these results was evident in several areas. For example, eBay's active customer pool grew by 5 percent, the best quarterly result for the past few years. The company showed impressive results in the U.S., where sales grew by 33 percent. Nevertheless, the international segment also grew aggressively - by 14%. "Our performance reflects the strength of our new targeted approach integrated with the huge untapped potential of our market," said CEO Jamie Yannone in a press release.
eBay's weighted sales approach, which avoids costly commitments in areas such as manufacturing and delivery, results in a much higher profit margin than its competitors like Amazon. The business increased this gap in the third quarter as operating costs declined, and the commissions it charges customers increased. The combination of these trends pushed the operating margin to 30.7% of sales compared to 26.7% a year ago and supported a 64% increase in non-GAAP earnings per share.
Cash flow was over $700 million, and free cash flow was $584 million.
It should be noted that management used part of the cash to repay the debt. It also spent $700 million on share buyback costs and paid $111 million in dividends.
eBay has once again improved its forecast for 2020 and now forecasts organic growth in the range of 19% to 20%, compared to the previous forecast of 14% to 16%. A similar increase has been made in earnings per share, which is expected to be in the range of $3.34 to $3.40, rather than $3.04 to $3.16 as before.
This forecast assumes that organic sales may grow by more than 20% for the third consecutive quarter during the upcoming period of key holiday shopping. It also includes a significant contribution from eBay's growing payment processing platform.
Investors will have to wait until the beginning of next year to hear management's 2021 forecast. This fiscal year will be a challenging one compared to the spike in demand due to COVID-19, which began in March, and could also be impacted by extended declines in key markets such as the U.S.
However, eBay's business is currently showing no signs of slowing down, either in market share or in its ability to generate market-leading margins. These factors, as well as an increase in direct cash flow, give investors more reason to want to buy these successful shares that provide growth.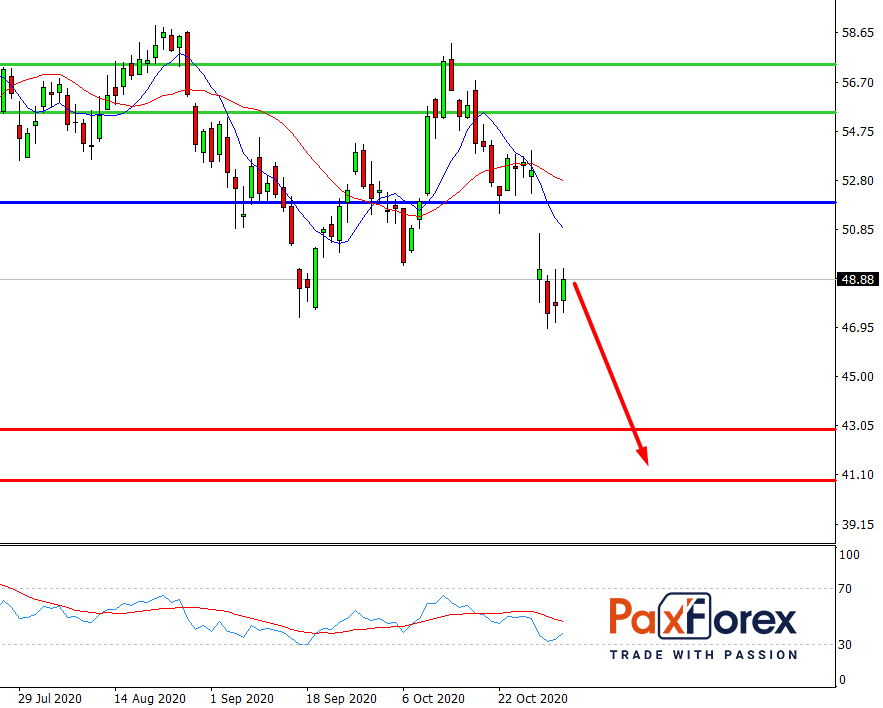 While the price is below 51.90, follow the recommendations below:
Time frame: D1
Recommendation: short position
Entry point: 47.63
Take Profit 1: 42.90
Take Profit 2: 40.90
Alternative scenario:
If the level 51.90 is broken-out, follow the recommendations below.
Time frame: D1
Recommendation: long position
Entry point: 51.90
Take Profit 1: 55.50
Take Profit 2: 57.60