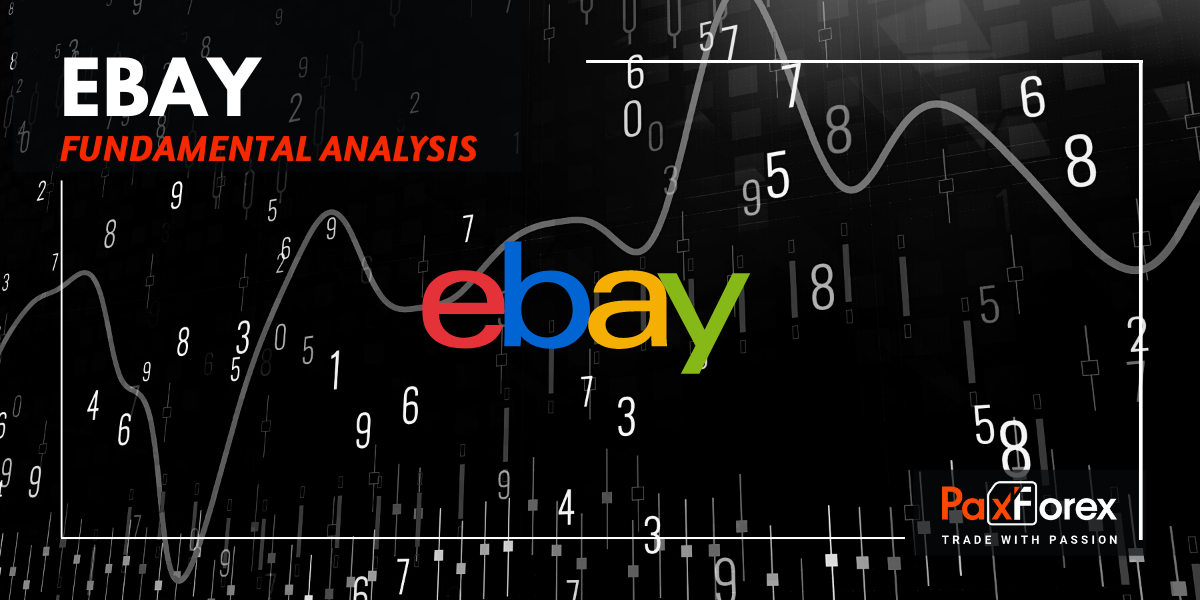 Source: PaxForex Premium Analytics Portal, Fundamental Insight
This year, eBay shares grew by about 40 percent as investors moved to e-commerce companies that could benefit from store closures and the need to stay home during the coronavirus pandemic. But eBay still lags behind many of its e-commerce peers.
In comparison, Amazon shares have grown 70 percent a year. Shopify grew by more than 160% and Etsy shares more than tripled. Is there a reason investors should stick to eBay instead of other, fast-growing companies?
25 years ago, eBay created the world's first online auction platform for individual transactions. It subsequently expanded to dozens of countries and added new features, including Buy Now shopping, universal product code search, and other services to expand its ecosystem.
Between 2002 and 2015, eBay owned PayPal and process payments through its platform. In 2015, it singled out PayPal for an IPO and earlier this year began transferring merchants to its new partner, the European payment processor Adyen.
eBay is currently the third-largest e-commerce platform in the U.S. after Amazon and Shopify by gross volume of goods (GMV), but the three companies operate under different business models.
eBay is primarily a listed site that connects sellers to buyers. Recently, it began helping high volume sellers store their inventory and fulfill orders through a network of third-party shipping partners. Amazon, meanwhile, is a direct retailer that keeps its own stocks and fulfills orders through its first-person logistics network, but the company also competes with eBay by allowing third-party vendors to sell their products on its platform. Shopify provides eCommerce services that help merchants open their own online stores.
Last quarter, the number of active eBay customers grew 5 percent year on year to 183 million. GMV grew 22 percent to $25.0 billion, and revenues increased 25 percent to $2.6 billion.
All three figures exclude StubHub's online ticketing business, which the company sold in February, and the ad sales business, which it plans to sell by the first quarter of 2021.
Like many other e-commerce companies, eBay has delivered significantly greater growth over the past two quarters as online purchases accelerated throughout the pandemic.
But unlike Amazon, Shopify, and Etsy, which provided strong growth before the pandemic, eBay's growth had previously slowed. The company blamed the slowdown on new taxes on online sales in several U.S. states and reduced marketing costs, which stabilized the take rate (the percentage of each sale that it retains as revenue) and profit, but slowed the growth of GMV.
This pressure continued until the second quarter of 2020. During a conference call in July, CEO Jamie Yannone said, "Consumer behavior is growing rapidly and this momentum has been accelerated by COVID-19, contributing to significant volume increases and new customer acquisitions. Yannone also noted that eBay's core business has seen the strongest quarterly volume growth in the market in 15 years.
During the October call on third-quarter earnings, interim CFO Andy Cring warned that "temporary growth associated with COVID" should be "moderate as mobility increases over time. However, Cring also noted that eBay is experiencing "some improvement in its baselines" over its pre-crisis state, driven by "increased speed" of sales, growth in its active customer base and various platform improvements.
eBay expects revenue to grow by 19-20% this year based on organic constant currency, which does not include businesses sold. As a result, it expects its non-GAAP earnings per share to grow 18-20 percent due to "overperformance" in the third quarter and pink revenue expectations during a busy vacation period.
Based on these estimates, eBay shares look cheap at 16.6 adjusted earnings for 2020. Next year, analysts expect eBay's non-GAAP earnings to rise another 9%, representing an even more attractive forward P/E ratio of just under 14. That makes eBay cheaper than its leading e-commerce peers, but its revenues are growing much slower.
eBay stocks are cheap because investors believe their growth will slow down after the pandemic. Cost-cutting measures and divestment of assets show that eBay plays a role in protecting a market that favors aggressive expansion, while indirect competition from Amazon, Etsy, and social platforms can slow down its long-term growth.
The company is not doomed, but it does not look as convincing as its peers.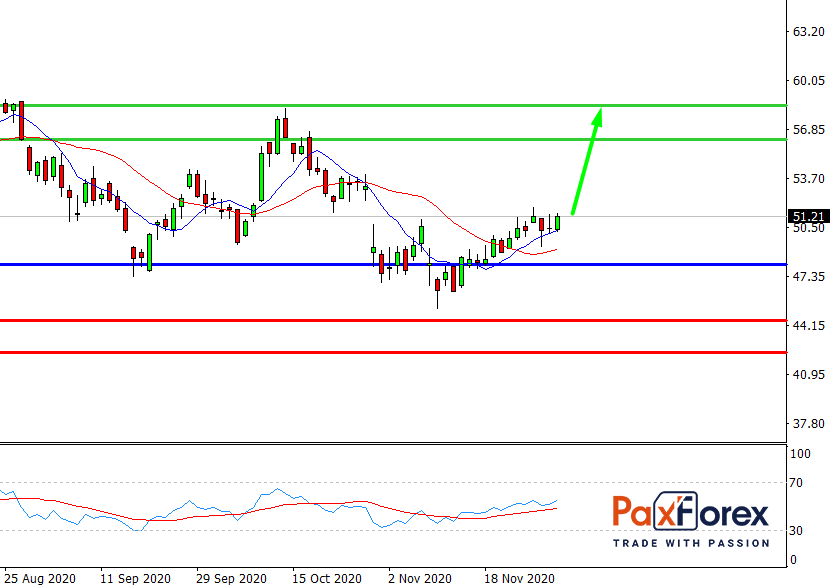 While the price is above 48.10, follow the recommendations below:
Time frame: D1
Recommendation: long position
Entry point: 51.34
Take Profit 1: 56.20
Take Profit 2: 58.40
Alternative scenario:
If the level 48.10 is broken-down, follow the recommendations below:
Time frame: D1
Recommendation: short position
Entry point: 48.10
Take Profit 1: 44.50
Take Profit 2: 42.40