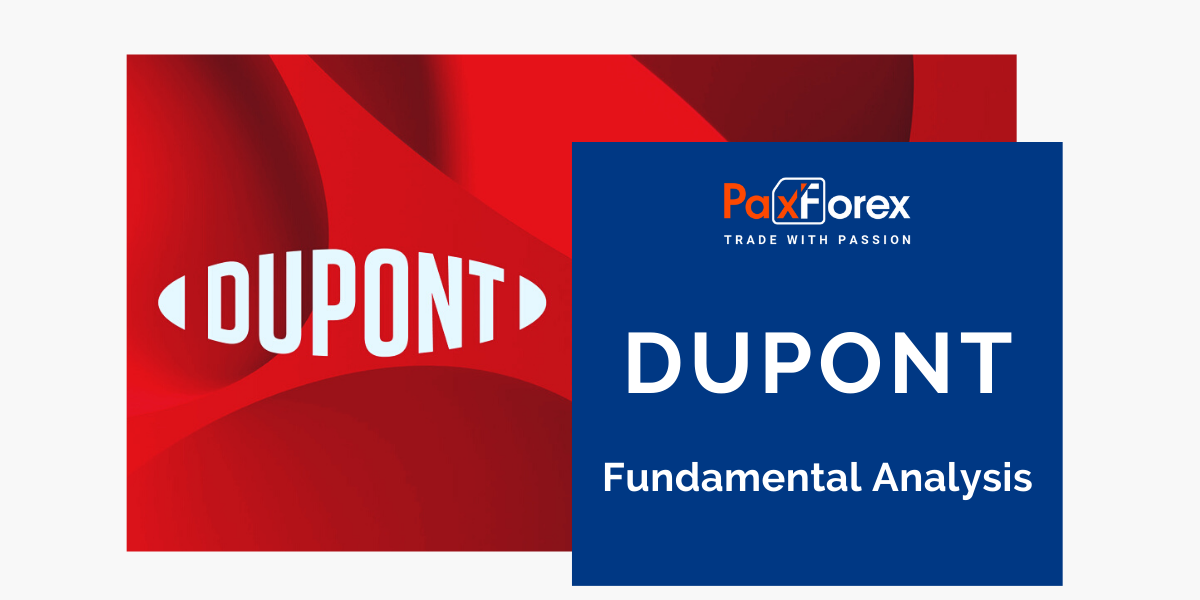 Last week marked the year since the collapse of the world's largest chemical conglomerate DowDuPont. In the hope that each of the three new plants - DuPont (NYSE: DD) Dow (NYSE: DOW) and Corteva (NYSE: CTVA) - will work more efficiently on its own, the collapse could not have occurred at a worse time. Given the 50% drop in DuPont compared to the previous year, now would be a good time to determine whether DuPont is a good investment idea. The fall in commodity prices, from oil and natural gas to more efficient raw materials for DuPont business such as nylon, has a serious impact on company revenues. Before the coronavirus spread, DuPont was already expecting a drop in profits in early 2020. The company's profit is expected to decline by $0.23 per share in early 2020. This blow will be more significant if we consider another decline of $0.28 per share in earnings due to an ongoing environmental dispute that DuPont has with Chemours.
DuPont entered a difficult year for the company in 2020 against the backdrop of the difficult year 2019. "Last year was difficult given the macroeconomic environment, which negatively impacted 40% of our portfolio, resulting in weaker results than we expected this year," said DuPont CEO Mark during a conference call to the company in the fourth quarter of 2019. As one of the oldest industrial conglomerates with a rich heritage that has helped define the industrialization of the 20th century, DuPont is not alien to the market cycle. But the combination of cheap oil and commodity prices is dangerous to the company's operations. DuPont's business is affected by the transport and industrial sectors, slower car sales, lower housing construction and some of the many side effects of the economic slowdown.
DuPont's forecast for 2020 was bleak even before COVID-19. The challenges associated with commodity and other commodity prices are counteracting all the organic growth, efficiency, divestment and costs that the company expected in 2020. When the world situation changes for the better, DuPont analysts predict earnings per share (EPS) of between $3.70 and $3.90 in 2020, which does not represent a particular increase from $3.80 actual earnings per share in 2019. The seriousness of the coronavirus's impact on the company is clear. One can only imagine how much damage it would do to a company like DuPont, which had already faced many problems before the coronavirus pandemic began. One of the few positive things for DuPont was a strong free cash flow (FCF). The company reported more than 100% conversion of FCF in the third and fourth quarters of 2019 and expects more than 90% conversion of FCF in 2020. The conversion of FCF is a percentage of net income expressed as FCF. In essence, this is how much of the company's net profit can be converted into a valuable FCF that can be used, among other things, to pay off debt and increase dividend payments. The problem is that DuPont's FCF is inconsistent, sometimes exceeding, and sometimes well fulfilling, its dividend payout obligations. Assuming that DuPont's free cash flow this year is weaker than last year, the company's dividends are likely to be stretched. Paired with FCF, the company's debt is $18bn, and DuPont is likely to have another tough year.
In many ways, the time DuPont spends exceeds its strategy or effectiveness as a business, and that is what is hurting it in 2019 and 2020. The decision to break away from DowDuPont added an unnecessary headache to DuPont amid falling commodity prices. Now that production is likely to slow down and discretionary spending is falling, organic growth and improved cash flow from 2019 may do little to protect the company from the tough year 2020. Although DuPont shares have been heavily spoiled, there is currently no risk premium, especially given that its dividends could be jeopardized if the global economy faces a prolonged decline.