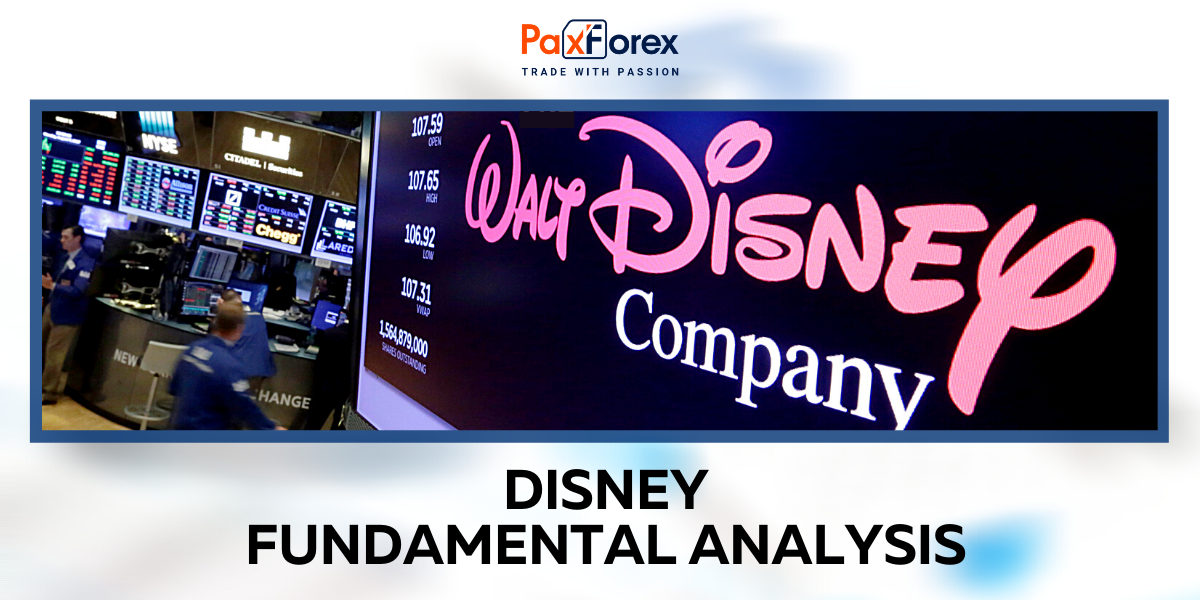 Source: PaxForex Premium Analytics Portal, Fundamental Insight
A change in management usually does not get much media attention, even at the biggest and most significant companies in the market. In the words of Warren Buffett, if one sandwich could run a company before, another will undoubtedly do the job just as well. That's why it's mostly no big deal.
The Walt Disney Company just reinstated Bob Iger as CEO, ending Bob Chapek's less than a three-year term. This unexpected move says a lot about Disney's strategy. Let's break it down.
Iger had been preparing for his retirement for years, setting the stage for his game-changing legacy. When Chapek took the helm at Disney on Feb. 25, 2020, Iger agreed to stay on as executive chairman for another 22 months, ensuring "a smooth and successful transition until the end of his contract."
So, Iger was ready to step back from four decades in the House of Mickey, including a remarkable 15-year tenure as CEO. He transformed Disney's content catalog, breathed new life into the stagnant theme parks, and launched the popular Disney+ video streaming service. Under Iger's steady hand, Disney stock returns have doubled the growth of the S&P 500 Index and profits have increased more than fivefold. It was time to relax after a historic career.
But the "smooth transition" never happened.
Two weeks later, the crisis caused by the COVID-19 virus transformed into a global pandemic. Movie theaters, amusement parks, and cruises were closed for months. Filming locations had to operate under strict health regulations, which led to the cancellation of some productions and the postponement of others. The closures of movie sets due to the coronavirus certainly benefited Disney's media broadcast services, but even that positive was in jeopardy. Traditional distribution partners grumbled when Disney moved some movies from the silver screen to the living room, an idea that also strained the company's relationship with big stars.
It wasn't what Chapek signed up for, and he always seemed ill-equipped for the job of a lifetime in one of the most tumultuous markets since the collapse in 2008. Chapek was disgusted at the thought of having to take orders from Iger on long-term strategy, failed in his public relations battle with "Avengers" star Scarlett Johansson, and increased his Disney+ subscription fees against Iger's wishes, to name a few controversial events.
Just a couple of weeks after Disney extended Chapek's role as CEO for three years, Iger called the choice of a successor one of his "worst business decisions." Additionally, Disney stock had lagged far behind the broader stock market during the Chapek era.
And now, four months after extending Chapek's contract, Bob Iger is back at the helm of Disney. This sudden change will have enormous implications.
Iger had always wanted to build a sustainable entertainment empire for the ages, willing to bear the added costs and limited profits along the way. Chapek focused on bottom-line profits in a much shorter time frame, as evidenced by Disney+ price increases. Having worked his way up through the theme park division over the years, Chapek recognized the importance of media streaming services in an ever-changing entertainment industry.
Kevin Mayer, who launched Disney+ in 2019, was quickly forced out and for a while served as CEO of TikTok, the Chinese media-sharing phenomenon. Iger would probably like to bring Mayer back to develop the digital services he so effectively launched, but that might require another billion-dollar acquisition. Meyer created a separate media empire under the banner of Candle Media, a children-focused media company, and DAZN, a European sports media giant.
Candle Media has spent more than $4 billion on its buyouts of production facilities, funded by the deep pockets of the private company's ultimate owner, Blackstone. If Iger pulls out his checkbook and offers to buy Candle Media, it would bring a familiar superstar back into the Disney fold, continuing the CEO's legacy of buying out platform companies. The company name may not ring the bell, but any parent is familiar with CoComelon and Blippi.
Disney investors were quick to embrace Iger's return, causing the company's stock price to rise more than 5 percent. Of course, this is just a drop in the bucket. The stock price is still down 37% over 2022, and the company has a lot to prove before investors can truly love Disney.
With Iger's proven business acumen at the helm, Walt Disney looks like a great buy at today's heavily discounted price. Don't be misled by the exorbitantly high stock-price-to-earnings ratio, as that figure is measured by the results of Chapek's uninspiring policies.
Bob Eiger is the kind of legend you want to see at the head of your company for decades to come. The coming years should be considerably brighter.
As long as the price is above 91.00, follow the recommendations below:
Time frame: D1
Recommendation: long position
Entry point: 98.76
Take Profit 1: 107.00
Take Profit 2: 112.00
Alternative scenario:
If the level of 91.00 is broken-down, follow the recommendations below:
Time frame: D1
Recommendation: short position
Entry point: 91.00
Take Profit 1: 86.00
Take Profit 2: 80.00