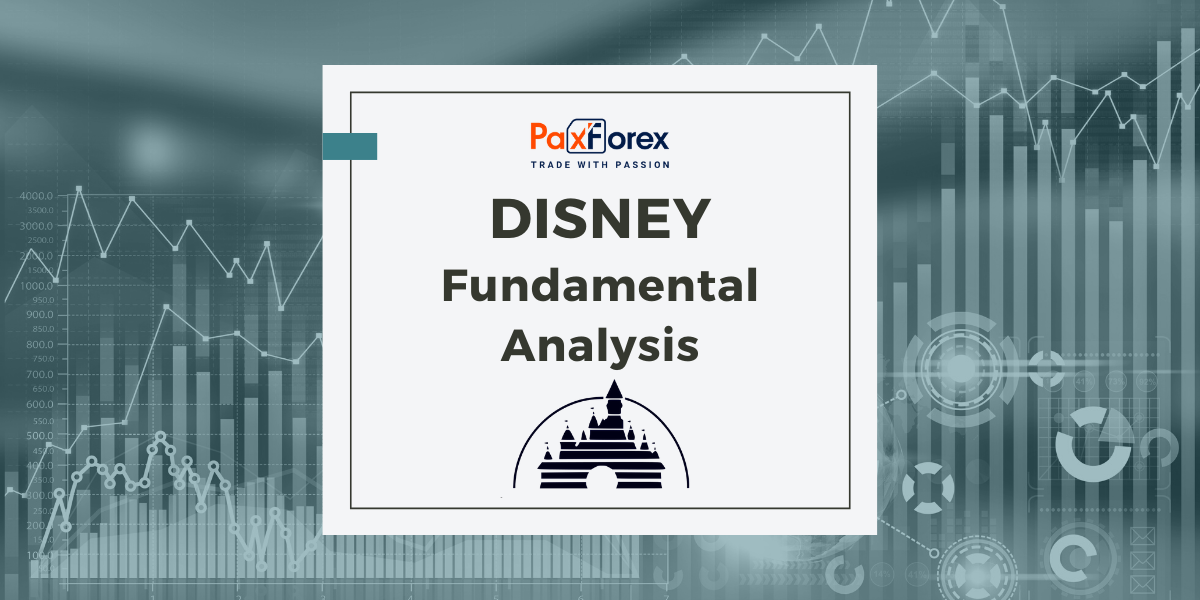 Source: PaxForex Premium Analytics Portal, Fundamental Insight
While today Walt Disney is at its peak, it is not in the best shape in terms of recent financial performance. Shares hit new all-time highs in December, but this is also the company that just recorded a quarterly loss of 23% year-over-year in its most recent financial report. To be fair, it should be noted that the top and bottom lines of the deficit were actually healthier than analysts predicted at both ends of the earnings report. No one expects Disney to perform at its best when business is hit hard by the pandemic, as theme parks are closed or operating at lower capacity, cruise ships are off the travel menu, and people are hesitant to take the family out for a morning meal at the multiplex next door. Disney is on a roll right now because investors are excited about the future, fueled by an amazing freshmen season at Disney+.
You can obviously teach the old mouse some new tricks, but will it be enough to keep revenues coming in 2021? Let's see if Disney stock is a buy here.
Disney stock has now more than doubled since mid-March when most stocks bottomed. Many companies have had stronger spikes, but Disney is a company that had more to lose than gain in a pandemic. In the fiscal third-quarter ending in June, the company's revenue fell 42% as the solid performance of its media networks and Disney+ was more than offset by deficits in other areas.
If Disney wants to be a good buy, the company will have to work on Disney+ flawlessly, and that's not surprising since the platform is the reason the stock is trading so high. However, it will also have to turn around its business-segment struggles soon.
Disney+'s subscriber base is expected to triple over the next four years, but unfortunately, that's when the platform is expected to finally become profitable. The average revenue per subscriber is declining as it expands into India and other markets where it charges less, but that trend should improve in a few months when the company raises prices in the United States and other well-off countries.
The biggest change to watch for in 2021 is the potential recovery of Disney's parks and services business. In the fiscal year 2020, revenue in that segment fell 37 percent to $16.5 billion, and the operating loss was $81 million, down from $6.8 billion in operating income a year ago. But that doesn't even show the depth of the pandemic's impact. In the third fiscal quarter, which ended June 27, parks` revenues fell 85 percent to $983 million. The parks' operating losses soared to $2 billion in the third quarter.
We don't know at what rate parks and other organizations will gain revenue, but customers will likely be looking to make up for a lost time at entertainment venues like Disney. If the COVID-19 vaccine is as effective and widespread as one would like, the park business may be back to pre-recession revenue and profit levels by the end of 2021, which is the cherry on the cake given the company's relatively new streaming business.
It's pretty clear that Disney+ will do just fine. It's proven that one hit show -- The Mandalorian, which just wrapped up its highly-rated second season -- is enough to draw an audience. Just imagine what things will look like when the service amasses more hits with the number of Marvel, Star Wars, and Pixar shows, as well as movies slated to be released exclusively on Disney+.
The real driver for Disney will be what happens to the rest of its business. Disney+ is revolutionizing, but its legacy media networks will lose out in the migration. The long-term prospects for big-budget theatrical releases are dim, and Disney+, combined with premium streaming access to major releases, may not be enough to make up for the shortfall. Disney theme parks, resorts, and cruise ships will rebound after the pandemic ends, but it won't happen immediately. Local vacation industries will be the first to recover, and Disney -- more than any other theme park operator -- is relying on international travel to attract its biggest customers.
Disney is not going to double its travel numbers in the next nine months. However, you can't bet against the fact that Disney has a chance to overtake the market in the long run. The company has an unrivaled arsenal of intellectual property at its disposal, and its content is king.
With its dividend likely to return to investors in 2021, continued momentum for Disney+ strategy, and at least a recession recovery next year, Disney still has some value.
This year has shown that Disney's future as a more digital, direct-to-consumer business is quite optimistic. Things are expected to improve even more next year, and as Disney+ reaches maturity and changes to both ESPN and ESPN+ are likely. But the parks will also resume operations, providing another source of high revenue. And it's the kind of full recovery that will help stocks in 2021 and beyond.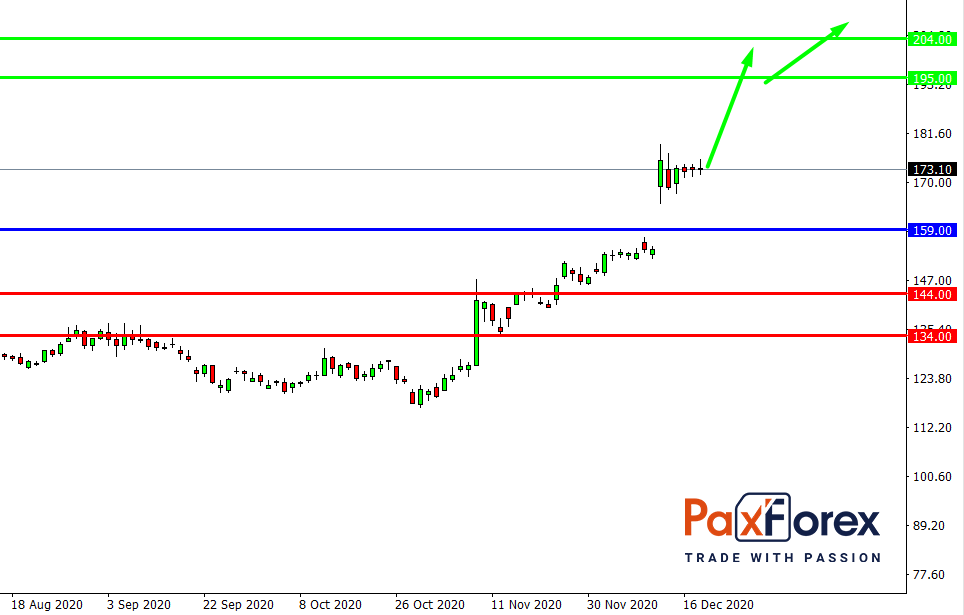 While the price is above 159.00, follow the recommendations below:
Time frame: D1
Recommendation: long position
Entry point: 172.00
Take Profit 1: 195.00
Take Profit 2: 204.00
Alternative scenario:
If the level 159.00 is broken-down, follow the recommendations below:
Time frame: D1
Recommendation: short position
Entry point: 159.00
Take Profit 1: 144.00
Take Profit 2: 134 .00