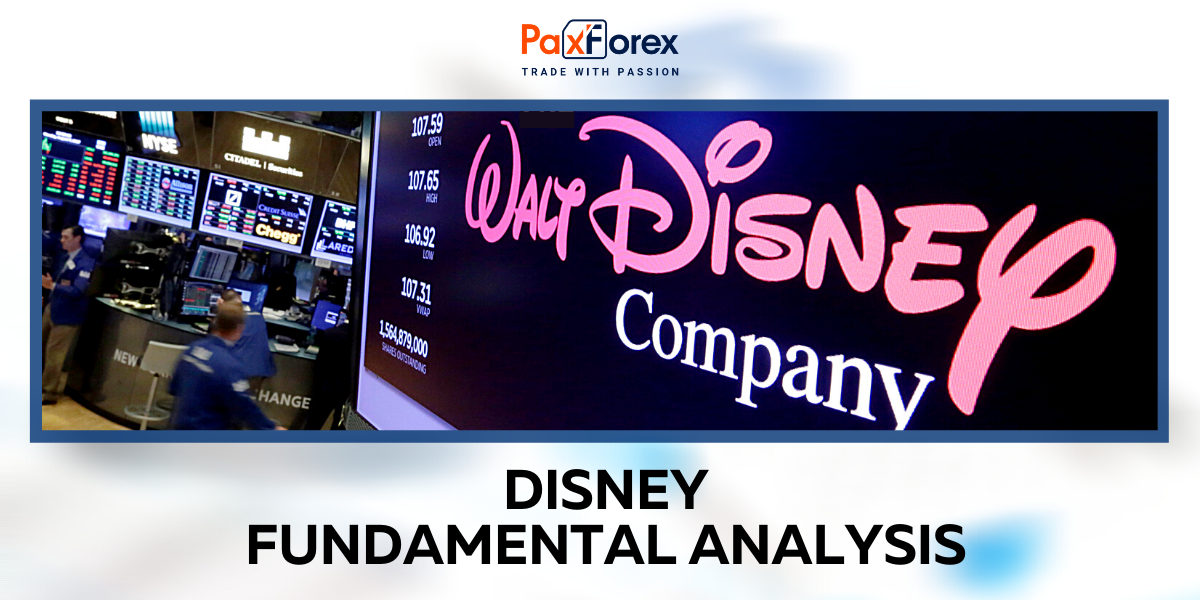 Source: PaxForex Premium Analytics Portal, Fundamental Insight
With a market capitalization of about $170 billion, Walt Disney is among the largest entertainment companies in the world. But as its stock price is down more than 30 percent from this time last year, many investors may be wondering whether the company's stock is worth buying now.
Let's break down what's going on with Mickey's House and what its future may hold.
In February 2020, Bob Iger stepped down as CEO of Walt Disney, handing the role over to his successor, Bob Chapek. At the time, Chapek noted that he intended to continue the path Iger had charted, suggesting that "[he] would pay dividends to shareholders for years to come."
However, Chapek's time as CEO was overshadowed by weak earnings, political skirmishes, and a high-profile legal battle with Scarlett Johansson over the release of The Black Widow. By the end of November 2022, Chapek left and Iger returned as CEO.
At the time, the company said the CEO had a couple of major challenges: developing a plan to spur new growth and (again) finding a successor to take over the post within two years.
Almost immediately, Iger made key personnel changes and told Disney employees that he planned to introduce a new structure that would "put more decisions back in the hands of ... creative teams and streamline costs."
Despite Chapek's relatively short tenure, he has managed to oversee the exponential growth of Disney+. At the time of his departure, the streaming service had 164.2 million customers worldwide. However, despite its apparent success, the streaming service was not - and still is not - profitable. And as subscriber growth has become increasingly difficult in recent quarters, some have questioned Walt Disney's approach to streaming.
Nelson Peltz, an activist investor, made news in early 2023 by starting a proxy fight with the Walt Disney board of directors. Peltz complained that the company was too into streaming and relying too much on the success of its parks.
Disney initially fought back against Peltz, claiming that he didn't understand what streaming was. Nevertheless, first-quarter results for fiscal year 2023 showed that the company lost 2.4 million Disney+ customers, the first case of a shrinking subscriber base.
Iger addressed the situation during Disney's earnings call, where he laid out a plan to find $5.5 billion in savings in the coming years -- $3 billion of which would come from the company's content division. Satisfied with the plan, Peltz withdrew his proxy challenge the next day.
While some on Wall Street may be pleased with Disney's decision to cut content spending, the company is risking revenue growth in the near future. After all, it has built the Disney+ brand with such concept programs as "The Mandalorian," "Loki" and "Willow," TV shows that typically cost $15 million to $20 million per episode. And while Disney is not alone in spending heavily on series, it has long been a heavyweight when it comes to overall content budgets.
Netflix has committed $17 billion to programming in 2022, and Amazon has invested $16.6 billion in video and music content over the same period. By comparison, Walt Disney spent about $33 billion in the last fiscal year, $8 billion more than in the previous 12 months.
Even if Walt Disney cuts its content spending by a few billion dollars over time, the company would still be investing a significant amount in Disney+, which, as the Peltz situation shows, could be controversial for some investors if no new growth is found soon. And given that the company has made clear its plans to appoint a new CEO by early 2025, some may wonder if Iger has enough time to execute his plan.
Those considering Walt Disney as an investment can at least take solace in the fact that the company isn't in the streaming business, with $7.4 billion in revenue from the park business in the first quarter, up from $5.5 billion in the previous quarter. And while Peltz may not like that Walt Disney relies on one part of its business to support another, diversification is a company strength.
Market watchers will be watching to see what Iger has to say next about Walt Disney's streaming ambitions. Chapek may have once been happy to follow in the footsteps of his predecessor, but with Eiger back, it looks like the CEO is now going to steer Walt Disney down a whole new path.
As long as the price is below 100.00, follow the recommendations below:
Time frame: D1
Recommendation: short position
Entry point: 94.02
Take Profit 1: 90.00
Take Profit 2: 85.00
Alternative scenario:
If the level of 100.00 is broken-out, follow the recommendations below:
Time frame: D1
Recommendation: long position
Entry point: 100.00
Take Profit 1: 105.00
Take Profit 2: 108.00