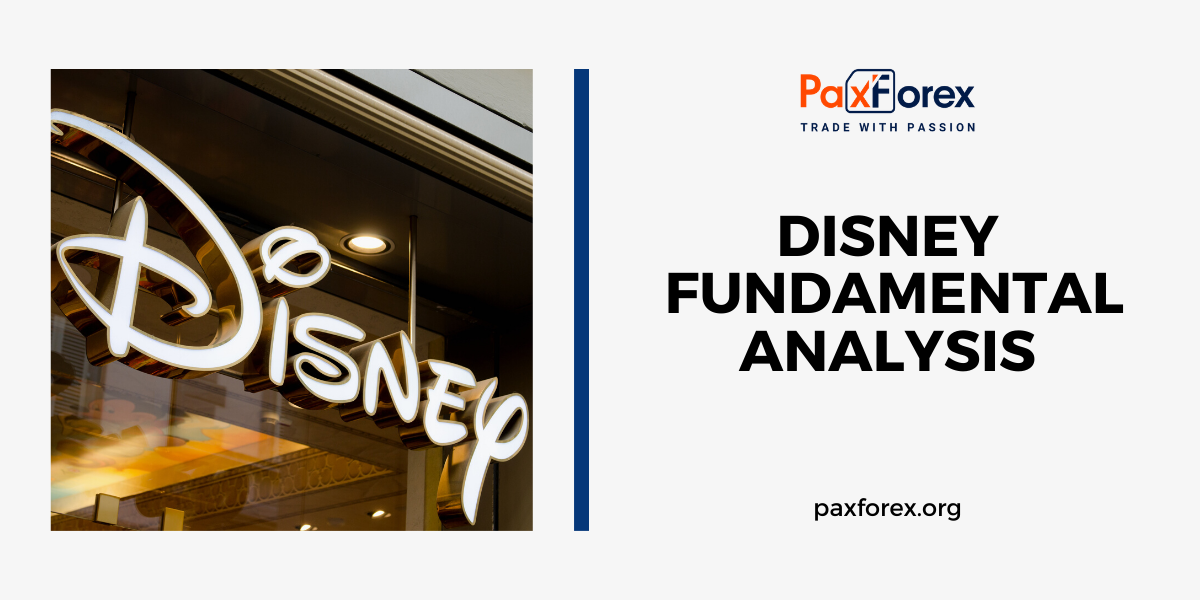 Source: PaxForex Premium Analytics Portal, Fundamental Insight
With its ubiquitous presence in movies and all forms of entertainment, Disney is not some Wall Street secret. At the same time, its industry-leading products and services don't mean you should immediately run out and purchase Disney stock.
Like any investment, investing in Disney stock entails careful and thorough analysis. Here's what you need to know as a baseline.
Disney's entertainment offerings are head and shoulders above all competitors. For example, revenue from the company's 12 theme parks in fiscal 2020 was $16 billion, down 61 percent from last year. But that's far more than NBCUniversal's (a division of Comcast) five theme parks (one part of its overall business, which includes many other businesses), which brought in $1.8 billion in 2020, or theme park operator SeaWorld Entertainment's 12 theme parks, which brought in less than half that $1 billion in 2020.
Disney's total sales last year were down 6 percent year-over-year, helped by a strong performance before the COVID-19. In the Q1 ended Dec. 28, 2019, sales were up 36%, and in the still strong second quarter, revenue was up 21%. Now, in 2021, the company is still suffering from the decline caused by the pandemic. However, in the second quarter of 2021, which ended April 3, the decline was 13%. Potential shareholders should note that this figure is still 7% higher than in the second quarter of 2019. The first quarter, which saw a 22% decline, was 14% higher than in 2019. That's pretty impressive, given the circumstances.
Each of Disney's component divisions ranks at or near the top in all of their categories. The company's theme parks and resorts were its biggest category before the pandemic, accounting for more than a third of the total in 2019, the same year Disney had seven of the top 10 highest-grossing movies.
Disney+ has also been a huge success, racking up more than 100 million paid subscriptions since it launched in November 2019. That's less than leader Netflix, but Disney is approaching it fast. The company believes it could reach 260 million by 2024, potentially surpassing Netflix, which had 208 million subscribers as of March 31.
The company is turning to streaming not only to make up for the lack of closed theme parks but also as a key to future growth. In 2019, the company acquired the general streaming site Hulu and began launching a similar Star brand in international regions. Between these sites, as well as ESPN+, Disney is trying to dominate streaming, as it dominates all of its categories, and it definitely has a shot at success.
Is the company's stock sustainable? The primary answer is no. Disney is not a necessity company like Amazon or Costco, which can do well in difficult circumstances, and it took a hit during the pandemic.
But that doesn't take all the information into account.
In fact, Disney stock has a lot of investor confidence, as evidenced by a 43% increase over the past year despite falling sales.
That's because while the company is struggling in the short term, it has the tools to return to growth when the economy recovers. The launch of Disney+ has exceeded forecasts, giving it leverage in this emerging market. Disney will release four movies in the next four months, giving it the tools to boost sales when people return to theaters. When all the parks are open and full, sales should increase dramatically. If the company can launch successful new initiatives, it will definitely be sustainable.
Although the company halted its dividend to maintain a strong cash position while sales plummeted, it should not be forgotten that before the pandemic it regularly paid and raised dividends. This practice is likely to resume when sales begin to rise again, which would serve as another incentive for shareholders.
If you buy Disney stock now, you should anticipate some volatility in the near future. But as of today, the price is down a bit, so it could be an opportunity to buy the stock before the price rises again.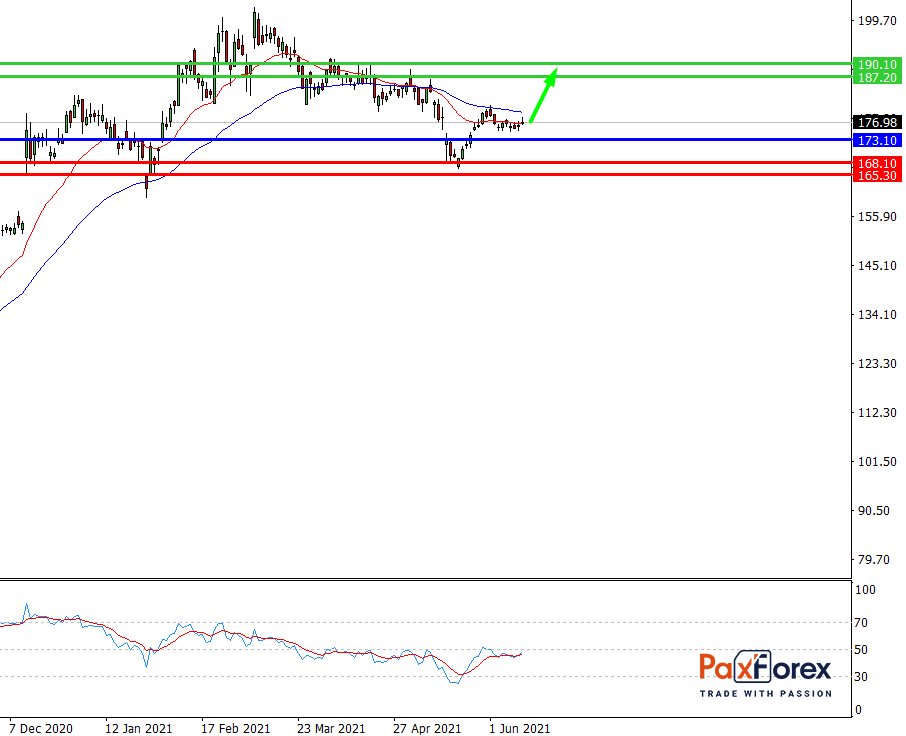 While the price is above 173.10, follow the recommendations below:
Time frame: D1
Recommendation: long position
Entry point: 177.38
Take Profit 1: 187.20
Take Profit 2: 190.10
Alternative scenario:
If the level 173.10 is broken-down, follow the recommendations below:
Time frame: D1
Recommendation: short position
Entry point: 173.10
Take Profit 1: 168.10
Take Profit 2: 165.30