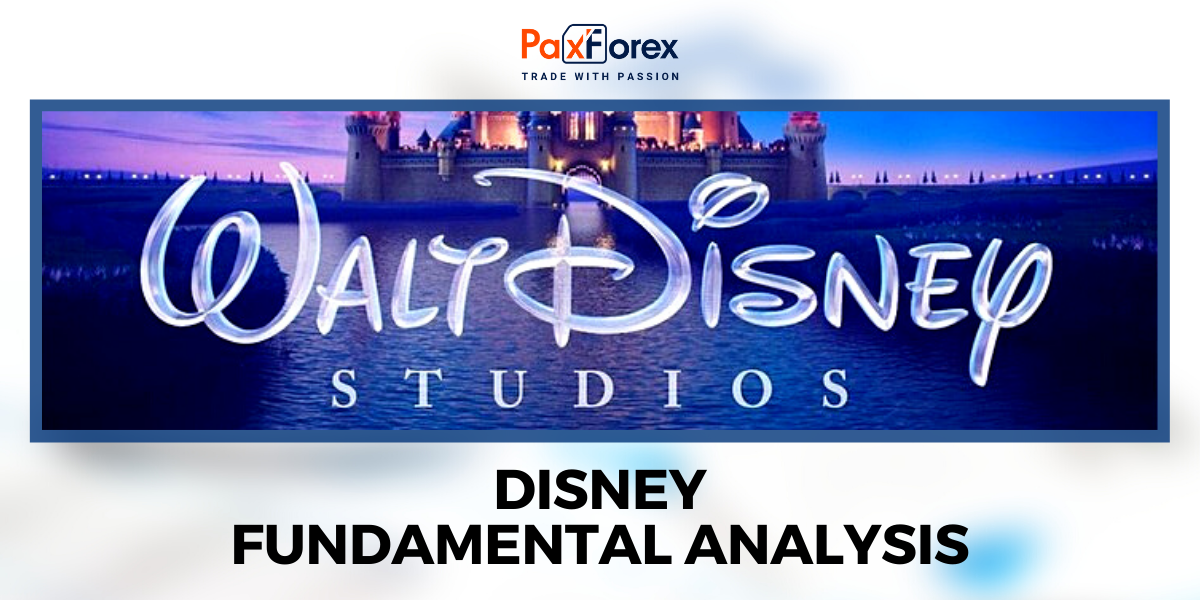 Source: PaxForex Premium Analytics Portal, Fundamental Insight
When it comes to the success story of 2021, one such example might seem to be the Walt Disney Company. This is the studio behind two of this year's highest-grossing movies. In addition, Disneyland in California reopened in the spring, and the company resumed its cruise ship voyages in the summer.
In the latest quarter, the company's revenues grew 45% higher than expected, the biggest annual growth in the company's history, though of course, these numbers followed depressed results the year before. Disney is back in business, but the same cannot be said for its stock chart. After climbing 26% last year -- when the company was underperforming -- the stock is down 4% in 2021. That seems unfair, so let's break down why Wall Street isn't so happy about the House of Mickey Mouse's success these days.
An assessment of this year's seemingly inexplicable decline must begin with an assessment of last year's inexplicable rise. Disney was hit hard by the pandemic, posting double-digit year-over-year revenue declines for four consecutive quarters before this year's spring rebound. With theme parks either closed or running at limited capacity and big-budget movies not being released in theaters, it's easy to see why last year was a tough one for the House of Mouse.
Disney+, however, has proven to be a kind of silver bullet in this pandemic. Launched in late 2019, the premium streaming service has swiftly burst into homes around the world through 2020. There are now 116 million paid subscribers worldwide. Although it accounts for a small portion of Disney's revenue mix, the success of the new service has given investors reason to view the media giant as a promising streaming stock for which broader valuation multiples are acceptable.
However, Disney+ was not a driver in the 2021 calendar year. Subscription growth slowed and average revenue per user declined as the service rolled out to new countries where monthly subscription rates are lower. The move has brought attention back to Disney as a blue-chip media mogul, and that's not as easy a sell as it might seem in the current environment.
Income investors who rushed into Disney when the company suspended payouts in the early stages of the COVID-19 crisis have no intention of returning because the company has no plans yet to restore payouts Disney seems in no hurry to return money to its shareholders in cash payouts, especially when that money can be used to create streaming content, upgrade theme parks and expand its cruise ship fleet.
As popular as Disney+ is, Disney doesn't expect it to turn a profit until the fiscal year 2024. Its broadcast and media networks division, which held up reasonably well last year as people spent more time watching TV at home, still faces a problematic future with consumer abandonment of cable and satellite TV services.
If all this sounds bleak, let's end with a fabulous ending worthy of a classic Disney cartoon. Disney stunned investors when the theme park segment returned to profitability in the last quarter and the future became even brighter with new monetization initiatives that will lead to per capita spending growth next year. Disney is already winning at local theaters again but is holding back some of its biggest blockbuster releases in the coming quarters for now. The fiscal year 2022 -- which began less than two weeks ago -- will be a strong year for Disney. The company's stock may not reflect that right now, but with only a trading day or two left before a positive 2021, it wouldn't be a surprise if Disney rises higher by the end of this calendar year. Disney stock may drop for a while, but it's certainly not over.
As long as the price is below 180.20, follow the recommendations below:
Time frame: D1
Recommendation: short position
Entry point: 172.71
Take Profit 1: 164.20
Take Profit 2: 159.90
Alternative scenario:
If the level of 180.20 is broken-out, follow the recommendations below:
Time frame: D1
Recommendation: long position
Entry point: 180.20
Take Profit 1: 187.60
Take Profit 2: 192.10