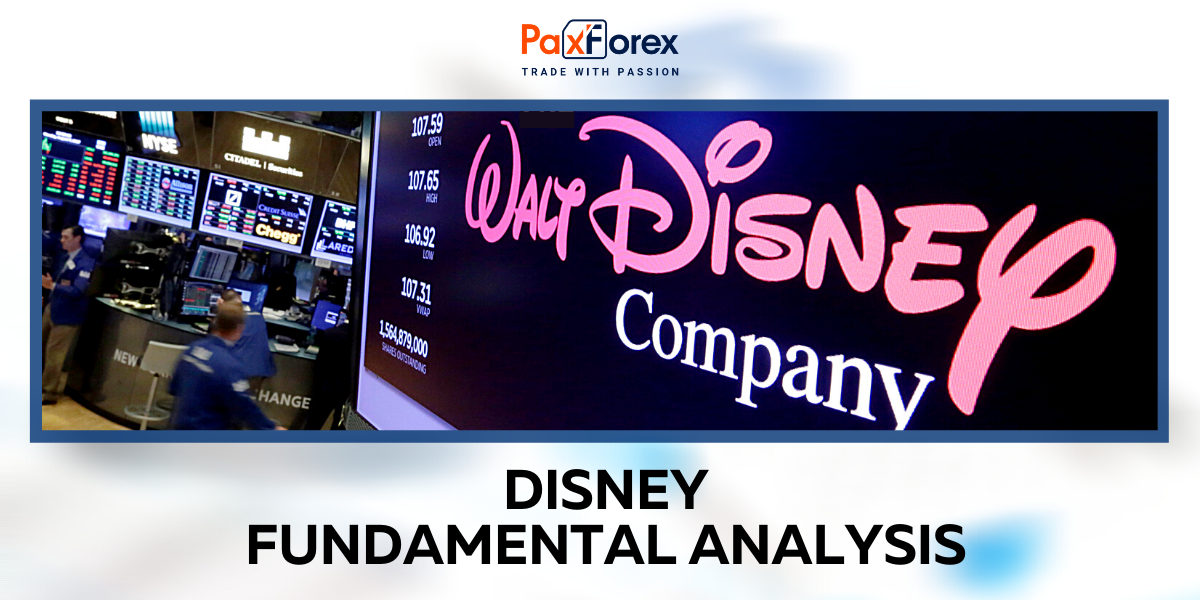 Source: PaxForex Premium Analytics Portal, Fundamental Insight
Disney was something of an investment paradox in 2020. On the one hand, what was once its biggest business segment, including theme parks, has become a huge hole in the media giant's balance sheet. But on the other hand, Disney has enjoyed tremendous success with its new Direct-to-Consumer business. In less than a year, Disney+ racked up 73.7 million subscribers at the end of the fiscal year 2020.
The year 2020 was a mixed bag for the House of Mouse if there was one at all. But overall, the next five years will mark the emergence of this media and entertainment empire, and investors are looking forward to it.
Disney is a best-in-class entertainment business. The company's vertically integrated operations allow it to reach fans on multiple levels, from screen time to game time to vacation time.
Or so it has been, at least until COVID-19 struck. Revenue in the parks and products segment dropped 37% to $16.5 billion during Disney's fiscal 2020 (12 months ended Oct. 3, 2020). With its theme parks, hotels and cruises completely closed at times during the pandemic (and some, such as Disneyland in Anaheim, California, still closed for the foreseeable future), the "only"-37% decline may come as a surprise. But most of these operations lasted nearly six months before the March 2020 lockdown began. Sales of products such as Hasbro-licensed toys (which, by the way, rakes in a couple of billion dollars annually in "partner brand" sales) add to the argument that the Disney brand segment is not turning into a flawless disaster.
Also under attack was the Studio Entertainment segment, which fell 13% in fiscal 2020 to $9.64 billion in revenue -- including 51% year-over-year during the last quarter of the fiscal period. But, as before, movie theaters were fine for the first six months before being shut down, and/or most consumers lost interest in a local theater. Disney could also generate some revenue by licensing its extensive movie library to other media businesses.
It wasn't a total loss, but those two segments were hit the hardest by COVID-19 combined, generating just $2.42 billion in operating income last year, a 74% drop from 2019. The good news is that vaccinations and treatments to combat the pandemic are on the way, and the worst is likely in the rearview mirror - but it could take years for Disney Parks to regain its pre-pandemic activity levels. And a compelling case can be made that the movie production business will never be the same.
But that brings us to Disney's position as a high-tech entertainer.
The new daily bread for Mickey and the company, at least for now, is its business called Media Networks. It's been a mixed cocktail, too: ESPN has suffered as many sports events have been temporarily suspended. But overall, cable (ESPN, Disney Channel, A&E, and FX, to name a few) and radio (ABC) stayed in place. The March 2019 acquisition of former media business rival Fox also helped, and the segment as a whole increased sales 14% year-over-year to $28.4 billion. A 21% increase in operating profit to $9.02 billion was also Disney's only real sustainable source of revenue last year. This segment remains resilient to major economic downturns.
But Disney is using its various cable, broadcast, and entertainment assets to build something for the future: streaming television. And thanks to Disney+'s incredible results, streaming TV services surpassed 120 million subscribers in the last quarter of 2020, a major reason why the stock is trading near its highest level again.
It's early days for Disney+, too. As at the time of this writing, the service is only available in a couple of dozen countries, but its launch in Brazil, Mexico, Chile, Argentina, and other Latin American countries (markets that bring together hundreds of millions of new potential consumers) is just around the corner. Overseas markets are slated to expand for 2021 and beyond. Also, a new international entertainment service using the Star brand is scheduled to launch next year.
Overall, revenue from the Direct-to-Consumer streaming business is up 81% in 2020 to $17.0 billion, making it the new number two operating segment by size and the most important driver of Disney's long-term growth.
If theme parks and movie theaters can regain their footing and streaming develops at a rapid pace, Disney will be a much bigger business in five years than it is now. The rapid addition of a massive online audience only tracked by Netflix (which is expected to exceed 200 million subscribers by the end of 2020) provides Disney with a new vertical for its massive entertainment conglomerate. With a current market capitalization of $268 billion, this is already a mega-organization - but we live in an era of trillion-dollar companies. It's not hard to imagine Disney knocking on that door in the not-too-distant future, either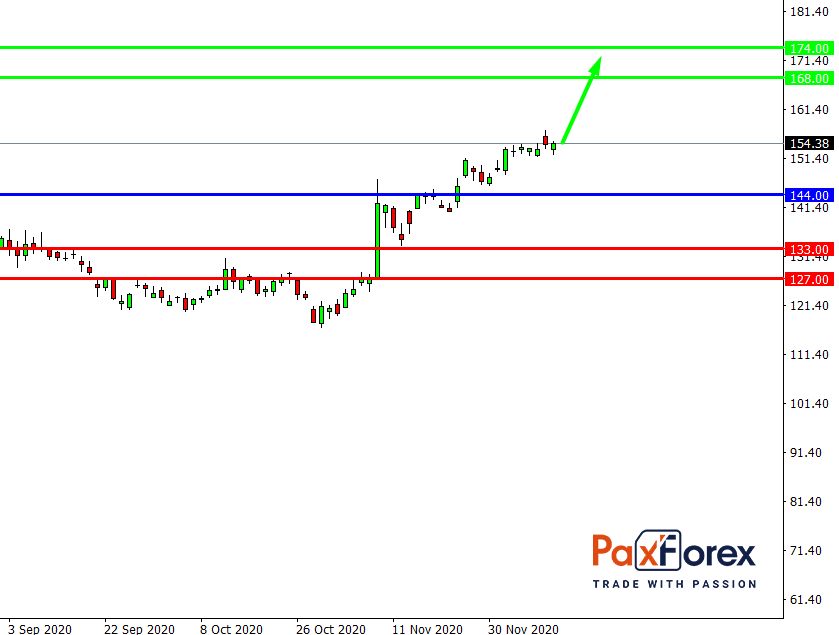 While the price is above 144.00, follow the recommendations below:
Time frame: D1
Recommendation: long position
Entry point: 154.00
Take Profit 1: 168.00
Take Profit 2: 174.00
Alternative scenario:
If the level 144.00 is broken-down, follow the recommendations below:
Time frame: D1
Recommendation: short position
Entry point: 144.00
Take Profit 1: 133.00
Take Profit 2: 127.00