Source: PaxForex Premium Analytics Portal, Fundamental Insight
Walt Disney broke out a new buy zone, recovering more than 60% from the lows recorded in March following a coronavirus outbreak.
Since February, an incredible rally has continued on Wall Street as the stock exchange collapsed amid the epidemiological situation in the world. Disney stocks fell when the company closed its theme parks and suspended Disney Cruise Line.
And its quarterly results showed some of these negative consequences. But now everyone is looking forward to the world trying to switch to post-coronavirus mode, even though the cases of infection and mortality continue to grow.
On May 11, Shanghai Disneyland opened for the first time since the end of January with limited capacity. Masks and measures on social distance were introduced. Tickets were sold out within minutes on an opening day.
Hong Kong Disneyland, in turn, reopened in June but closed in July due to new restrictions imposed by the Hong Kong government and health authorities. It reopened on September 25.
On July 11, the media and entertainment giant reopened the Walt Disney Magic Kingdom and the Animal Kingdom. Epcot and Hollywood Studios followed suit on July 15. But California theme parks and resort hotels were closed from the middle of March.
According to new rules established by California governor Gavin Newsom on October 20, Disneyland located in Orange County may not be opened until the county reaches the least restrictive level. At present, it is at a more restrictive level in the four-level system of the state.
On September 28, the company announced it was cutting 28,000 jobs at the amusement park. The statement cited uncertainty about the coronavirus as "compounded in California by the state's reluctance to remove restrictions that would allow Disneyland to reopen its doors.
And last month, Disney announced a major reorganization that allowed its stock to grow by 3 percent the next day.
Does that mean these shares are in the buy zone right now? Read on to find out.
On July 3, the movie version of the Broadway hit blockbuster Hamilton began to be broadcast only on Disney+. Originally it was planned that it would be released in cinemas in October 2021. The film was attended by such stars as Lin-Manuel Miranda and Daveed Diggs.
Disney reportedly paid $75 million to distribute the musical worldwide, which won 11 Tony Awards and a Pulitzer Prize for drama in 2016. As expected, Hamilton reportedly attracted more Disney+ subscribers.
After the global launch, the Disney+ application was downloaded more than 752,000 times from Friday to Sunday (July 3-5), according to TechCrunch, based on data from Apptopia. The USA accounted for 458,000 downloads.
That represented 74% of the downloads in the U.S. compared to the previous four weekends in June. As Disney has completed its free trial week before its Hamilton debut, all downloads are paid subscribers.
On October 30, the premiere of the second season of the critically acclaimed series from the universe of Star Wars The Mandalorian took place. It may lead to an increase in the number of Disney+ subscribers.
The movie Mulan, shot by Disney, immediately got into Disney+ as a one-time premium offer in most markets. It was released on September 4 in the USA, Canada, Australia, and New Zealand for $29.99. The release of the film was postponed for several months due to the pandemic.
According to researcher Sensor Tower, after the debut of the film, the number of downloads of Disney+ surged by 68%.
Next year, Disney plans to launch a new streaming service under the Star brand, auditioning content from ABC, Fox Television, FX, Freeform, 20th Century Studios, Searchlight, and other Disney owned assets.
On October 9, Disney announced that its latest Pixar movie, The Soul, will bypass cinemas and make its debut on December 25 at Disney+.
On October 12, Disney announced plans to focus primarily on its streaming business, thanks to "the tremendous success it has achieved so far in its business directly with consumers, as well as further accelerating its DTC strategy.
It has created a centralized global distribution team, led by Kareem Daniel, former president of Consumer Products, Games, and Publishing. The announcement comes as most theaters and many theme parks remain closed or open with limited bandwidth.
After the closure on August 4, Disney reported an unexpected fiscal profit of 8 cents per share for the 3rd quarter. It is 94% less than in the same quarter last year. But analysts expected a loss of 43 cents per share.
Revenue fell 42% to $11.78 billion, before reaching the projected $12.65 billion. Parks' revenue fell 85 percent to $1 billion, while the studio's revenue fell 55 percent to $1.7 billion.
As of August 3, Disney+ had 60.5 million subscribers, down from 54.5 million in early May. The media giant's previous forecast was for 60-90 million subscribers by 2024.
The next earnings report is expected this Thursday after the market closes. Analysts expect a loss of 74 cents per share.
After a breakout and rising to record highs in November, Disney shares fell by more than 40% during a sharp drop in the market. The company hit rock bottom on March 18 and has been mostly in a higher trend since then.
After Joe Biden won the presidential election, stocks soared 12% on Monday. The market is in a confirmed upward trend, which means that investors can buy and add shares if they enter correctly.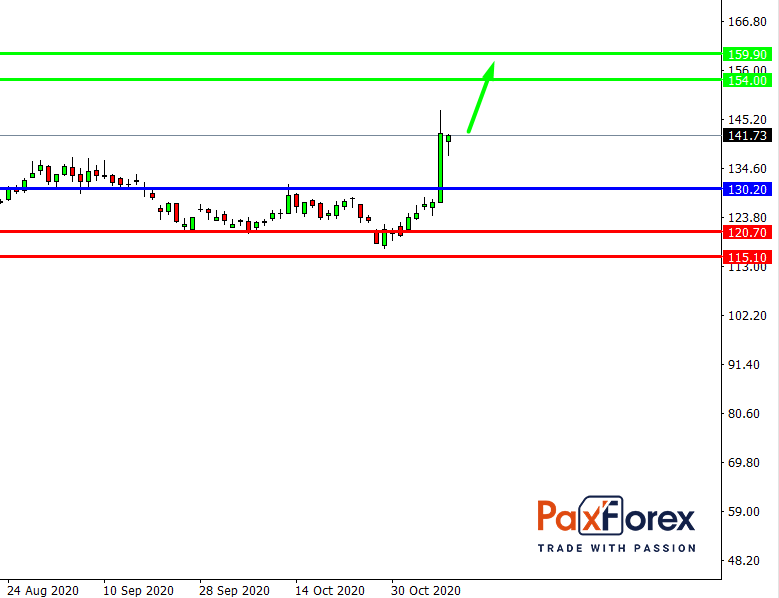 While the price is above 130.20, follow the recommendations below:
Time frame: D1
Recommendation: long position
Entry point: 142.11
Take Profit 1: 154.00
Take Profit 2: 159.90
Alternative scenario:
If the level 130.20 is broken-down, follow the recommendations below.
Time frame: D1
Recommendation: short position
Entry point: 130.20
Take Profit 1: 120.70
Take Profit 2: 115.10