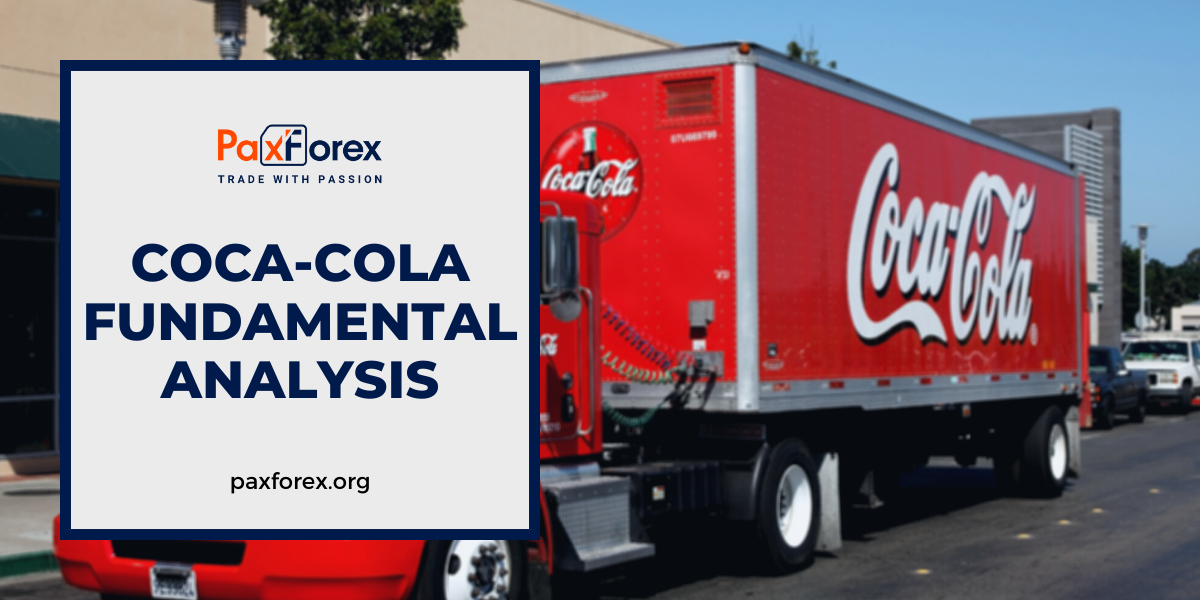 Source: PaxForex Premium Analytics Portal, Fundamental Insight
The pandemic is undoubtedly disrupting the Coca-Cola Company. Local governments have ordered many restaurants and entertainment venues to either close their doors completely or operate at a much lower capacity. It hurts sales because these are places where people consume a lot of Coca-Cola drinks.
Nevertheless, when investing in a company, it is best to look at the long term. With positive developments in the coronavirus vaccine, it looks like a return to normalcy will occur sometime after the summer of 2021. Let's take a look at the company's prospects and determine if this is a good time to buy the shares.
Coca-Cola stock is up about 2.080% since the beginning of 1988, and the company's total return is 4.540% after accounting for reinvested dividends.
Coca-Cola began 2020 in a strong position, launching several new products, but its sales fell as restaurants, bars and other businesses shut down during the pandemic.
In the first nine months of the year, Coca-Cola's organic revenue fell 11%, FCF fell 17% to $5.5 billion, and comparable earnings per share fell 4%. The company's management did not provide any guidance last quarter, but analysts expect its revenue and earnings to fall 11% and 10%, respectively, this year.
But next year, experts expect its revenues and profits to improve 10% and 12%, respectively, as the pandemic passes, business reopens, and it optimizes its business by launching new products.
Investors should always be skeptical of analysts' predictions, but Coca-Cola has survived many wars, economic turmoil, and pandemics in its 101-year history as a public company, so it is also likely to recover from the current crisis. Investors don't seem too concerned about the company's long-term prospects: Its stock is down only 6 percent this year as its revenues and profits have fallen.
Coca-Cola's sales are struggling to recover as people around the world face a new surge in coronavirus cases. Still, CEO James Quincey said in the company's third-quarter earnings report, "While there are still many challenges ahead, our progress this quarter gives me confidence that we are on the right track." Indeed, there are challenges. Coca-Cola's operating cash flow is down 20% year over year.
In the longer term, the company faces obstacles from people refusing sugary drinks. Also, the COVID-19 pandemic could leave some lasting long-term effects that would be negative for Coca-Cola. For example, quarantine restrictions could cause many restaurants to go out of business, negatively impacting the company's beverage consumption.
That said, Coca-Cola is a proven company with a long history of quenching consumers' thirst for tasty beverages. When the pandemic is gone, and people are comfortable leaving their homes again, consumption of the company's beverages will increase from current levels. The Coca-Cola Company is a leading player in the soft drink market, which is projected to grow at a compound annual growth rate of 6.8 percent over the next five years.
Coca-Cola is not going to grow revenue by double digits for any meaningful period. However, if it can increase sales to low single digits on average, that will be enough to give shareholders confidence in the company's recovery.
Coca-Cola is valued higher than its main competitor, PepsiCo. However, this gap has narrowed since the beginning of the year, as PepsiCo's snack segment has helped better handle the pandemic. Moreover, the gap may be justified when considering Coca-Cola's better operating performance.
If we compare Coca-Cola and PepsiCo in terms of profitability, Coca-Cola is the winner. It is especially true in terms of operating profits. Admittedly, when both companies finish the fiscal year 2020, PepsiCo is likely to narrow the difference. However, this could reverse when the pandemic is over. Coca-Cola generates more revenue from people consuming its products outside the home than PepsiCo and subsequently suffers more from the pandemic.
Coca-Cola is a long-term business success story that makes shareholders richer while delighting consumers with delicious drinks for decades. The COVID-19 pandemic poses challenges that will slow sales shortly. However, with the advent of vaccines against the virus in the U.S. and other parts of the world, activity has a good chance of returning to normal by the end of 2022.
In the meantime, these disruptions allow for the purchase of higher-quality consumer goods at a relatively small markup for price-to-earnings ratio compared to competitors. Interested investors can feel good about opening positions in Coca-Cola at these levels.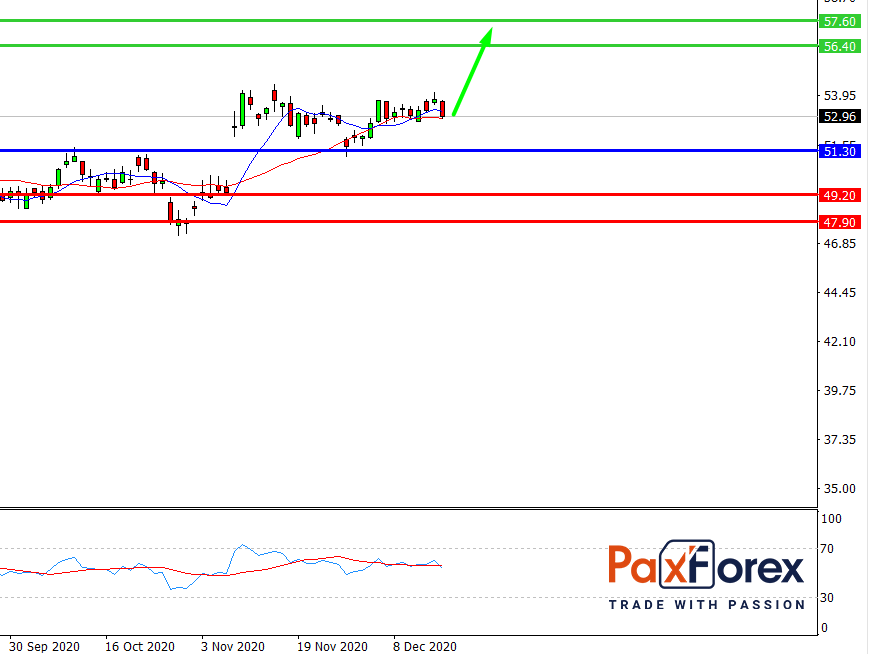 While the price is above 51.30, follow the recommendations below:
Time frame: D1
Recommendation: long position
Entry point: 53.00
Take Profit 1: 56.40
Take Profit 2: 57.60
Alternative scenario:
If the level 51.30 is broken-down, follow the recommendations below:
Time frame: D1
Recommendation: short position
Entry point: 51.30
Take Profit 1: 49.20
Take Profit 2: 47.90