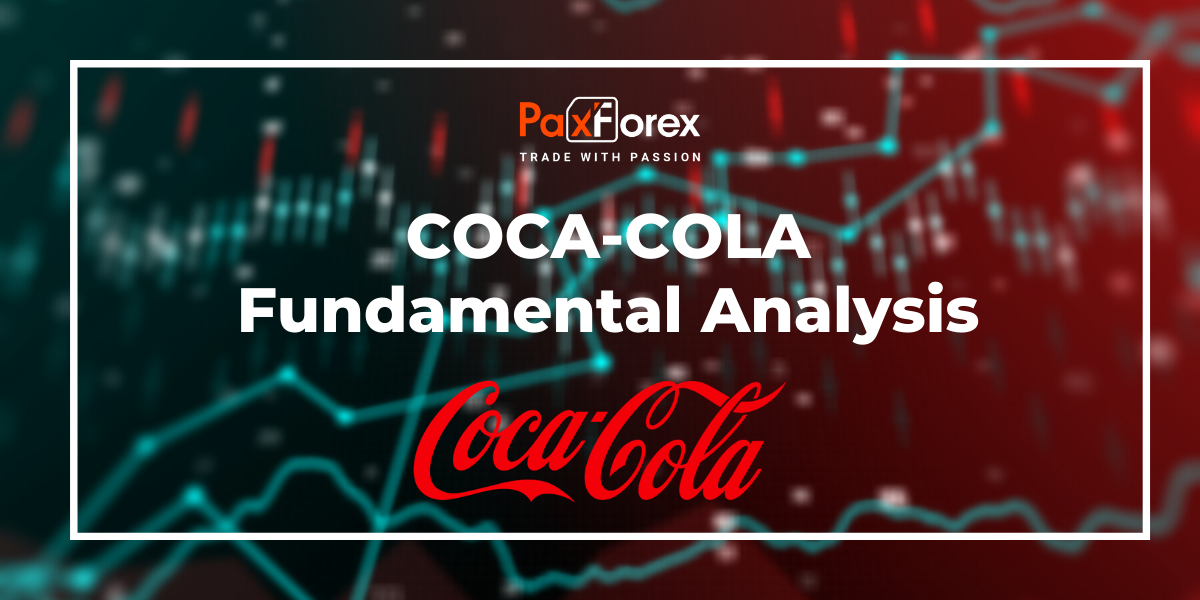 Source: PaxForex Premium Analytics Portal, Fundamental Insight
As you know, Coca-Cola was forced to adapt to the changing consumer trends due to the pandemic. As a result, in the first half of 2021, the company will enter the world of adult beverages for the first time in four decades with the launch of a new hard seltzer line-up. In an interview with CNBC, CEO James Quincey said the release is part of the company's effort to "watch the consumer" in the lucrative hard seltzer market.
Beverage manufacturers around the world are trying to introduce their own hard seltzer, whose popularity has been growing for many years and is growing every year, both in 2019 and 2020. According to the magazine That's, in 2019, sales of these drinks in the U.S. increased by 200% year on year, and in 2020, this trend has increased, as COVID-19 stimulated the consumption of drinks at home. Dizzy drink is becoming popular in many other countries, including the potentially huge market in China.
Besides, it should be kept in mind that Coca-Cola reports its financial income for the third quarter on Oct. 16. Here are three things to look out for when the company announces its report.
First, investors will want to estimate the total income. In the last quarter, Coca-Cola's net income decreased by 28 percent year-on-year. In a July 21 press release, CEO James Quincy said, "We believe the second quarter will be the toughest of the year. Indeed, as orders to stay home continue to rise in different parts of the world (with few exceptions), people have begun to take risks as they leave home. You're more likely to buy one of the company's drinks if you spend time away from home. You may stop at a convenience store when you fill your car, or you may order a drink with food from a restaurant.
The next thing that people tracking stocks will want to consider is operating profit. Not surprisingly, this figure fell by 34% in the second quarter. It will be interesting to see how the company manages expenses as the revenues recover. One of the specific costs to keep an eye on is advertising. The company cut advertising spending to $370 million in the last quarter from $1.2 billion last year. If revenue is recovering, but Coca-Cola is tightly managing expenses, look for the profit increase.
Finally, investors would like to know if more drinks have been consumed. For more information on this issue, look for unit production data. The coronavirus pandemic and, as a result, quarantine restrictions have played a significant role, with volumes falling 16% year on year. Now that people are beginning to go out more often, this metric should improve. At the same time, people, in general, reduce the number of sweet drinks in their diet, and this does not bode well for the beverage business in the long term. And that means that investors would also like to know if Coca-Cola is turning to the snack business, just like its competitor PepsiCo, a long-term trend to follow.
For the third quarter, analysts expect Coca-Cola to report revenue of $8.34 billion and earnings per share of $0.46, a marked decline from $9.5 billion, and $0.60 in revenue and diluted earnings per share in the first quarter, respectively. In contrast, PepsiCo reported a revenue growth of 5.3% as of October 1. Not surprisingly, its snack division helped accelerate sales. However, if Coca-Cola reports revenue above estimates, expect the consumer goods company's shares to grow.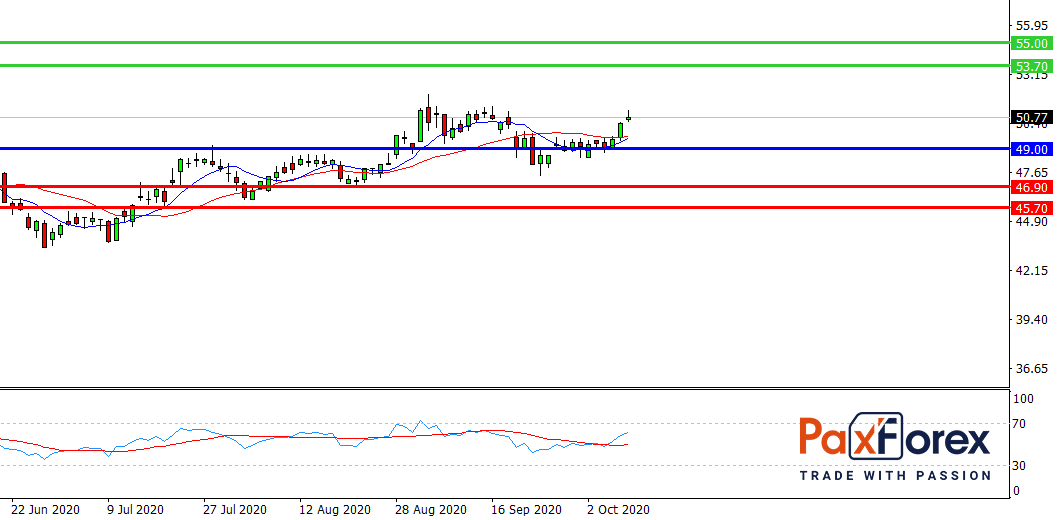 While the price is above 49.00, follow the recommendations below:
Time frame: D1
Recommendation: long position
Entry point: 50.81
Take Profit 1: 53.70
Take Profit 2: 55.00
Alternative scenario:
If the level 49.00 is broken-down, follow the recommendations below.
Time frame: D1
Recommendation: short position
Entry point: 49.00
Take Profit 1: 46.90
Take Profit 2: 45.70