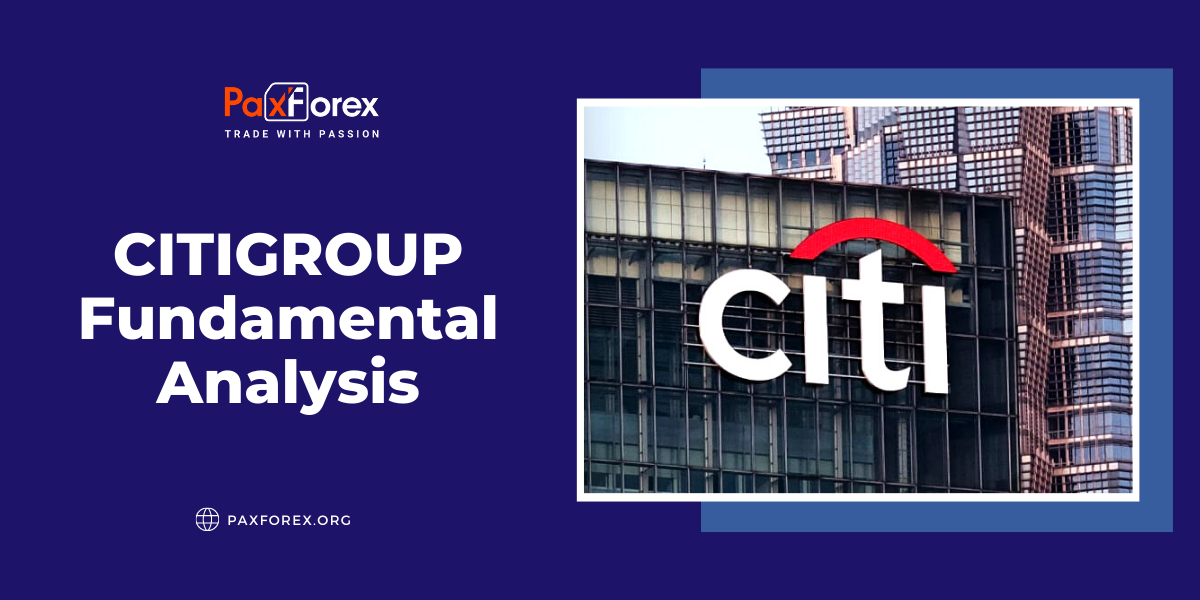 Source: PaxForex Premium Analytics Portal, Fundamental Insight
After years of lagging behind in terms of profits, Citigroup launched a multi-year transformation plan in early 2021 that includes selling 14 international consumer banking divisions, investing more in more efficient businesses, and modernizing the bank.
As you can imagine, a transformation of this magnitude at an organization as large and extensive as Citigroup requires a large investment, which drives up costs. Not only did Citigroup's expenses rise dramatically in 2022, negatively impacting the bank's earnings, but the same is expected this year.
However, Citigroup executives said in a recent earnings call that they expect to "flatten the cost curve by the end of 2024." This could be a turning point in the bank's transformation. Let's explore why.
Simultaneously with the sweeping transformation, Citigroup is addressing regulatory issues. Regulators imposed a $400 million civil penalty on Citigroup in 2020 and ordered the bank to fix long-standing compliance, data, and risk management problems.
But the bank had already invested in improving its control infrastructure before the enforcement action was taken, and it also decided to undertake a broader transformation as it made needed improvements.
Much of the growth in the bank's spending is related to the control infrastructure improvements, but there has also been funding for other technology initiatives and the hiring of investment bankers and wealth advisers that the bank wants to focus on in the long term. Citigroup now has 11,000 people working on the transformation. The bank is also incurring costs related to the sale and exit of its international consumer banking divisions, part of the bank's effort to simplify its incredibly complex organization. Excluding the impact of these legacy franchises, Citigroup's expenses will increase by 8% in 2022.
In 2023, management predicts that expenses excluding the impact of legacy franchises will increase by nearly 7%. This will be driven by continued investment in bank modernization and regulatory compliance, revenue-related expenses, and inflation-related costs.
By the end of 2024, however, Citigroup Chief Financial Officer Mark Mason said, the spending curve will curve, meaning spending will peak and then begin to decline. This will be necessary for the bank to reach its medium-term target of an 11% to 12% return on tangible total capital (ROTCE).
Cost reductions will result from the exit of overseas divisions, return on investment in technology and management infrastructure, and further simplification of the bank's organizational structure. Operating expenses for the retained Mason franchises total $7 billion, of which $4 billion will be passed on to customers and $3 billion will be eliminated over time.
This break in spending can be considered a turning point in the transformation, as at this point all sales or winding down of international consumer franchises must be completed. This will make Citigroup a much simpler organization and reduce regulatory capital requirements.
In addition, it looks like the bank will more or less finish investing in its technology and upgrades and be in a better position with regulators. It will be about four years from the time regulators issue consent orders, so it is possible that they could be lifted by the time costs peak.
Citigroup would then be able to focus on achieving its medium-term ROTCE targets, something the bank desperately needs to do to restore shareholder confidence.
As long as the price is above 48.00, follow the recommendations below:
Time frame: D1
Recommendation: long position
Entry point: 51.35
Take Profit 1: 54.00
Take Profit 2: 57.00
Alternative scenario:
If the level of 48.00 is broken-down, follow the recommendations below:
Time frame: D1
Recommendation: short position
Entry point: 48.00
Take Profit 1: 46.00
Take Profit 2: 44.40