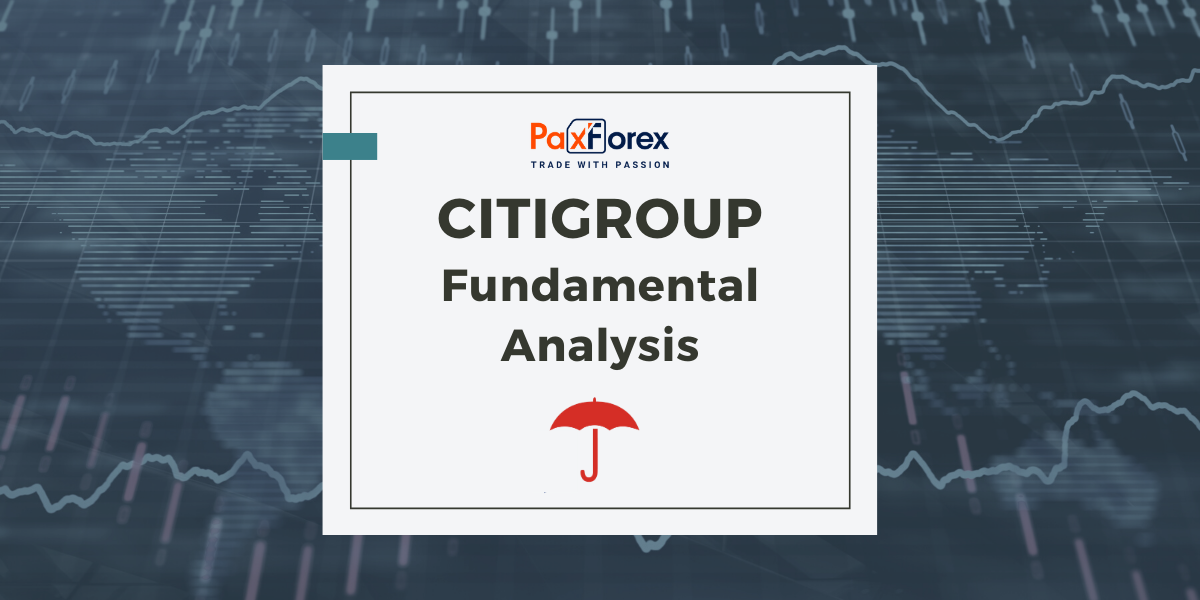 Source: PaxForex Premium Analytics Portal, Fundamental Insight
It`s well-known that Citigroup`s altering CEOs and its banking procedures are under close supervision. If Democrats take over the Senate, there could be new rules and higher taxes. Nevertheless, the bank has said that it plans to start buying back shares next year, after receiving approval from the Federal Reserve. Is there a reason to buy C shares now?
CEO Mike Corbat will retire next year, and Jane Fraser will succeed him. She will become the first female CEO of a major Wall Street bank. She will also lead the largest U.S. banks with the most influence in the world.
In October, Citigroup reported third-quarter results that exceeded expectations, helped by a surge in trading activity despite the challenges faced by consumer banking. But a week earlier, the Federal Reserve had ordered the bank to tighten its risk-management protocols in the coming months, and bank executives devoted a significant portion of their third-quarter earnings report to trying to address the issue.
Citigroup stock is still nowhere near pre-recession levels. And the company is nowhere near the heights it had before the Great Recession. Next, we will talk about whether Citigroup stock is worth buying now.
On Dec. 18, the Fed reported the results of its second stress test of the banking sector this year, showing that banks "can continue to lend to households and businesses even during a sharply adverse future turn in the economy."
The Fed embarked on its second stress test this year -- compared to its usual once-a-year stress test -- to more closely track how banks are faring against a pandemic of business closures and strains on the economy.
It also said that banks might start buying stocks again with some restrictions. The report said that in the first quarter of next year, dividends and buybacks would be capped at an amount based on last year's earnings. "If the firm does not receive earnings, it will not be able to pay dividends or make buybacks," the report said.
Citigroup said it would "continue planned capital expenditures" during the first quarter and third quarter of next year. Those plans included a quarterly dividend of 51 cents per share. The bank also stated that "we intend to resume share buybacks during this period as well."
What new regulatory regime bank stocks face under the Biden administration may largely depend on the makeup of the Senate.
Georgia's two rounds of elections, scheduled for January, will determine whether Republicans retain control of the Senate or whether Democrats can move up 50 seats, giving them more leeway in their agenda.
Any regulations will have a narrower perspective if Republicans hold on to the Senate. New restrictions are unlikely to be as harsh as those imposed after the 2008 financial crisis.
At a September conference, Citigroup Chief Financial Officer Mark Mason emphasized the company's efforts after the 2008 financial crisis to simplify its business structure and focus on wealthy clients and large multinationals and investors.
On Oct. 7, however, the Office of the Comptroller of the Currency fined the bank $400 million, mentioning "deficient banking practices at Citi for its longstanding negligence to demonstrate effective risk management, data management, and internal control programs." In response, the Fed issued a consent decree against the bank, citing "significant ongoing deficiencies" in Citi's risk management and internal controls.
The agency and the central bank said problems in these areas have been ongoing for several years. They ordered Citigroup to take steps to improve in these and other areas.
The Fed said its latest supervisory assessment found weaknesses in areas such as "data quality and regulatory reporting management, compliance risk management, capital planning, and liquidity risk management."
Citigroup, during its latest report, acknowledged that "this will not be a quick and easy fix." And it said it was not in a position to estimate the cost of ownership.
During the call, an analyst asked management why these issues had not been resolved sooner.
Corbat responded by saying that the bank had begun "several significant remediation projects" to strengthen its internal controls. " But in doing so, we haven't done it fast enough. And we have to move faster, and that's what we're certainly going to focus on."
With business concentrated more outside the U.S. than competitors, Citigroup says it can better anticipate global changes for its customers. But it also means it is more vulnerable to the controversy that arises overseas.
Before the pandemic, Citigroup's earnings last declined in 2016. But they fell 44% in the first quarter of this year, and they fell 74% in the second quarter. In the third quarter, earnings dropped 32%.
For 2020, analysts are predicting a 44% decline in the company's earnings.
Investors should note that C shares, like those of other banks, rarely outperform the market for long periods, even when markets are stable.
Citigroup's profit perspective is under pressure as near-zero rates shrink net interest margins, while high unemployment is hitting retail and commercial lending. Accordingly, now is not the best time to invest in these stocks.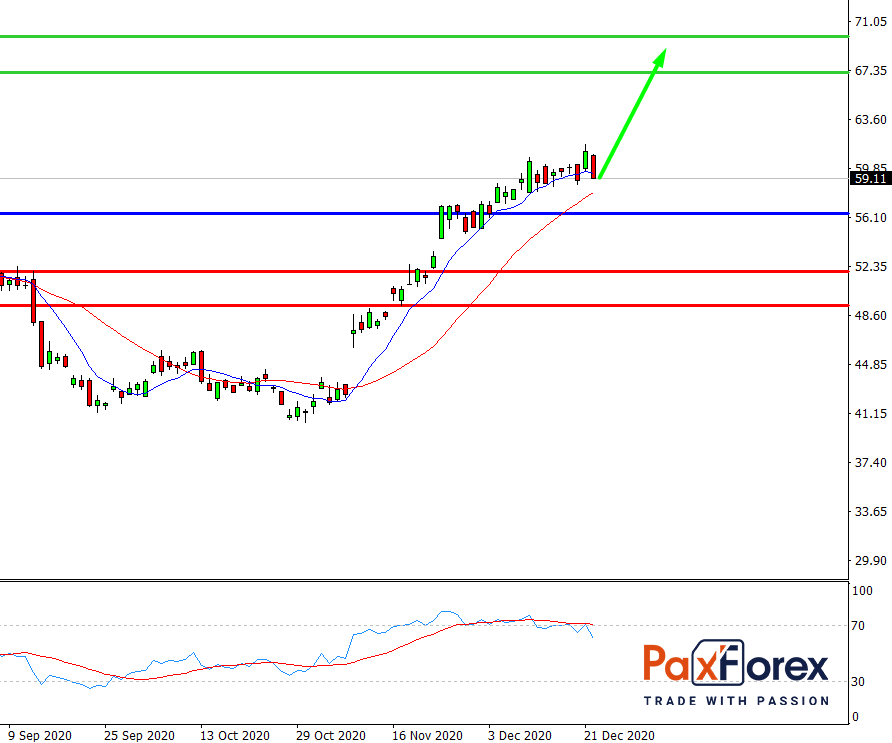 While the price is above 56.40, follow the recommendations below:
Time frame: D1
Recommendation: long position
Entry point: 61.00
Take Profit 1: 67.20
Take Profit 2: 69.90
Alternative scenario:
If the level 56.40 is broken-down, follow the recommendations below:
Time frame: D1
Recommendation: short position
Entry point: 56.40
Take Profit 1: 52.00
Take Profit 2: 49.40