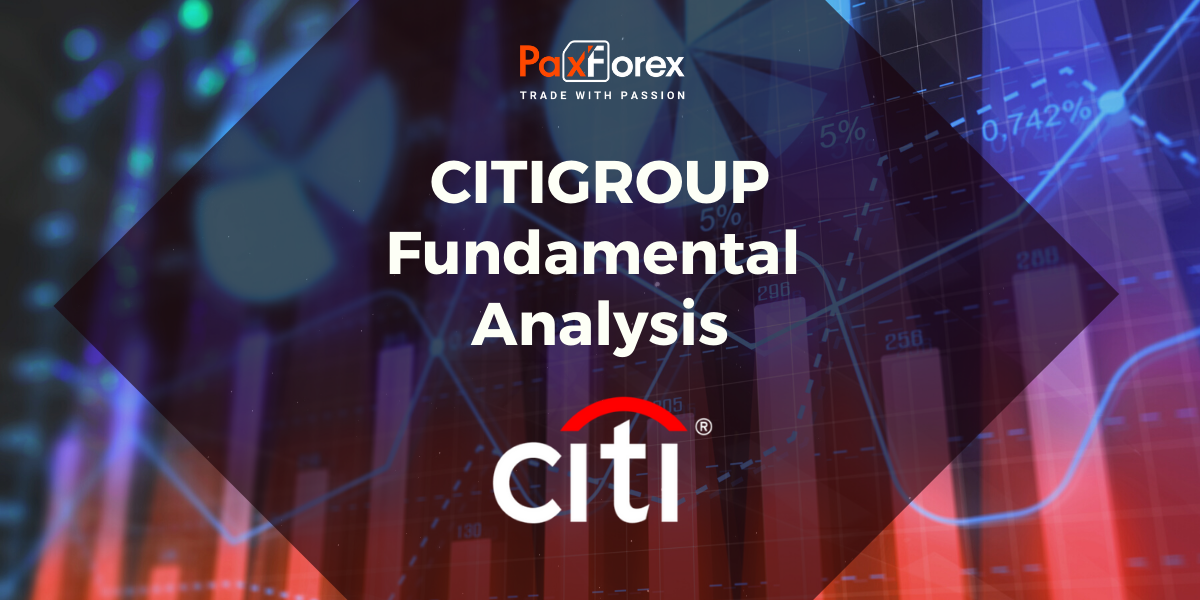 Source: PaxForex Premium Analytics Portal, Fundamental Insight
Citigroup has never had the best reputation among environmental, social, and governance investors (ESG). It was the first "megabank" in the United States, a concept that scares away many people. The U.S. government also fined Citigroup $7 billion for its role in the Great Recession, claiming that the bank knew about its mortgage-backed securities and covered their problems. But over the past decade, the bank has made great efforts to become greener, promote sustainable development, and hire a more diverse staff. Most recently, Citigroup announced that Senior Executive Director Jane Fraser would become the bank's new CEO when Michael Corbat retires next February. Fraser will be the first woman to head the bank.
Citigroup has taken many effective steps to prove its commitment to environmental, social, and governance issues. In September last year, Citigroup created the role of Director for Sustainable Development. Earlier this year, the bank released its first-ever report on ESG initiatives. In the area of environmental protection, Citigroup has already spent 100 billion on "environmental financing activities aimed at reducing the impact of climate change and ensuring positive environmental impact." This commitment, which was made in 2014, was to be fulfilled within ten years, but Citigroup achieved this goal in 2019.
Citigroup has also dedicated to reducing its carbon footprint significantly. To achieve this, Citigroup has several targets, including the use of renewable energy at all of its 7,700 facilities worldwide, a 30% reduction in energy consumption, and a 30% reduction in water consumption. As of 2019, Citigroup reported that it had achieved 86 percent renewable energy use at its facilities and had reduced energy and water consumption by more than 35 percent. The bank has also recently launched an investment banking group specializing in ESG. At the end of 2019, the bank's debt on loans to the energy and commodities sector exceeded 19 billion U.S. dollars, which is approximately 2.8% of the total loan portfolio. It is more than any other bank in total outstanding loans, although not as a percentage of its loan portfolio, according to the research firm CreditSights. But the bank seems to be aware of this and is working to reduce its dependence on industries that further exacerbate climate change. Earlier this year, Citigroup pledged to reduce by 2030 all banking services currently offered to energy coal mining companies. It has also joined other banks in pledging not to finance oil and gas projects in the Arctic. On the diversity front, in addition to hiring the first woman to head a megabank, lawmakers recently drew attention to Citigroup's plan that by the end of 2021, women will hold at least 40 percent of higher positions, from assistant vice president to managing director. The bank still has work to do in other areas, as black employees accounted for only 3.4 percent of the bank's total workforce in 2018.
Of course, Citigroup is not the only bank that has achieved success in ESG. But the company has done a good job, really stepping up its efforts and demonstrating its commitment to ESG issues, especially after earning a rather bad reputation after the Great Recession.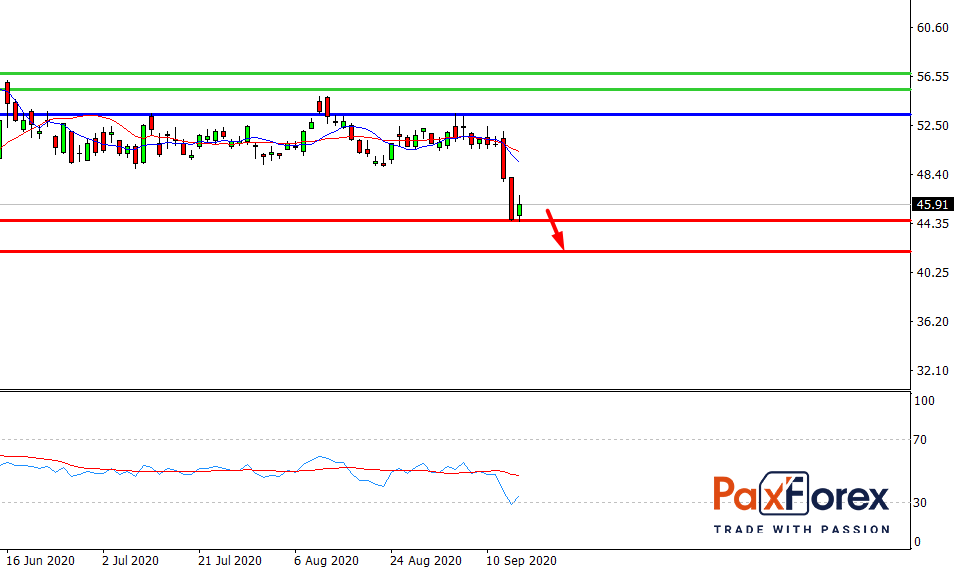 While the price is below 53.40, follow the recommendations below:
Time frame: D1
Recommendation: short position
Entry point: 51.00
Take Profit 1: 44.60
Take Profit 2: 42.00
Alternative scenario:
If the level 53.40 is broken-out, follow the recommendations below.
Time frame: D1
Recommendation: long position
Entry point: 53.40
Take Profit 1: 55.50
Take Profit 2: 56.80